03-27-2023, 02:22 AM
Mercedes must pay damages if it used defeat devices on diesel cars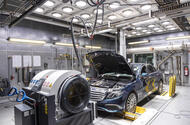 German federal courts must now determine whether the software in question qualifies as a defeat device
The European Court of Justice (ECJ) has ruled that Mercedes-Benz must pay compensation for its use of unlawful defeat devices if a buyer has suffered damages from their use.
The case was initially brought to the German federal court by the owner of a second-hand Mercedes car who discovered software that reduced the vehicle's exhaust recirculation rate when outside temperatures fell below a certain threshold – thereby increasing NOx emissions.
The use of such devices breaches type-approval rules for emissions and thus the affected vehicles' certificates of conformity issued by manufacturers to buyers, according to the ECJ.
The direct link between the manufacturer and buyer established by that certificate means that European Union member states are required to give affected buyers the right to compensation from the manufacturer when they're breached.
It's now down to the German courts to determine whether the software in question in this case qualifies as a defeat device and whether there is a good reason for its use.
If it's found to breach the the rules and a buyer has suffered damages from their purchase of an affected car, the car maker must provide compensation, added the ECJ ruling.
EU member states must independently determine that compensation if applicable.
Mercedes said in a statement supplied to Autocar: "The ECJ has clearly stated that only the damage actually caused to a buyer is relevant. In addition, there must be an unlawful defeat device, which is disputed in the present case."
The German federal court had previously rejected the original claim for damages, stating that the manufacturer could only be charged if the damage was intentional.
Reuters has reported that a Mercedes spokesperson said the company's vehicles that have been recalled for a software update could still be used without restriction. 
https://www.autocar.co.uk/car-news/new-c...iesel-cars