09-08-2023, 04:25 PM
Mini electric racing series under consideration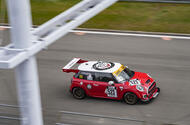 Mini is evaluating how motorsport can play a role in its electric future, and could expand Mini Challenge series
Mini is evaluating a future electric motorsport programme – but will only consider one that highlights the key traits of the brand.
The British marque has now rebadged its classic three-door hatch as the Mini Cooper, in recognition of John Cooper's performance models that achieved a string of motorsport successes in the 1960s, including victory on the Monte Carlo Rally.
While Mini did back a World Rally Championship programme in 2011, its motorsport focus in recent years has been limited to the one-make Mini Challenge. 
Asked about future plans at the Munich motor show, Mini boss Stefanie Wurst said: "We don't have the big budgets so we have to be inventive. It's about looking at which kind of platforms can we credibly participate in to emphasise the go-kart feeling and the electric future of the brand.
"There are two options. Either we say the Mini Challenge is a format we have to expand to new markets in the future, or we participate in one of the new electric platforms. This is the choice we have to make.
"What kind of engagement is the right one for us? If it's one that we own [the Mini Challenge] then we would have to export it more: we have it in the UK and Japan, but big markets like China are lacking. I would like to have a more unified strategy."
https://www.autocar.co.uk/car-news/motor...sideration