06-14-2023, 03:08 PM
Mitsubishi Colt back on sale in Europe as rebadged Renault Clio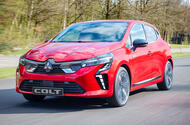 New Colt is second Renault-based car in Mitsubishi's rebuilt European portfolio
Japanese firm adds a second passenger car back to its European line-up, following Captur-based ASX
The Mitsubishi Colt has returned to the European market as a rebadged Renault Clio, following the brand's recent launch in the region of the new ASX - itself a Renault Captur clone.
Identical to the recently updated French hatch aft of its bespoke front grille and bumper, the seventh-generation Colt is the first to offer hybrid power, launching with the Clio's full-hybrid powertrain - comprising a 1.6-litre petrol engine mated to a pair of electric motors and a 1.2kWh battery.
It also gets an entry-level 1.0-litre pure-petrol option, which is no longer an option for the UK version of the Renault Clio.
The Colt will be built at Renault's plant in Bursa, Turkey, where the Clio is produced for certain markets, and enter dealerships around Europe – not including the UK – from October. 
Mitsubishi stopped selling cars in the UK in 2020 as part of a wide-reaching global cost-cutting strategy. It originally planned to leave Europe entirely but has remained in 17 markets in the region - with a view to ultimately regrow sales to around 150,000 units per year. 
The brand recently told Autocar it would only consider re-entering the UK when it has "more than one" electric car to offer. 
https://www.autocar.co.uk/car-news/new-c...nault-clio