03-15-2022, 11:45 PM
Motorsport archive: Gearbox experts develop innovative engine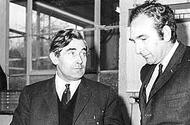 The secret project began life with the aim of challenging the mighty Cosworth F1 powerplant
Hewland was for a long time a virtually unavoidable name in motorsport circles, as it supplied market-leading gearboxes through the 1960s and 1970s. But did you know that it also dabbled with engines?
In 1972, we caught wind of a secret project at its Maidenhead base to take on the mighty Cosworth in Formula 1.
Subscribe to the Autocar Archive today
We explained: "The design of the single-cylinder 'slave' unit engine is said to be more ambitious than any of the power units currently racing but is not a Wankel layout.
"Because the transmission factory has all the necessary machinery already installed for the manufacture of gearboxes, the 'slave' unit has presented no great problems of production complications or extra costs, and because the whole project has been conceived within the factory, it has been relatively easy to maintain secrecy."
It seems likely that this project resulted in the Arrow, a 100cc single-cylinder sleeve-valve engine that Hewland introduced for karts in 1976.
The special thing about this was that it had a built-in primary-drive reduction gearbox with many more gear teeth, meaning that normal-size engine sprockets could be used and the chain wouldn't waste energy heating up during races.
The Autocar Archive, dating from 1895 to the modern day, is now available online. Subscribe today
https://www.autocar.co.uk/opinion/from-t...ive-engine