04-18-2021, 05:34 AM
Mr Le Mans: meeting nine-time winner Tom Kristensen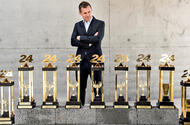 Kristensen has a new book, all that silverware and no room on the mantelpiece
Winning the most famous endurance race of all would be the pinnacle of most drivers' careers. We caught up with the Le Mans legend that's done it more than anyone
The title of his new autobiography says it all: Mr Le Mans, Tom Kristensen. Except it doesn't, because for all his record-breaking exploits at the Le Mans 24 Hours, a race that he won a remarkable nine times in 18 attempts, six of them consecutively, there has always been much more to the great Dane than the Big One in France. The best racing driver never to start a grand prix? Probably. But who cares if he never lined up in a Minardi, a Tyrrell or even a decent Williams? That was Formula 1's loss. Instead, Kristensen chose his own path and built a wonderful career driving a selection of great racing cars in all sorts of fascinating corners of the world. And nearly every time he did so, he was blindingly fast.
The book, written in collaboration with sports journalist Dan Philipsen, was first published in Denmark in 2018 and has now been made available in English. To mark this publication, Autocar caught up with Kristensen to capture a snapshot of his remarkable career.
Turning Japanese
In the mid-1990s, Kristensen joined the throng of European talent heading east to seek their racing fortunes. For Eddie Irvine, Jacques Villeneuve, Mika Salo and many more, the Japanese scene was a catapult to success in F1 and beyond. Kristensen spent four years there, driving everything from Formula 3 and Formula 3000 single-seaters to Group A saloons and late-era Group C sports cars.
"I went to Japan as German F3 champion, so there was a lot of expectation, and it was tough," says Kristensen. "I didn't fly home to Europe between races, I stayed, and that meant I drove a lot of different cars. After a couple of weeks, my F3 team, Tom's, suggested a drive in Group A touring cars, in a right-hand-drive R32 Nissan Skyline GT-R on Toyo tyres. You needed a staircase to get into that car: it was four-wheel drive and very heavy, a complete contrast to my small, light F3 car – and I loved it. It's a cult car.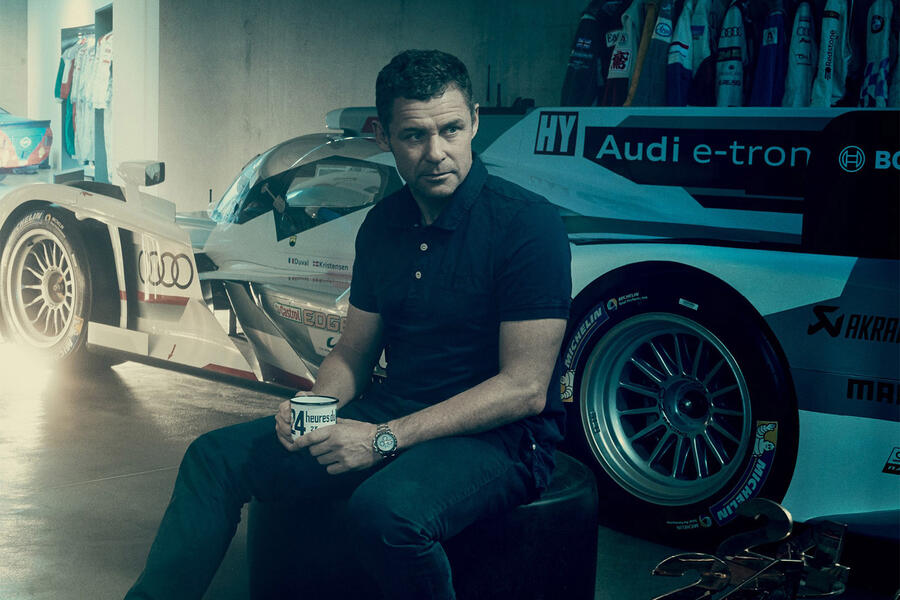 "I also did one race in the Tony Southgate-designed Toyota TS010 Group C car [at Mine, sharing with Irvine and Villeneuve]. That was the most aggressive car that I drove out there. It was very fast and incredibly stiff, with a lovely sounding F1-style 3.5-litre V10 engine."
Plans to join Toyota at Le Mans were scuppered, delaying his debut at the race by four years. "It wasn't an endurance car for 24 hours," he says. "Everything was screaming to the extreme. I can see why they hit some issues at Le Mans."
Do you remember the first time?
On his return to Europe, Kristensen shone in International F3000, before receiving a fateful call from Ralf Juttner at Joest Racing just a matter of days before the 1997 Le Mans 24 Hours. Joining Ferrari F1 veterans Michele Alboreto and Stefan Johansson, he put in a stunning performance to claim a debut victory. At Goodwood Speedweek last year, he was reunited with the Porsche-powered TWR WSC95 for the first time since.
"It doesn't take long to get back into the groove: the feedback, the sound, the sensations all spring back easily," he recalls. "It was nearly 25 years later: incredible. The car has an H-pattern gearbox, it's right-hand drive and it has no power steering, but I had driven cars like that in Japan. It has a very short wheelbase and a wide track, so it's very reactive, and you need to get used to that. The aerodynamics weren't very sophisticated and the rear was always a bit aggressive when you came off the brakes. But it was a car you could lean on – a good one in which to make my Le Mans debut."
One that got away
They say that the losses stick more than the victories, and in Kristensen's case Le Mans in 1999 with BMW's Williams-designed V12 LMR is one that still gnaws away at him.
"It was an important time for me," he says. "I had won Le Mans first time out with a new lap record, then the following year, instead of signing for a team four days before the race, I had offers from four manufacturers. With BMW in 1998, we had an experienced driver line-up but not necessarily for Le Mans, and after the wheel bearing failures that cost us that year, they sacked some of them.
"Suddenly I was doing a lot of development work. We improved the car for 1999, made it much more drivable and won first time out at the Sebring 12 Hours. But we didn't win Le Mans. We were leading by four laps when the rear suspension broke and JJ Lehto crashed [a roll bar jammed the throttle wide open]. Mentally, it was a huge knock back. All the manufacturers were there that year – it was named the Race of the Century – and we deserved to win. But we didn't, and I respect that at Le Mans. Having that pain always came to mind when I started to feel good in the years after."
F1 tests... his patience
As Kristensen's reputation soared, F1 teams took note. But having risen through the ranks without paying for drives, he wasn't about to bring money (he didn't have) to a team. Still, he did thousands of testing miles for Michelin, which was returning to F1 in 2001. But the 'no F1 starts' topic is still a sensitive one: "That was proper work, there was mutual respect; some of the other tests weren't like that. The Michelin tests were with a Williams and then a Stewart-Ford when Jaguar had bought the team. Great times. Sessions at Jerez were particularly enjoyable, and it gave me a lot of confidence and knowledge that when F1 was ready for me, I would be ready too. It never happened, and we don't need to go into that."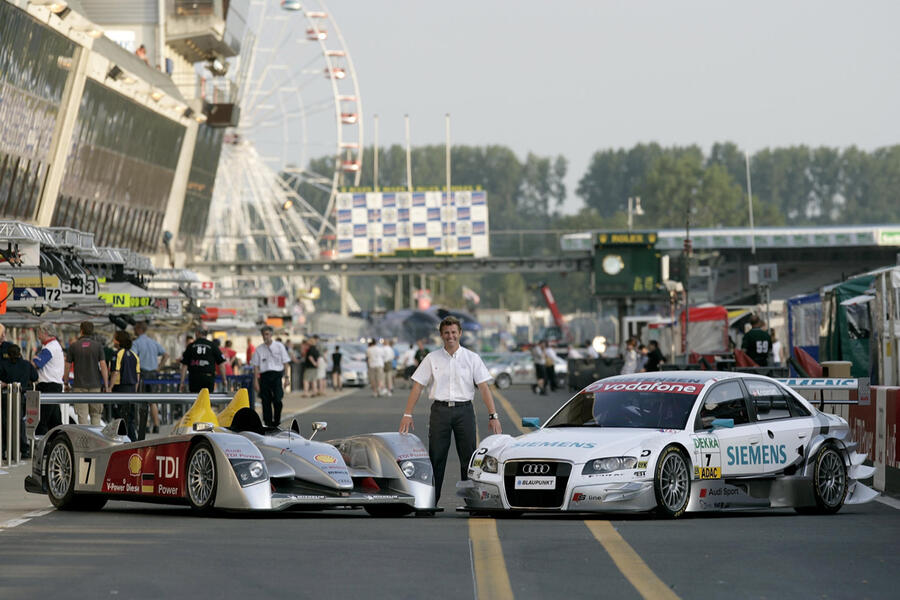 The key Le Mans car
The R8 LMP was the car in which the Kristensen legend took root. He joined Audi in 2000, then won five of the next six Le Mans, interrupted only by Bentley's memorable victory in 2003 – and even then, it was him leading the charge in the Speed 8.
"The R8 was adaptable and, over many years, they were able to improve it," he says. "The first one had a bit too much understeer, but from the second year it was very good; great for the mechanics, who could get to all areas and change things quickly [including the controversial modular gearbox that inspired a rule change]. You can easily talk about 'the Audi years', but there were three seasons when it was only privateers that ran the R8."
Even then, Kristensen and the car kept winning, first with the Japanese Team Goh in 2004 and then with American Champion Racing in 2005. "It was a very interesting time – a bit like Group C, when Porsche privateers could enter and win," he says.
A proud Bentley boy
Kristensen will always be proud of his status as a Bentley Boy in the wake of the marque's 2003 Le Mans victory – its first for 73 years. He says: "It was good that I had got used to the British sense of humour during my year in the BTCC in 2000…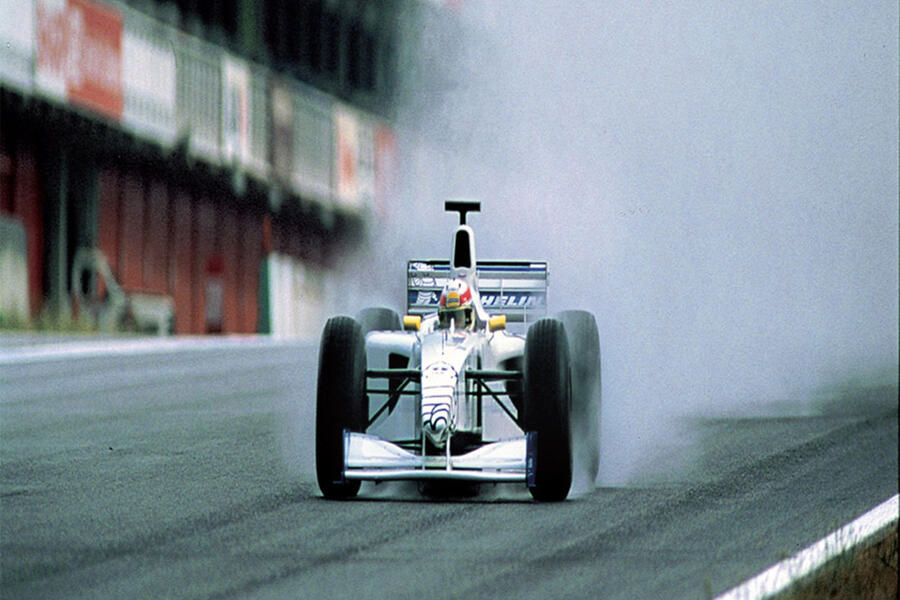 "The Bentley was the most elegant race car that I drove. There were five or six mechanics who joined from Joest, and they happened to be on my #7 car, so within the team there was camaraderie but also competitiveness. It was a change of environment: I had a closed cockpit now and the Achilles' heel was the narrow Michelins, which at high speed made the car much more alive. That was a nice challenge.
"Winning was the icing on the cake, but suddenly it was over. We didn't know that they would stop, that the rug would be pulled. It was an intensive seven months."
Crash, bang, wallop
Kristensen mentioned the BTCC. It's easy to forget this sophisticated, premier-class racer knocked about with the likes of Jason Plato and Matt Neal in a Honda Accord in 2000 – and ended up winning the final two races run to Super Touring rules.
He remembers: "The first race was at Brands Hatch, and I think I had contact with both Jason and Matt straight away! In race control, they got away with many things. Then straight after, they would say: 'Hey, Tom, don't worry about it.' Yes, but they were lying! I laugh now…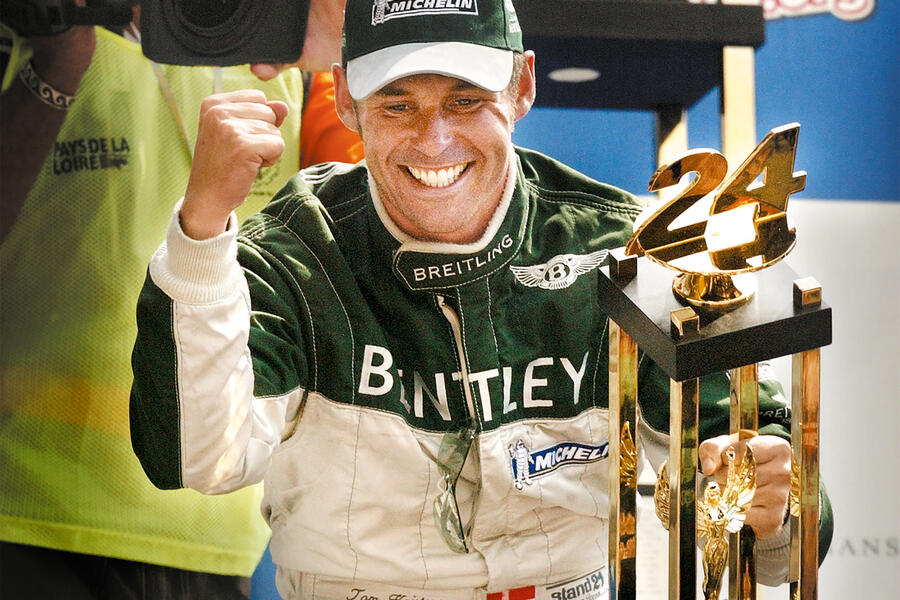 "At the final races, we were getting up to speed and I was looking forward to another year. It was nice to win the last two, in the dark at Silverstone without high-beam headlights… It's a very physical championship where everything is taken to the limit, in every sense."
Best of (team) mates
In April 2007, Kristensen took a serious knock to the head in a violent DTM crash that could have ended his career – and more. But that June he somehow was back at Le Mans, which he would win twice more in 2008 and 2013 before finally hanging up his helmet a year later, at the age of 47. Of all the great team-mates he shared glory with, two stand out: Allan McNish and Dindo Capello, with whom he took his finest Le Mans win against the faster Peugeots in 2008. It's a trio that will stand forever as among sports car racing's finest.
"There was a lot of mutual respect between the three of us," says Kristensen. "Allan was always pushing for performance, me probably a little more for the overall picture and Dindo was a fixed point for the team from a social perspective – incredibly likeable and charming. If things got too stiff, you would look at Dindo and he would make you laugh.
"The year I joined Audi was the same year I was in the BTCC, and I was just a third driver for Sebring and Le Mans. But having won both those races with Frank Biela and Emanuele Pirro, I then joined Dindo, who was Allan's team-mate in the US, and Allan joined Toyota in F1. So the link for the three of us was already there through Dindo."
Going around the bend
An F3 champion in both Germany and Japan, conqueror of the terrific American Le Mans Series in 2001 and World Endurance Championship winner (in 2013, in partnership with McNish and Loïc Duval), Kristensen is a motorsport colossus. You only need to experience the reverence of a Goodwood crowd when he's twirling a historic saloon or GT in his post-retirement glow to be reminded of that.
Final subject: we ask him to name his favourite corners. He has thought about this lots and reels off a list: "I'd go for combinations: the S-curves into Dunlop at Suzuka; the long, 180deg Carousel at Road America, where the faster you go, the more challenging you find the kink that follows it; the same at Eau Rouge and Raidillon at SpaFrancorchamps; the first part of Pouhon at Spa, too, where you can take it fast but still have to get through the second part; Paddock Hill Bend at Brands Hatch, which you treat like a couple of corners; the Roller Coaster into Hog Pen at Virginia International Speedway, which most haven't heard of but, trust me, it's great; Sebring Turns 3 to 5 – kind of slow, but you can really energise the car through there; the Porsche Curves down to Maison Blanche at Le Mans, of course; Maggotts, Becketts and Chapel at Silverstone; Jerez Turns 4 to 5; the triple-left at Oschersleben; and the final corner at Sugo, which is very long and uphill. I always struggled there against the Japanese drivers who carried less weight. Then there's Oulton Park, with Druids and Cascades… There are karting circuits too, but that's enough!"
No, honestly, Tom, it's not. But if you want more, you should read his book. Mr Le Mans? That's really only the half of it.
READ MORE
Le Mans 2021: How new hypercar rules are shaking up the grid 
Porsche to make Le Mans 24 Hours return in 2023 
Bentley could return to Le Mans once battery technology matures
https://www.autocar.co.uk/car-news/motor...kristensen