10-07-2023, 03:22 PM
Munro Series-M brings styling update and range boost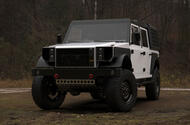 Munro Series-M is visually distinct from the Mk1 prototype, wearing a slimmer, more angular face
New battery chemistry and powertrain tweaks among upgrades as British electric 4x4 nears production
The Munro Series-M has been unveiled as the near-production variant of the British start-up's prototype electric 4x4, bringing an uplift in power, range and charging speed compared with the prototype.
The Series-M introduces a series of technical upgrades, led by a swap from the nickel-manganese-cobalt chemistry (NMC) to lithium-iron-phosphate (LFP).
The move means the off-road EV now charge at 130kW – almost double its original 70kW limit.
In conjunction with improvements to the heating system (enabling waste thermal energy from the drivetrain to warm the interior), the new chemistry boosts range from 141 to 200 miles.
The entry-level powertrain, offered on Utility and Range models, has had its output reduced from 295bhp to 228bhp.
Munro has also tweaked the styling, giving the front end a more complex, angular fascia. This is said to enhance visibility and repairability, while reducing weight over the front end.
A new "exoskeleton" for the industry-oriented Utility specification is intended to enable the easier mounting of accessories.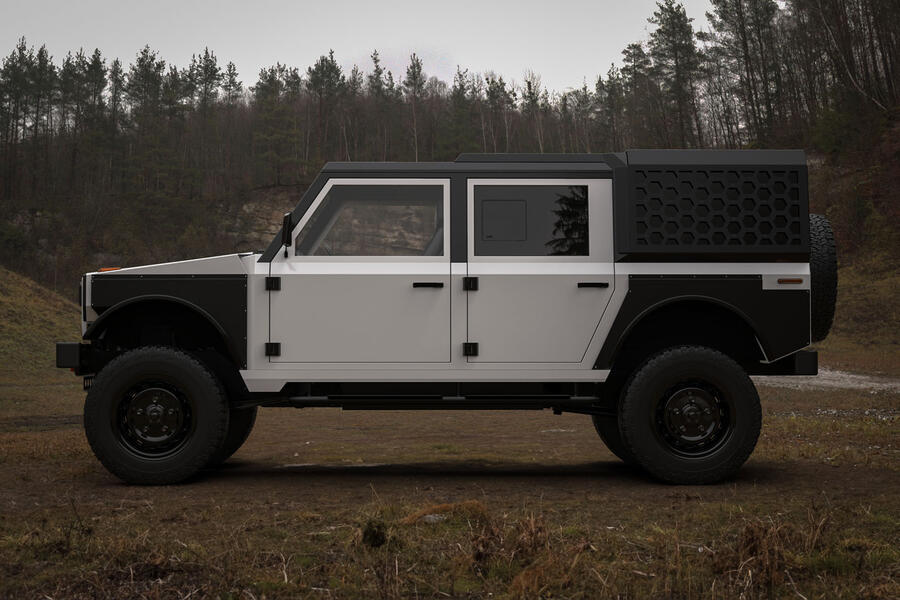 Inside, attention has been paid to the Mk1's ergonomics with the addition of an adjustable steering column, as well as enhanced rake and height adjustment for the driver's seat.
As originally planned, the Series-M will be offered as both a hard-top 4x4 and a pick-up truck.
Munro claims to have paid reservations and sales agreements for eight 'pilot' examples of the Series-M scheduled for production by the end of 2023, in addition to 221 further vehicles between 2024 and 2025.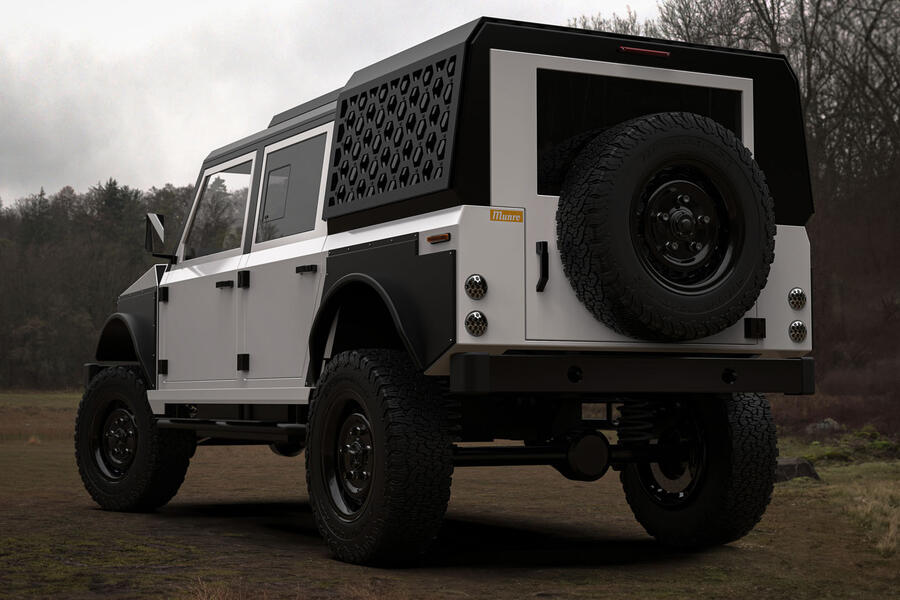 However, it has also launched a crowdfunding campaign intended to "enable Munro to capitalise on considerable customer interest, deliver its first production vehicles, hire more people, scale its premises, and expand resources" – suggesting that more funding is required to completely fufil the company's plans.
CEO and co-founder Russell Peterson added in a statement that "our immediate priority is to deliver Series-M pilot vehicles to early-adopter customers".
What is the Munro Mk1?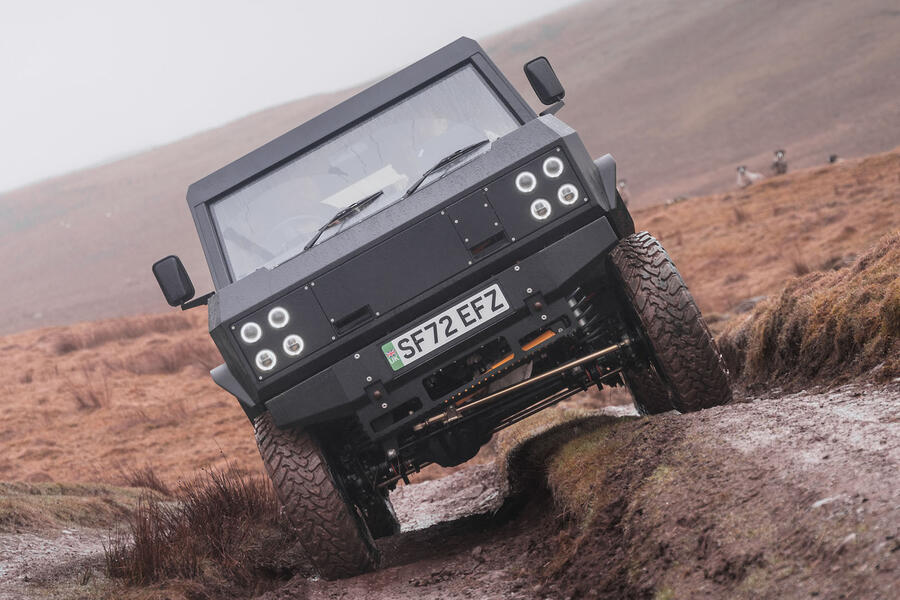 An old Land Rover is like a trusty sheepdog: an essential tool for those who work with one, and a cutesy part of a countryside scene for everyone else. But, as with our furry friend, there comes a time when its dependability fades and retirement beckons.
So if you run an old Defender, what do you replace it with? If you work for the one-percenters at the Gleneagles golf course, the answer is a brand-new Defender 110 75th Edition, at a cool £90,200. 
Others might stump up £64,500 for a new Ineos Grenadier, whereas smaller businesses or individuals might look at a circa-£30,000 Ford Ranger.
What none of these solutions addresses is the growing pressure on industries to cut their CO2 emissions by all possible means. A single-cab Ranger chucks out 226g/km, the new Defender 240g/km and the Grenadier 276g/km in its most efficient form.
Which brings us to Munro, a Scottish start-up aiming to produce a green do-it-all commercial vehicle called the Mk1. This electric prototype's resemblance to the classic Defender is more than coincidence.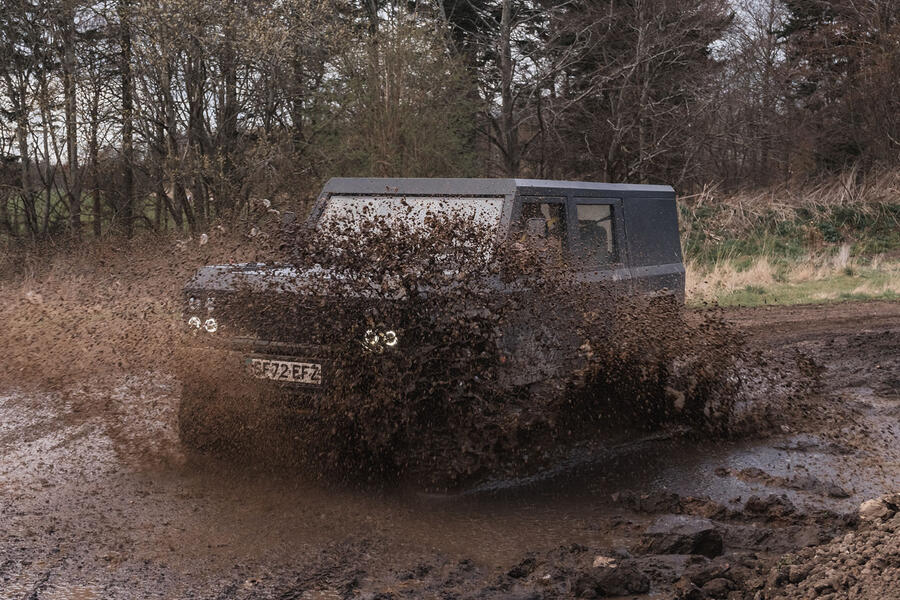 As co-founder and CEO Russell Peterson explained, the firm originally set out to build a spiritual successor to the Defender as it was put out to pasture, targeting the go-anywhere 'leisure' market. What transpired was a demand not from enthusiasts but from industrial fleets.
He said: "We thought that fleet buyers, fleet operators and machinery operators would not be ready to switch to electric so soon. They would be actually looking to do this in 10 years' time. But when we started, we did a tiny bit of PR right at the start of the conception to get the word out – to test the market and to validate the idea as a luxury car enthusiast's vehicle. 
"The people that contacted us were big utility companies, like FTSE 250, FTSE 100 – huge firms that had big fleets of pick-ups and 4x4s, some of them ageing fleets of older Defenders.
"That's how Munro as it is today came about. We saw that and we were like: 'Wow, actually, there's a bigger market opportunity here.'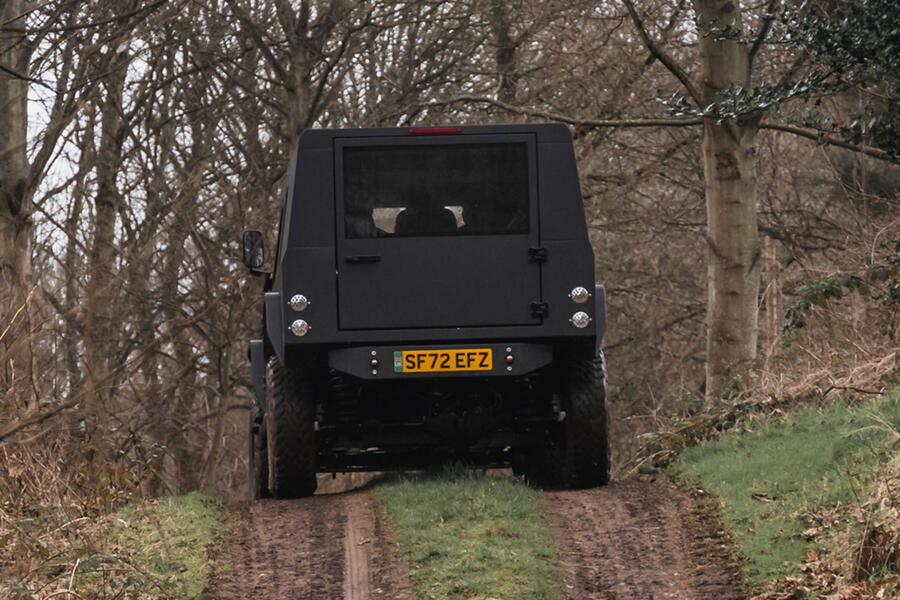 "This has a bigger carbon impact as well, because [we're dealing with] bigger fleet sizes and, for us, it builds a more stable business. When those fleet operators are changing their vehicles, they don't change all of them in one go. They've got 400 trucks: they might change 50 per year for the next however many years." 
According to Peterson, focusing on the heavy-industrial fleet market is all about "keeping it real".
He said: "We're not pretending we're Tesla or another EV manufacturer, where we're just going to build 20,000 [cars] and they're going to be marketed all over the world. We're a small team. We've got a big ambition, but we're not overstepping our mark. We're building a specialist vehicle and we're really, really listening to our customers and understanding what they need from a vehicle like this." 
What those conversations manifested was a prototype that's easily mistaken for an old Defender – and borrows many of its fundamentals – but significantly more sophisticated in its propulsion.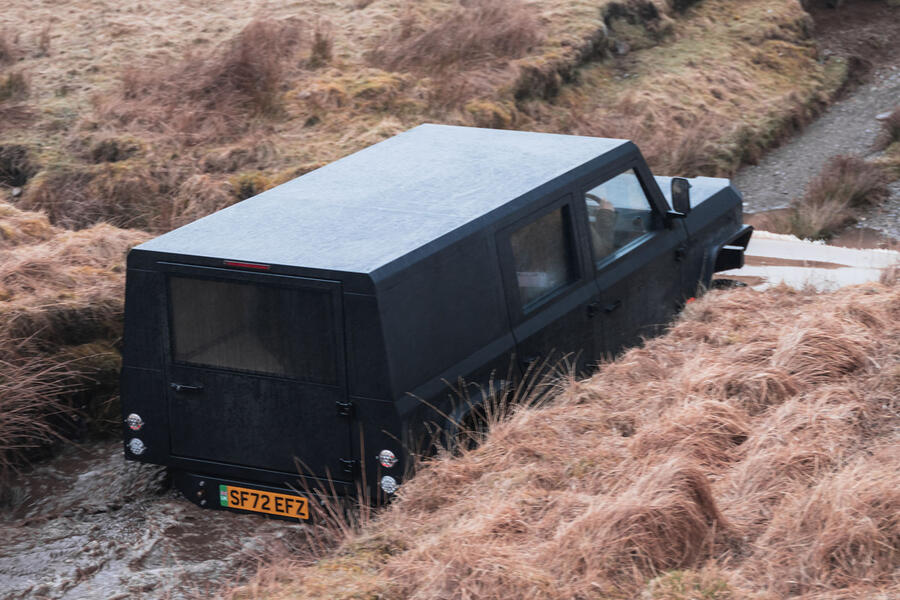 The Mk1 uses a body-on-frame design with a ladder-style skateboard chassis. The entry-level Utility model was fitted with a single electric motor, yielding 295bhp and 443lb ft of torque. This is delivered to all four wheels via a two-speed gearbox (with a low-range gear and central locking differential), plus locking differentials on each of the rigid-beam axles.
Suspension comes in the form of traditional coil springs and shock absorbers, which help to give the Mk1 an impressive spec sheet: 480mm of ground clearance, a maximum approach angle of 84deg, a departure angle of 51deg and a breakover angle of 32deg. For context, a four-door Jeep Wrangler Rubicon has a 43.9deg approach angle, a 37.0deg departure angle, a 22.5deg breakover angle and 274mm of ground clearance.
But the Mk1's capabilities don't matter much if its unproven technology fails in the face of punishment, which will be inevitably meted out to it by commercial drivers. Chief designer Ross Compton said dependability was the priority, as demonstrated by the LED headlight signature in which each individual unit can be replaced cheaply and easily. Every body panel on the prototype is made from folded aluminium and sheet steel, further cutting cost and complexity.
This philosophy extended to the Mk1's electricals, with the entry-level Utility model's 56kWh battery offering a claimed range of between 63.5 miles (when towing a 2500kg braked trailer) and 141 miles (in optimal conditions). This has been increased to 200 miles for the production car, the Series M, by swapping to the LFP battery chemistry.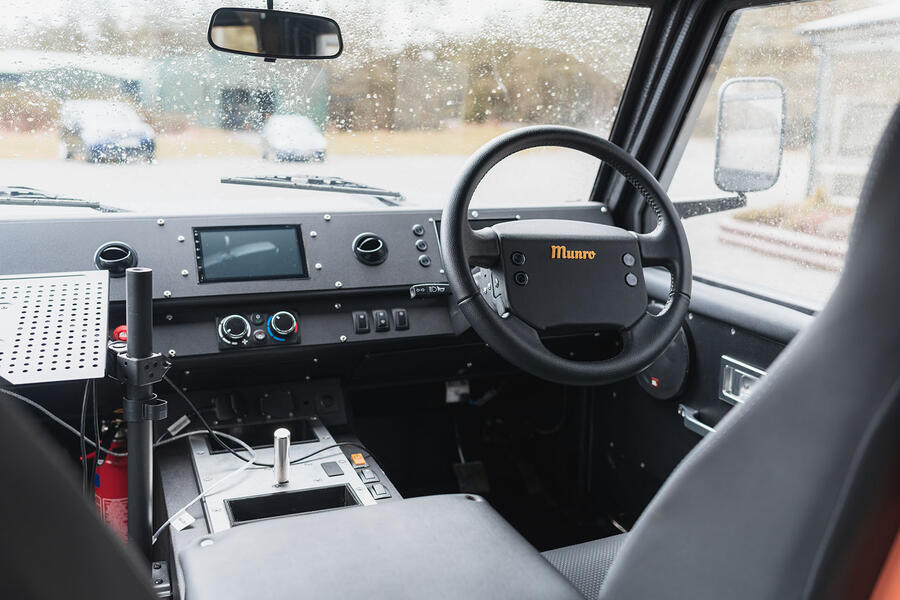 Compton explained: "Right now, our range is set quite comfortably [based on customer feedback] and we could increase that potentially by 100 miles, but then that comes with extra weight. If you're not using that – you're on the farm and you don't really need the extra 50, 100, 200 miles – then it's like: 'Here you go: here's a heavy truck for no reason at all.'"
Munro will begin production later this year, albeit on a limited scale – in line with Peterson's "keeping it real" philosophy. He originally set a target of delivering 50 'Founders Edition' cars over the next 12 to 18 months in a de facto beta test, acknowledging that there would be teething troubles as factory processes are established and the 4x4 begins to accumulate plenty of real-world miles. However, this has now changed to a 'pilot' run of eight cars in mid-2024, followed by 221 additional deliveries scheduled by 2025.
This initial run will be built at Munro's workshop in Glasgow, making it the first Scottish vehicle manufacturer to target a significant volume since Peugeot-Talbot left Linwood in 1981. 
This is a point of pride for Peterson, who cited an opportunity to help local business: "When we go out to a supplier and we say we're going to need X amount of components, they start to think: 'We might hire someone extra.' It has a direct impact on the local economy, which is really cool. And everyone sees it: we see it; our suppliers see it; our customers see it."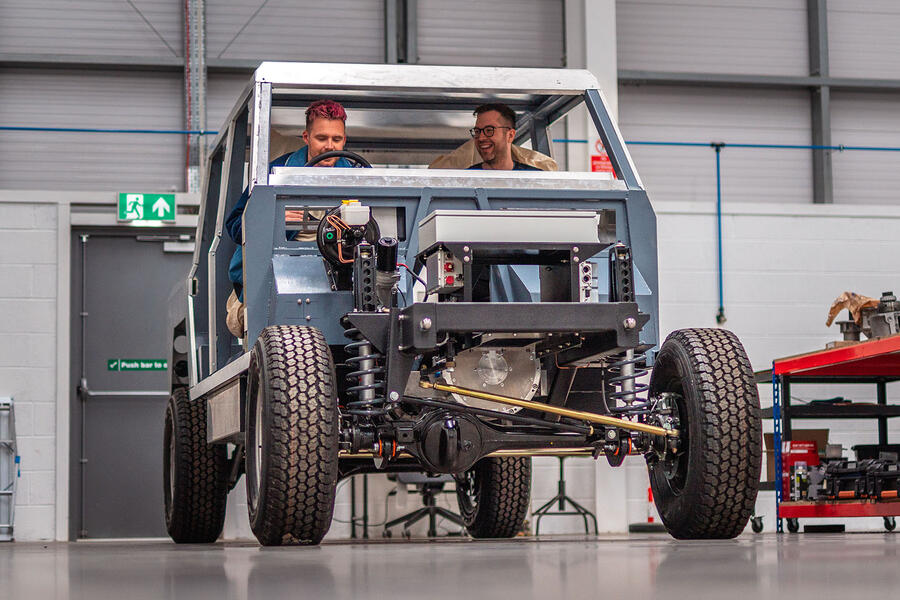 Should Munro prove itself, then eventual global expansion is on the cards. Peterson says: "The likes of Gleneagles quite like the look of [the 4x4], but then equally we get people ringing up from St Lucia that want one, so commercially and product-wise we're concentrated on the fleet market because we think that it's ripe for disruption."
But to achieve such reach – Peterson floated a rough target of "the low thousands" by the tail end of this decade – the company will have to find a new home, and fast. In the spirit of realism, Munro isn't looking for grounds on which it can build a bespoke headquarters to fit its production processes. 
Instead, it plans to "chunk up" stages of manufacturing into a series of 35,000-square-foot industrial units. The theory is that this will allow the firm to move onto an estate – or a series of local estates – and scale up production in line with its order book.
Peterson summarised the ethos neatly: "The effort has gone into planning the processes and factory assembly, rather than worrying about what the sign looks like on the front of it.
What is the Munro Mk1 like off-road?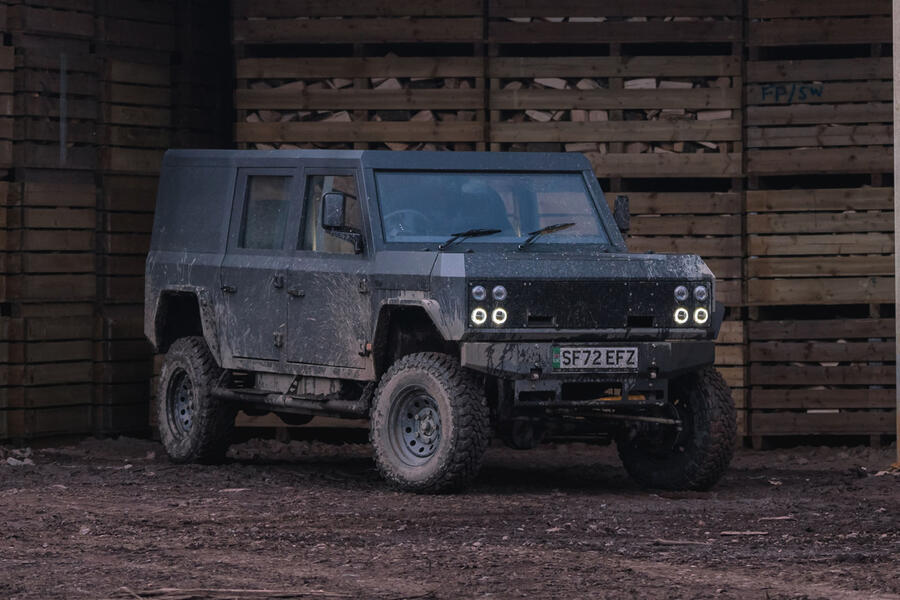 Riding shotgun in a late prototype of the Mk1 around the Gleneagles off-road course, it quickly became clear that it's an impressive off-road package. The torque provided by the single-motor powertrain allowed it to saunter up steep hills that would have an old Defender wheezing; and on the way back down, the regenerative brakes emulated the hill descent control function from vastly more expensive 4x4s. 
There was also impressive traction through especially slick pools of mud and chest-height fords. No need to worry about trashing the battery in such scenarios, either, because it's reinforced with inches of metal. Over ruts where a Landie would toss you around in your seat, the Munro remained comfortable, but without completely isolating you from the contours of the surface below.
However, it should be noted that we did not ride in the Mk1 on the road, where meeting the standard set by sophisticated commercial pick-ups such as the Ford Ranger will prove a tough task.
There was also work to be done on the interior fit and finish of the Mk1 before it hit production. The centre-console mount for the front passenger's desk could use some padding because – in prototype form – it can smack against their knee quite painfully over big bumps. The infotainment touchscreen could also be integrated more elegantly, as the glue used to hold it in place is clearly visible in the prototype.  It is yet to be seen whether the Series M upgrade – which is claimed to improve packaging, ergonomics and efficiency – resolves these issues
https://www.autocar.co.uk/car-news/new-c...o-series-m