02-05-2023, 12:05 PM
My Week In Cars: New Steve Cropley/Matt Prior podcast (ep. 21)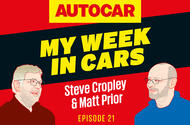 This week: how to enjoy your car's service, how it's claimed Ford scanned the Jaguar I-Pace, does Lego boost car sales?
Could a Lego model boost real car sales? Episode 21 of the My Week In Cars podcast ponders this and other things, as our resident gearheads Steve Cropley and Matt Prior talk about taking enjoyment from car servicing, how simulators are changing the world of new car development, how Ford took inspiration from the Jaguar I-Pace and, of course, bring you your correspondence. 
Make sure you never miss an Autocar podcast. Subscribe to our podcasts via Apple Podcasts, Spotify, Amazon Podcasts or your preferred podcast platform.
#a9a9a9;">
https://www.autocar.co.uk/car-news/podca...cast-ep-21