02-18-2023, 10:29 PM
My Week In Cars: New Steve Cropley/Matt Prior podcast (ep. 23)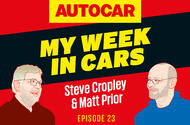 This week on My Week In Cars...
This week the lads compare car factory visit notes, talk Bloodhound and getting 5000 miles from a washer bottle
Episode 23 of the My Week In Cars podcast finds our resident gearheads comparing notes from recent factory visits, with Steve grabbing five - not four, not six - bolts for a Toyota. More seriously they wonder what legislation means for the future of western car manufacturing, talk about the Vanwall trademark and its potential misuse, find out what has happened to the names of Bloodhound land speed record donors, and getting 5000 miles from a bottle of windscreen washer fluid.
Make sure you never miss an Autocar podcast. Subscribe to our podcasts via Apple Podcasts, Spotify, Amazon Podcasts or your preferred podcast platform.
https://www.autocar.co.uk/car-news/podca...cast-ep-23