03-28-2023, 10:24 AM
My Week In Cars: New Steve Cropley/Matt Prior podcast (ep. 28)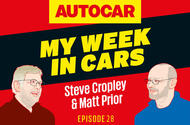 This week Steve Cropley and Matt Prior talk EV ride quality, old guys doing well and that the Berlingo is back!
Steve Cropley and Matt Prior talking about the Genesis GV60's ride, Fernando Alonso and Aston Martin's recent form, the return of the internally combusted Citroen Berlingo and whether Cropley should really push the button on buying a Ford Ranger Raptor - and if not whether an Aston DB9 would fit the bill? 
Make sure you never miss an Autocar podcast. Subscribe to our podcasts via Apple Podcasts, Spotify, Amazon Podcasts or your preferred podcast platform.
https://www.autocar.co.uk/car-news/podca...cast-ep-28