04-14-2023, 11:57 PM
My Week In Cars: New Steve Cropley/Matt Prior podcast (ep. 31)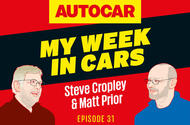 This week Steve Cropley and Matt Prior talk motoring confessions, the year's first road trip and much more
Episode 31 of the My Week In Cars podcast finds our resident motoring experts Steve Cropley and Matt Prior talking about consumers' moral obligations regarding what they buy, garage naps and other motoring confessions.
The duo also talk Cropley's first road trip of 2023, the Ariel Atom V8, choosing a small sports car over a supercar and much more. 
Make sure you never miss an Autocar podcast. Subscribe to our podcasts via Apple Podcasts, Spotify, Amazon Podcasts or your preferred podcast platform.
https://www.autocar.co.uk/car-news/podca...cast-ep-31