04-23-2023, 08:45 AM
My Week In Cars: New Steve Cropley/Matt Prior podcast (ep. 32)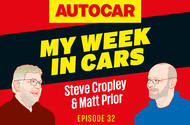 In episode 32 of My Week In Cars...
This week Steve Cropley and Matt Prior talk about naming heritage, the A-Team van, lay-bys, and more
Episode 32 of the My Week In Cars podcast finds our resident motoring experts Steve Cropley and Matt Prior talking about whether the MG name still means anything to buyers, the absence of lay-bys and stopping places on UK roads, the BMW XM Label Red's similarity to the A-Team van and Cropley's new fascination with the Jeep Wrangler.
Make sure you never miss an Autocar podcast. Subscribe to our podcasts via Apple Podcasts, Spotify, Amazon Podcasts or your preferred podcast platform.
https://www.autocar.co.uk/car-news/podca...cast-ep-32