05-07-2023, 08:37 AM
My Week In Cars: New Steve Cropley/Matt Prior podcast (ep. 34)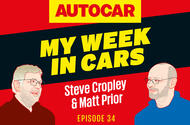 This week on My Week In Cars...
This week Steve Cropley and Matt Prior talk about Bicester's Scramble, what they listen to, and the Autocar Awards
Episode 34 of the My Week In Cars podcast finds our resident gearheads Steve Cropley and Matt Prior talking about twin-engined specials spotted at the recent Bicester Heritage Scramble, the recent Autocar Awards night, quality of car-versus-home audio, the Citroen e-C4 X and much, much more motoring nonsense besides. 
Make sure you never miss an Autocar podcast. Subscribe to our podcasts via Apple Podcasts, Spotify, Amazon Podcasts or your preferred podcast platform.
https://www.autocar.co.uk/car-news/podca...cast-ep-34