05-13-2023, 07:32 PM
My Week In Cars: New Steve Cropley/Matt Prior podcast (ep. 35)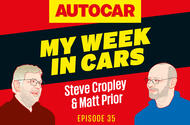 This week on My Week In Cars...
This week the boys talk to early Ineos Grenadier adopters and learn more about three- and two-wheelers
Episode 35 of the My Week In Cars podcast finds our resident gearheads Steve Cropley and Matt Prior talking about how satisfied early customers of the Ineos Grenadier are, riff on an ancient trike doubling as a motorised tool chest, figure that bikes and cars aren't so different and talk much, much more motoring nonsense besides. 
Make sure you never miss an Autocar podcast. Subscribe to our podcasts via Apple Podcasts, Spotify, Amazon Podcasts or your preferred podcast platform.
#a9a9a9;">
https://www.autocar.co.uk/car-news/podca...cast-ep-35