05-24-2023, 02:12 AM
My Week In Cars: New Steve Cropley/Matt Prior podcast (ep. 36)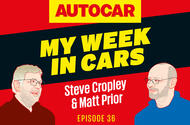 In episode 36 of My Week In Cars...
This week Prior and Cropley talk preserving green lanes, the sharpness of Bentley's Adrian Hallmark and the appeal of crafts
Episode 36 of the My Week In Cars podcast finds our resident gearheads Steve Cropley and Matt Prior talking about how to find and help preserve green lanes, the succinct excellence of the industry's bigwigs, whether doing a craft is as valuable as listening and taking, and discuss much, much more motoring stuff besides, including your correspondence.
Make sure you never miss an Autocar podcast. Subscribe to our podcasts via Apple Podcasts, Spotify, Amazon Podcasts or your preferred podcast platform.
#a9a9a9;">
https://www.autocar.co.uk/car-news/podca...cast-ep-36