03-20-2021, 11:20 AM
My life in 12 cars: UK circuit boss Jonathan Palmer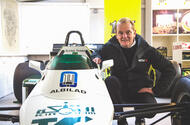 "Ron Dennis wanted me as McLaren's test driver, and the car was winning with Gerhard Berger and Ayrton Senna"
F1 and sports car racing driver turned pundit, supercar development driver and track-day expert retreads his motoring path
Jonathan Palmer's Wikipedia entry describes him as "a British businessman", which is a hopelessly inadequate label when you consider the multifarious patchwork of activities that constitutes his career.
What it especially fails to note is the clear and powerful thread that runs through everything: a lifelong love of cars. As a schoolboy in Sussex, Palmer set a course to become a doctor like his father, the local GP. But he became obsessed with motorsport and soon was doing so well at it that, by the time he had qualified in medicine, he was winning in single-seaters against top-class drivers and eyeing a professional racing career. Within a couple of years of graduating, he hung up his stethoscope and was testing Formula 1 machinery for McLaren, Williams and Lotus.
Most people know Palmer best from either his 83-race, seven-season F1 career or his later appearances as a BBC grand prix pundit. But there were also many successful Group C sports car races, including six Le Mans 24 Hours forays at the highest level. By the time he retired from competition, Palmer, always a planner, had several competing careers waiting: grand prix test driver, chief development driver for the fast-emerging McLaren F1 supercar, founder of what would become the world's best performance driving experience and BBC F1 pundit. In recent years, he has also breathed life back into five of Britain's best-known racing circuits with his Motorsport Vision business.
Ford Capri
Palmer's love of cars underpinned everything in his early life. By the time he was four, accompanying his father on patient visits near home, he was an expert car-spotter. At seven, he was one of those precocious kids who knew every acceleration and horsepower figure and could identify cars by their exhaust notes alone.
In his earliest years, the family owned spacious Peugeots. But driven by young Jonathan's admiration for rally star Roger Clark, Dr Palmer was soon persuaded to invest first in a Ford Transit van to tote four kids and tow the family caravan, then to join the 'fast Ford generation' when choosing the car he used for medical visits. There was a succession of Cortina GTs, a second-hand Lotus Cortina and an Escort 1300 GT ("a bit of a comedown").
Jonathan also persuaded his father to start going to motor races, often at nearby Brands Hatch: "My dad thought he might as well do something useful, so he became a circuit doctor and eventually the chief medical officer of the BARC."
Then they made the big leap to a 1972 3.0-litre Ford Capri – Jonathan's dream car. "It was like owning a Ferrari," he says. "My father wasn't wealthy, so we had the most basic spec you could get – hubcaps rather than Rostyle wheels – but it still had that big, lusty V6 engine and could do 0-50mph in 6.1sec. We lived in a cul-de-sac with a field out the back. I had learned to drive in an old Morris Minor Van we bought, and my father started letting me put away the Capri. Soon that meant taking it 300 metres up the road, dropping the clutch, hitting 60mph in the cul-de-sac then handbrake-turning into our drive. I got pretty good at it, but the neighbours weren't happy…"
Marcos 3.0-litre
Palmer did well at school and headed to Guy's Hospital in Southwark, central London, to begin medical studies. But he was also desperate to get into motorsport. At 17, he had done a trial at Brands Hatch in an Escort and was assessed at 91% for ability, with the comment: "Too fast for first time but lots of potential."
He moved into a South London house with various other medical types to be closer to Guy's. Desperate to start racing, he persuaded a housemate to share the cheapest racing car they could find: a tatty £325 Austin-Healey 'frogeye' Sprite. Palmer sold everything – including his bicycle and even a kart he had built at school – to raise the required £162.50. But in the car's first outing, a sprint at Blackbushe, the flywheel flew off the engine and smashed the clutch housing, luckily missing his legs. Still, he kept it going with lots of late-night maintenance. "We started doing okay," he recalls, "but it was obvious that we needed something more powerful."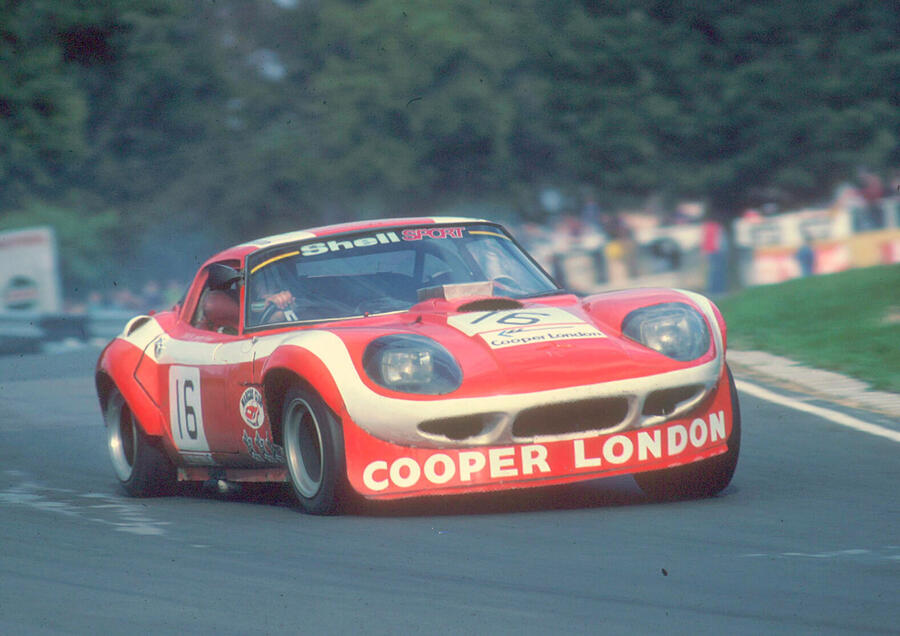 That something was a steel-chassis Marcos powered by a 3.0-litre Ford V6, for sale at £1500. Palmer sold the Sprite for £500, then did a deal with one of the Marcos's owners to retain his share while buying the other out for £750. The plan was that they would share the driving but, after a few events, Palmer's new partner helpfully opted out because he liked spectating more. "The best driver in our championship had a Porsche 911 Carrera," says Palmer. "In my first Thruxton race, I was managing to stay with him even though the Marcos wasn't in the best condition, what with oil-surge problems and fading Triumph Herald brakes." In the chicane just before the finish, the brake pedal went straight to the floor. Without meaning to, Palmer passed the Porsche on the outside and won the race.
He improved the Marcos with lots of "home engineering" and in the second season won his class and the 1977 Modsports Championship, which he found intoxicating. Still a medical student, Palmer decided he was good enough at this racing thing to "give it my best shot". About that time, he also tried his first single-seat racing car: a Royale Formula Ford at Thruxton. "It was fantastic," he says. "It made the Marcos feel heavy, with a clunky gearchange and no brakes. I knew it was time to move on."
Palmer doubled his money on the Marcos, repaying his surprised partner £1500, and began a fresh struggle to finance a first Formula Ford season with a borrowed Hawke chassis and engine. He did well, despite the difficulties, and by 1980 had found an all-important sponsor in Mike Cox at West Surrey Engineering. He also obtained a much better car – a Van Diemen – and was winning regularly enough to know it was time for Formula 3.
Ralt-Toyota RT3
During those frenetic years, Palmer somehow managed to graduate as a doctor while continuing to race at the same time. By 1981, he was a houseman in a Sussex hospital, working 100-hour weeks while perpetually rushing through the night from wards to circuits.
Ron Dennis's team, Project Four, was the big F3 winner at the time, and so Palmer convinced Cox to buy its 1980 championship-winning Ralt car – after demonstrating his ability in a shakedown session by lapping Goodwood within 0.1sec of champion and regular driver Stefan Johansson. "The grip and balance of that car were fantastic, and I loved its precision," he says. "The technical detail was new, but it suited me, the aero settings and skirt heights. I made sure I thoroughly understood that stuff."
Using his well-honed skills of persuasion, Palmer convinced ace team manager Dick Bennetts to come back from New Zealand and run his tiny team. Finance was a never-ending problem (Palmer even raised £5000 selling 'Back a future British F1 star' stickers out of Autosport magazine at a pound a throw). "We won the first race," he says, "and then the next three." Bennetts realised Palmer had talent so, despite enduring money problems, they staggered on.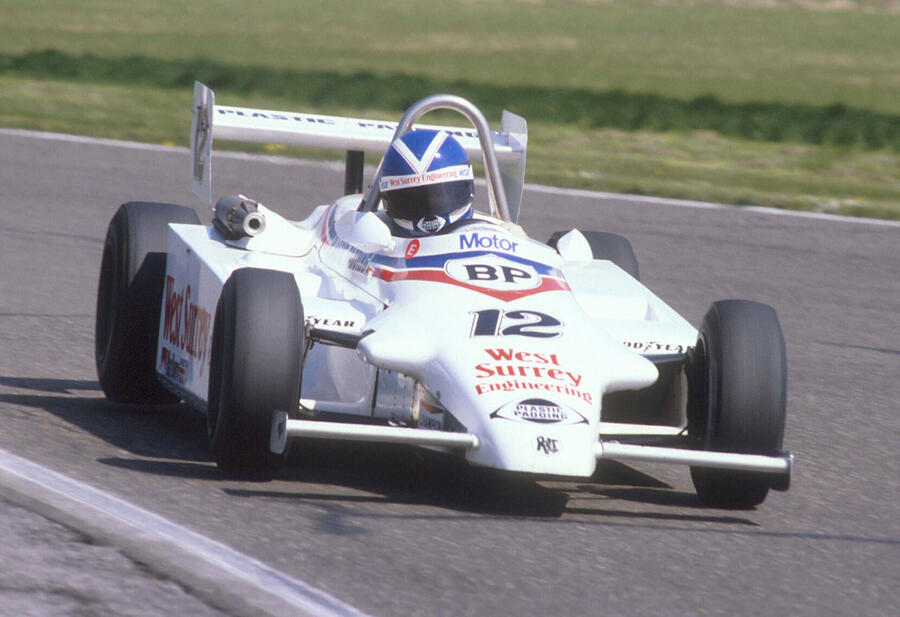 He says: "At Oulton Park, I had already won the championship with two races to go. We fitted some new bits to make the car go even faster, but it was protested and declared illegal. In those days, you forfeited two maximum scores for that; I was devastated. Then at the next race, Snetterton, a start-line shunt severely damaged the car. We cobbled it back together, but I had to start from the back of the grid – a disaster. I managed to come through the field, though, to win the race and take the title. It was a good moment."
Back then, the F3 series winner's prize included a McLaren F1 test at Silverstone. "I got on well with Ron Dennis," Palmer recalls, "and he engineered the car that day. The result was I posted a time that would have put me on the second row of the 1981 British Grand Prix." Dennis immediately invited Palmer back to McLaren headquarters to meet F1 designer John Barnard; the meeting went well, but nothing came of it.
It was the first of several career might-have-beens. "I will always believe that if Niki Lauda hadn't decided to come back to F1, I might have been in a McLaren for 1982," says Palmer. But at least his ability was now clear to all: around the same time, he also tested F1 cars for Williams and Lotus.
Volkswagen Golf GTI
For a fast-rising but always-broke young racing driver who was continually rushing from a Sussex hospital to the UK's far-flung race circuits, the appeal of a quick and practical car was a dream. So as soon as Palmer started getting paid for his drives, he invested in a car that he had always admired: a black Mk1 Volkswagen Golf GTI, complete with red pinstripes around the grille, tartan upholstery, firm seats, an airy cabin and lively road performance.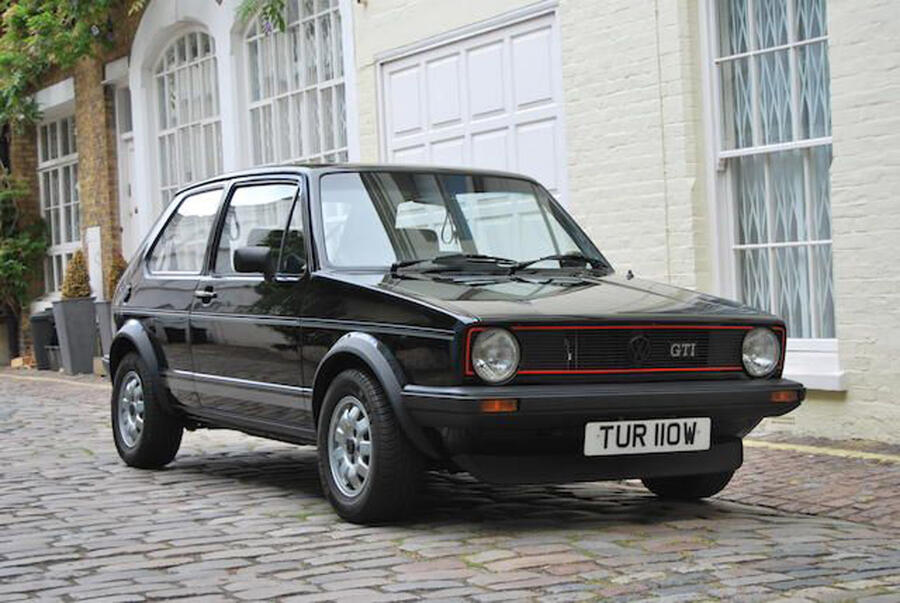 "I loved that car," he says. "It was quick because it wasn't heavy. It was stable and supple. The gearbox was great. I went all over the place – usually fast. Just the memory makes me want another one now."
Ralt-Honda RH6/83
Ralt boss Ron Tauranac offered Palmer a Formula 2 drive for 1982 in the Honda V6-engined car – a logical step if he wasn't going straight to F1. But the 1982 season didn't go right; the car qualified well on Bridgestone tyres but they degraded in races. The following season, on Michelins, was better. Palmer mastered the set-up of his car in a way that few drivers ever do, loved driving it and won six of the 12 races to take the championship – the most dominant year of his career.
He especially enjoyed one episode that followed the banning of a Ralt twin-spring suspension system that enabled the car to settle under speed and load and take best advantage of its aerodynamic skirts. Suddenly restricted to a single spring, he spent the night before the race carefully calculating the exact rate that would still allow the car to deliver its performance. He qualified on pole by a whole second and won at a canter.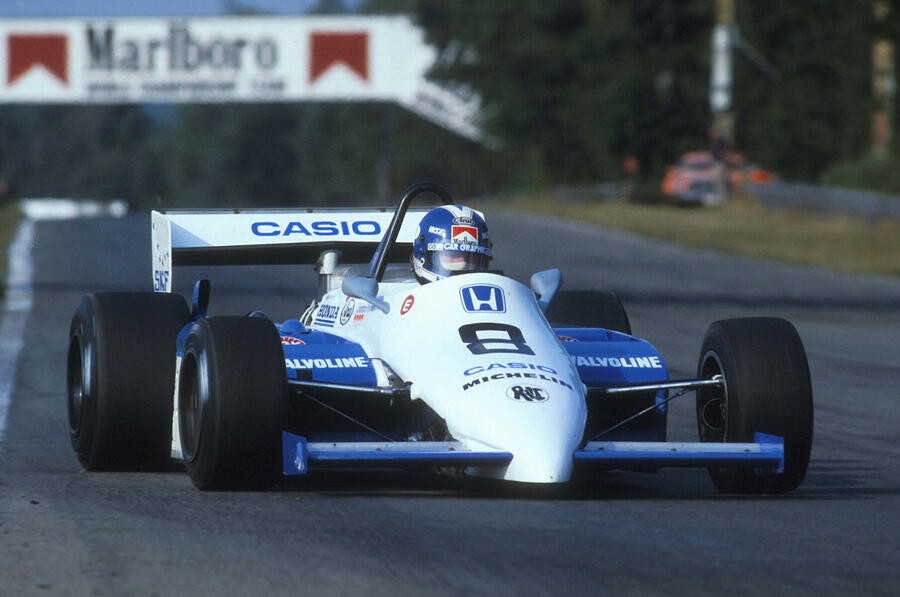 Palmer could have raced the Ralt again in 1984 but, as F2 champion, he felt this was his moment to get into F1. However, available drives were hard to find. Tyrrell was in the frame, but Sir Jackie Stewart was promoting Martin Brundle for that. The fallback was the tiny, Hart-powered Ram team: very much a back-of-grid option. "The car was dreadful," Palmer recalls. "About as far away from Ralt's precise, methodical engineering as you could get. But at least it was F1. We just about qualified each time, and at least it got me a year's experience."
For 1985 and 1986, Palmer raced for German Erich Zakowski, whose Zakspeed team had become well known in sports car and saloon racing. "They were trying to be Ferrari," says Palmer, "building their own turbo engine as well as the gearbox and chassis. The engine wasn't durable, the qualifying tyres wouldn't last a full lap and there was no data to tell us how to improve. It was all very crude. But at least I got paid £50,000 for the privilege."
Porsche 956
Away from F1, Palmer joined Richard Lloyd's privateer sports car racing team, first campaigning a Porsche 924 Turbo and then swapping, rather shockingly, to a full-house Group C 956. "It was like going from a road car to a Mercedes F1 car," says Palmer. "Daunting but hugely exciting. Our little team was totally focused on beating the works cars, and we had a lot of great races doing it. Richard was a great team leader." Most memorably, they won the Brands Hatch 1000km sports car race in 1984 and finished second at Le Mans the following year, having lost three laps to brake trouble.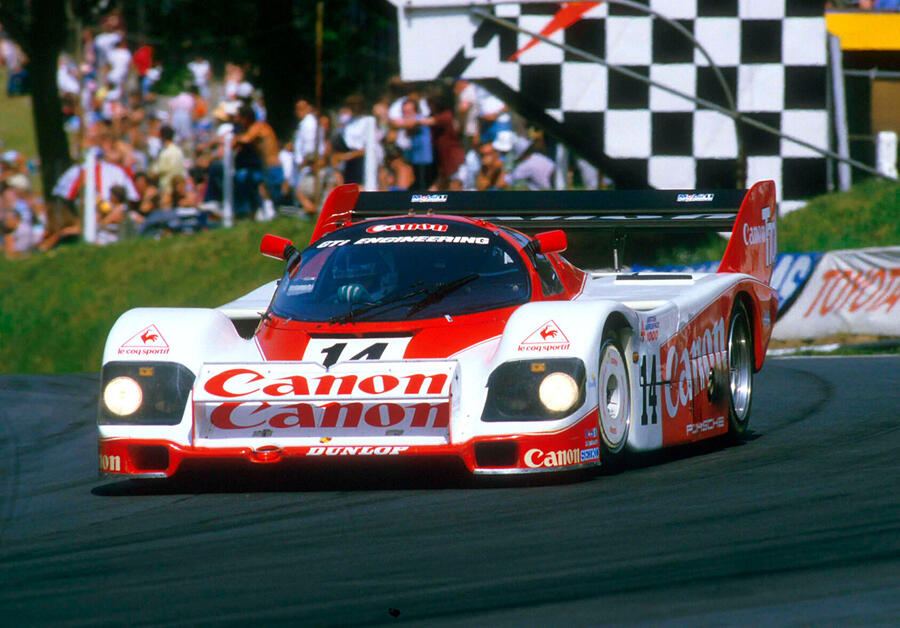 Mercedes-Benz 500 SEC
At that time, Mercedes did very special deals for F1 drivers. You knew you had made it when you were offered a heavily discounted big Benz, along with the regulation Tag Heuer watch and lots of Hugo Boss clothing. Palmer chose a 5.0-litre V8-engined 500 SEC coupé with BBS wheels and all the right Zender aero bits. It looked terrific, and Palmer remembers it as a superb car for relaxed, quick journeys around the UK, although he never used it to get to European races.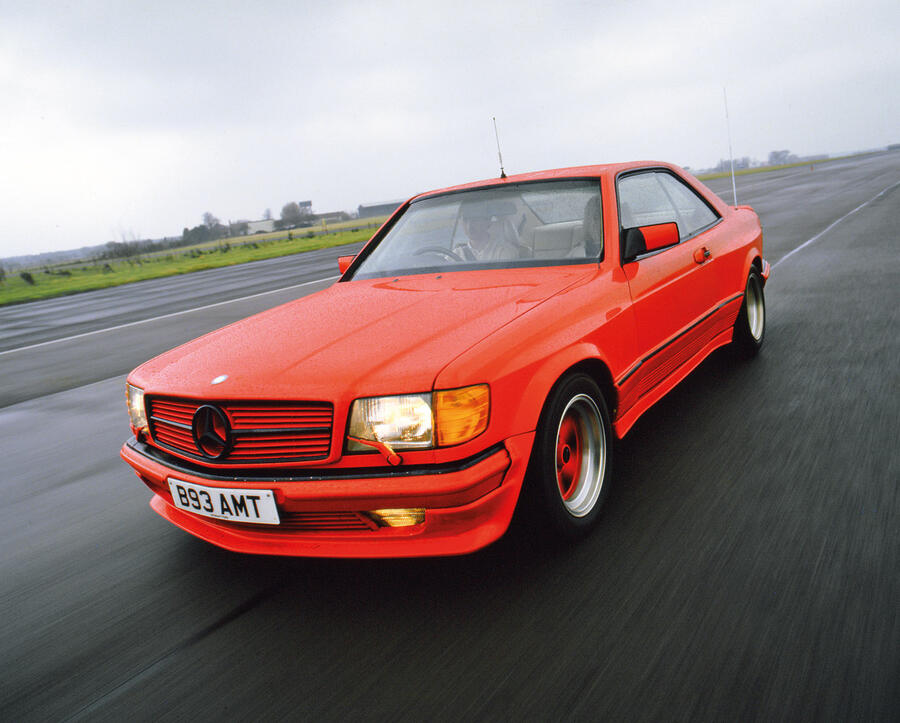 Tyrrell-Ford 016
For his fourth F1 season, Palmer swapped to Tyrrell – the team he had wanted to join in the first place. "The 016 was a really good car, and we had some strong races," he says.
His best was Monaco, where Palmer used his special knowledge of chassis set-up to improve the handling and finish fifth. "Monaco is all about turning in," he says. "You don't want any understeer. We removed the front anti-roll bar, used stiff springs to control roll while allowing the wheels some freedom on the cambers, and it worked."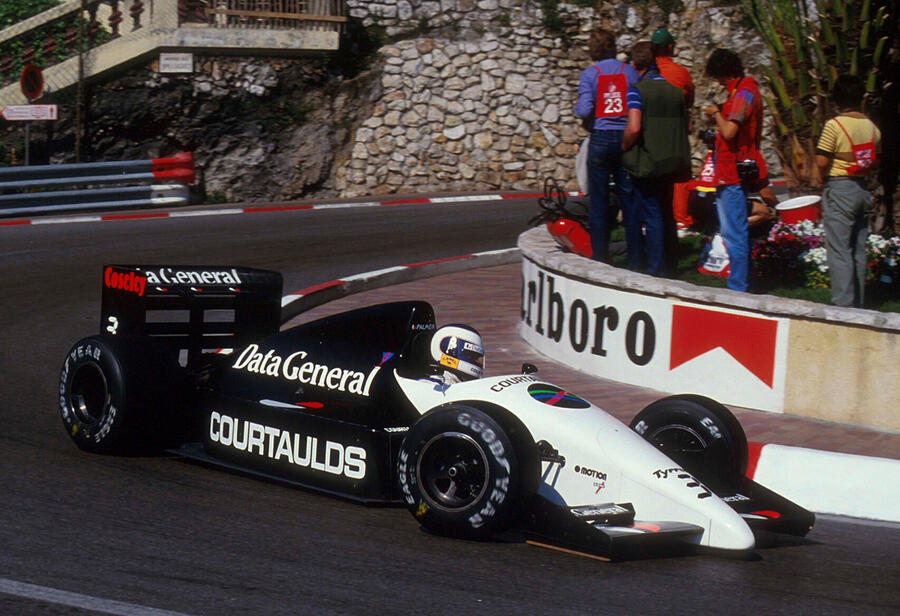 Palmer did two more years at the team. The 017 for 1988 wasn't a good car, but in 1989 Ken Tyrrell hired ex-Ferrari designer Harvey Postlethwaite, aero expert Jean-Claude Migeot and Ferrari race winner Michele Alboreto to drive the other car. Palmer says one of his career highs was driving the new 018, in which Alboreto failed to qualify, to sixth in its first race. The Italian promptly left the team.
"Things were sorted now, I thought," says Palmer. "I had shrugged off Alboreto, the new car had potential and my team-mate, a French Formula 3000 champion called Jean Alesi, was entirely new to F1. In the first grand prix, I was ninth and Jean was 14th. But in the next, I had a first-lap stumble and he finished fourth. Next race he out-qualified me, and after that he was always 0.3sec faster. And that was my F1 career done…"
McLaren MP4/5
"I couldn't see a drive I wanted for 1990," says Palmer. "I had been looking good for a drive at Arrows, but after Jean started beating me, their enthusiasm waned. I've always been pretty realistic, so I had a hard look at the options. Ron Dennis wanted me as McLaren's test driver, and the car was winning with Gerhard Berger and Ayrton Senna.
"The MP4/5 was just gorgeous – probably the nicest F1 car I ever drove – and it looked beautiful, too. The Honda V10 engine was quite torquey and sounded beautiful. Honda had a test team in Japan, and I settled into a routine of going out there for three days' testing every month. It went on for 18 months: we developed active suspension, the semi-automatic gearbox and ultimately the V12 engine along the way."
McLaren F1
As well as testing F1 cars, Palmer was also asked to do thousands of development miles in McLaren's emerging high-tech road car, the F1. He did the legendary (and "scary") 231mph top-speed run at the Nardò proving ground in Italy and especially remembers admiring the supercar for its huge performance, its beautiful styling, its "magic" BMW V12 engine and its unique packaging.
Thanks to his status as a grand prix racer, Palmer was useful for schmoozing potential customers, too. In particular, he remembers demonstrating the F1 to the Japanese owner of a huge amusement park outside Tokyo. The man wanted discretion, so the meeting was arranged for 3am, inside the actual amusement park.
"Everyone arrived in black limousines," Palmer remembers. "I demonstrated the car as best I could, never getting out of second gear. Then the customer got behind the wheel, drove 100 metres, said fine, and that was the deal done."
BMW 330d xDrive Touring
In recent years, Palmer has chosen BMWs for road duties, both because their blend of performance and durability suits his PalmerSport performance driving business (customers are encouraged to drive "school" M3s as fast as they will go) and because they suit his presson driving style. "I find the blend of compactness and good looks of the 3 Series Touring suits me fine," he says. "I've had multiple versions of the same car. The diesel is quick enough because it's torquey, and I can get 35-37mpg. And it's effortless, which I particularly like."
Caterham Seven
It has been exactly 30 years since Palmer founded what he believes – with plenty of customer feedback to back him up – is the world's greatest driving day. It started at Bruntingthorpe while he was still testing McLarens and moved a few years later to Bedford Autodrome, a former airfield specially adapted for the job with a variety of circuits, huge run-off areas, race-proven instructors and a huge variety of performance cars, from karts to F3000 cars, via track-prepared BMWs and Renault Clio RSs.
Today, the PalmerSport fleet runs to 100 cars, which means Palmer and his business must have bought and run well over 1000 quick cars over the years – an amazing claim. Which car does he rate highest? "It has got to be the Caterham Seven," he answers. "People love them, and so do I. They're still special to drive, so quick and safe and precise, yet they're economical to operate and they've proved over and over that they can withstand a life on the limit. If the Seven didn't exist, you would have to reinvent it."
That makes Palmer's dozen cars. Do they sum up his life? Not really: there's much more to tell. Is he done with acquiring cars? Absolutely not. Having recently moved to a new house, he fancies a shifting collection of maybe a half-dozen interesting vehicles – a veteran car, perhaps, and maybe a Citroën DS or an NSU Ro80. He owns a tiny Fiat 500 that he will never sell and has a soft spot for recent front-engined, V12 Ferraris, which he believes will soon come to be seen as great classics. There are plenty of other possibles. In short, his passion isn't going away.
DIY beginnings
While at school, Palmer built his own kart, designing it to take the 250cc Villiers engine and four-speed gearbox from a Bond three-wheeler that a friend's father was scrapping. "I really loved woodwork and metalwork," he says, "and my teacher let me use the school workshops after hours because he could see that I was so keen.
"I welded up a chassis from square-section tube, moved the rear hubs to the front, made my own wheels, steering gear and driveshafts and really enjoyed all the challenges that came up.
"I had to rush because the idea was that it would make an appearance on the last day of school. But when I drove it for the first time, the front wheels turned right when I turned the steering left: I had got the linkages the wrong way around. Luckily I managed to fix it in about 15 minutes, and it became the star of Speech Day."
READ MORE
My life in 12 cars: McLaren Automotive boss Mike Flewitt 
My life in 12 cars: British design hero Ian Callum 
https://www.autocar.co.uk/car-news/featu...han-palmer