11-08-2022, 09:08 AM
Nearly new buying guide: Aston Martin DB11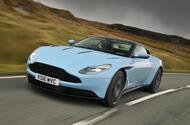 The DB11 was available with a 600bhp 5.2-litre V12 and a 528bhp V8 derived from Mercedes-AMG
Effortless, elegant grand touring with a choice of twin-turbo V8 or V12: what's not to like?
Cast your mind back to 2016: La La Land was in cinemas, the summer Olympics took place in Rio de Janeiro – and Aston Martin released a crucial new model, the DB11. This grand tourer was slated to make or break the British marque, and – spoiler alert –the firm is still making attention-grabbing cars today, although there have been plenty of other 'make or break' moments for Aston in the interim. 
The earliest DB11s have a V12 engine – a twin-turbo 5.2-litre that produces a mighty 600bhp and 517lb ft of torque – and they cover ground with the pace and refinement expected of a serious, top-order GT. But even more 12-cylinder power (630bhp) is available from the AMR version, which effectively replaced the DB11 V12 in 2019. 
The alternative twin-turbo 4.0-litre V8, introduced in 2017, isn't exactly lacking in performance, though. Early versions put out 503bhp and today's have 528bhp. In case you're wondering, it's near enough the same V8 that you'll find in a fair few Mercedes-AMG cars, including the GT.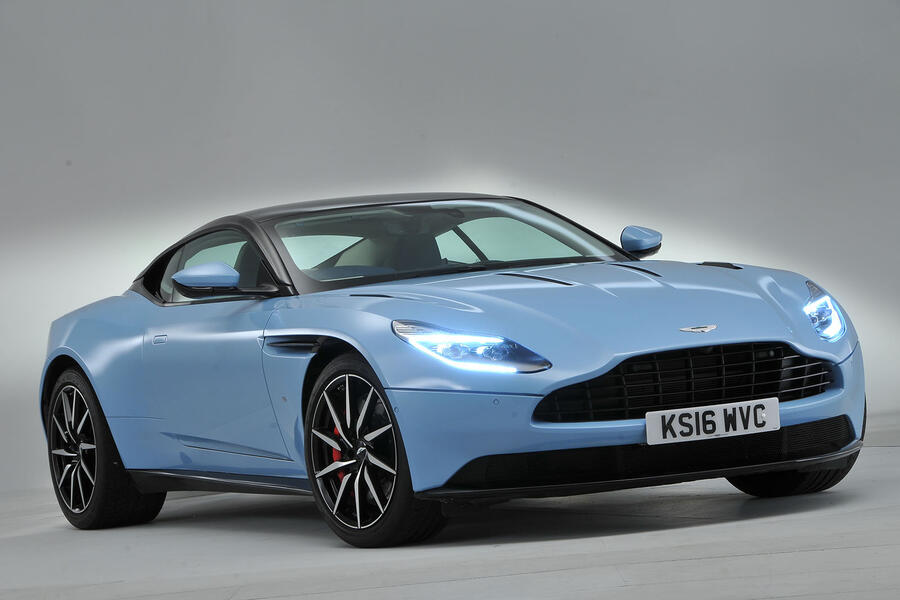 The V8 injects a more sporting flavour into the driving experience, although it's a difference of degree rather than kind. The lighter engine makes for a sharper front end, aiding agility and adjustability through corners. 
The DB11's extraordinarily good ride is another dynamic hallmark. Going through GT, S and S+ modes gives ever firmer response from the Bilstein adaptive dampers, but even the first of those modes lends it an impressive breadth of ability. It's an ideal sporting GT, being part long-distance cruiser, part country road weapon. 
The steering is well measured, too. It's quick, but not so fast around the straight-ahead that it feels nervous at motorway speeds. You get a welldefined and confidence-enhancing picture of the road surface and tyres' grip transmitted to your palms. 
The driving position is spot on and the interior, from top to bottom, is finished in lavish materials. There's lots of room in the front and a pair of seats best suited for children or extra storage in the rear. Speaking of which, the boot will comfortably accommodate a couple of overnight bags – perfect for that weekend road trip to the south of France.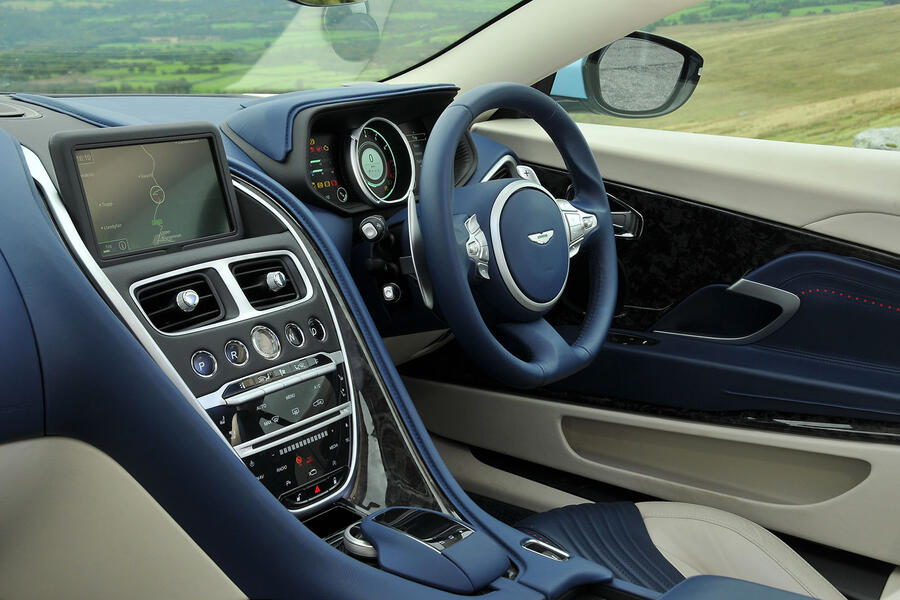 Buying a brand-new DB11 brings lots of customisation options, which means you'll find a variety of specifications on the used market. If that sounds expensive, then you'd be right. The starting price is around £83,000 for early V12s and V8s, and you'll need upwards of £110,000 for the AMR version. 
To put it in context, though, some rivals such as the latest Bentley Continental GT begin at around £120,000 or more. So in some ways it's a steal (for the type of vehicle) – and it's a considerably less than buying a new one, which will be upwards of £150,000 even in its entry-level form. For the money, you're getting a very competent GT car with lots of class, luxury and driver appeal. And, of course, an important little slice of Aston history.
Our top spec
You won't have to choose a trim level, but that's no bad thing given the high standard of kit. However, you do have a choice of bodystyles: a coupé or the convertible Volante, which was launched in 2018. But if you want the open-air DB11, you can't have a V12: it's V8 only.
Need to know
It isn't just the V8 that's from Mercedes. Aston's technical relationship with Mercedes parent company Daimler also brought in the infotainment system (albeit graphically tweaked), electromechanical power steering, multi-link rear suspension and torque vectoring by braking.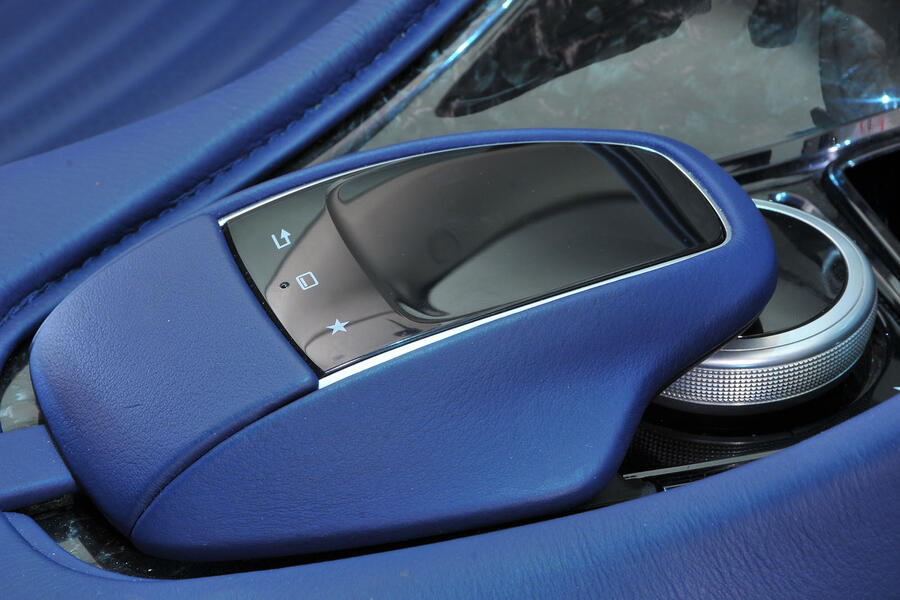 There's just one trim level and its extensive roster of kit includes heated, electrically adjustable leather seats, climate control, keyless entry and start, cruise control, parking sensors and a 360deg parking camera.
Buyer beware
Fuel economy: Unsurprisingly, the DB11 drinks fuel like there's no tomorrow. The V12 averages 21.1mpg, according to WLTP testing. By contrast, the V8-engined car has an official WLTP figure of 24.8mpg.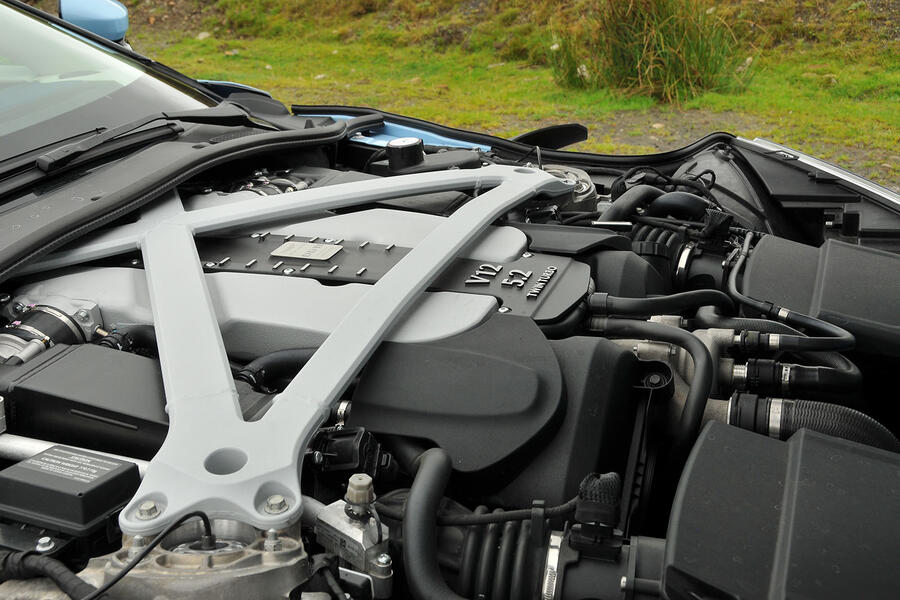 Electrics: Interior build quality on the DB11 is better than any previous Aston, so you shouldn't experience any problems with loose trim. However, owners do report issues with the electrics, especially relating to the sat-nav and the air-con.
Our pick
4.0 V8: The V8s are among the most affordable to buy and are cheaper to run. That may not be of utmost importance to DB11 owners, but it's definitely worth noting, along with better handling than the V12 cars. 
Wild card
DB11 AMR: Although it costs a pretty penny, the AMR is a class act. It's very capable in the corners, yet effortless and elegant when the road straightens out thanks to an abundance of power from its V12.
Oliver Young
https://www.autocar.co.uk/car-news/used-...tin-db11-0