10-25-2021, 08:38 PM
Nearly-new buying guide: Audi A7 Sportback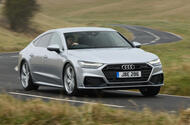 An attractive grand touring coupé fit for the family - we investigate
If you fancy the idea of a rakish coupé but find yourself with a family to cart around, why not check out one of the fastback alternatives? And if you can't quite stretch to the stunning Audi E-tron GT, why not cast a glance at the Audi A7 Sportback, which was among the first models to showoff the swoopy five-door look?
The second-generation A7, launched in 2018, offers two petrol and three diesel engines in turbocharged 2.0-litre four-cylinder and 3.0-litre straight-six forms.
The 2.0-litre units are available with or without Quattro four-wheel drive and get a seven-speed dual-clutch automatic gearbox, while the 3.0-litre diesel gets an eight-speed torque converter and Quattro as standard. Mild-hybrid technology that helps to save fuel is reserved for the 55 TFSI petrol and 50 TDI diesel.
Click here to buy your next used A7 from Autocar
The A7 is well equipped, too. Sport is the base trim and comes with Audi's Virtual Cockpit digital display, LED lights, leather seats, 19in alloy wheels, front and rear parking sensors and a reversing camera. S Line is a little bit sportier, with sports suspension, 20in rims, matrix LED headlights and Alcantara trim.
Black Edition replaces all chrome exterior details with black ones. Top-of-the-range Vorsprung gets 21in alloys, adaptive air suspension, four-wheel steering and an uprated Bang & Olufsen stereo.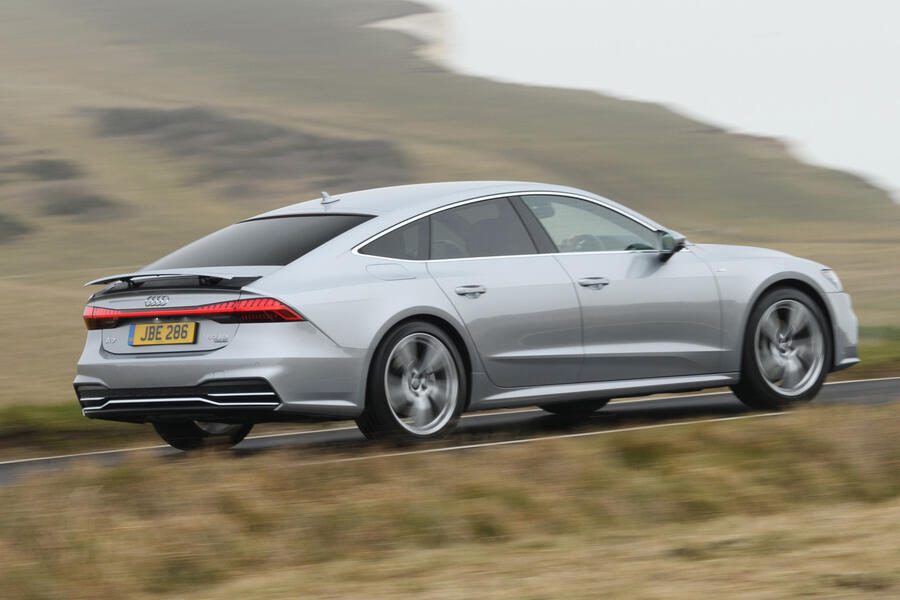 The good news is that the A7 is set up to provide safe and predictable handling above all else. Four-wheel-drive models find plenty of traction in even the trickiest of weather conditions, plus there's enough grip for the A7 to hang onto the apex of a corner with little deviation. The A7 also does practicality, of course. It has a massive boot with a hatchback opening, which proves particularly useful if you need to transport something large, like a child's pushchair. The rear seats can be folded down in a 40/20/40 split, increasing versatility yet further.
Passenger accommodation is only an issue if you happen to be over six feet tall and are sitting in the back. On the whole, there's lots of leg and shoulder room for all occupants.
The interior is also beautifully assembled and adorned with sumptuous finishes throughout.
However, while it may look like a tech lover's paradise, with conventional buttons swept away in favour of a twin-touchscreen dashboard, this space-age set-up isn't the most intuitive. The upper screen deals with the infotainment, sat-nav and (Apple CarPlay and Android Auto) smartphone mirroring, while the lower one operates the climate control, heated seats and other minor functions. Unfortunately, you have to look away from the road in order to touch the control icons on either screen, which can be distracting while you're driving.
Prices for a nearly new A7 start at around £32,000, this getting you into an early 2018 car, probably a 40 TDI diesel in Sport trim. Budget between £35,000 and £40,000 for a 2019 A7 in high-spec trim or a 2020 version in a lesser one, and you will need £45,000 and upwards for a good 2021 car.
Buyer beware
Electrics There have been reports of electrical glitches and failures. The infotainment system can freeze and refuse to work, while the central locking eversing sensors and smartphone mirroring can also cause issues. There are isolated reports of engine warning lights staying on. Some owners have complained about rattles and squeaks within the cabin.
Engine The 2.0-litre petrol engine has had some issues reported relating to the tensioners and guides in the timing-chain system failing, so it's worth checking if the A7 you're looking at has had any work done. There have also been reports of stop-start system defects, which can delay accelerator response and disable the power steering.
Suspension The nuts on the eccentric bolt on the rear axle's spring-link control arm have been known to break from stress fatigue.
Interior Some owners have complained of a mildly noisy centre differential and some rattles from the trim surrounding the gear selector.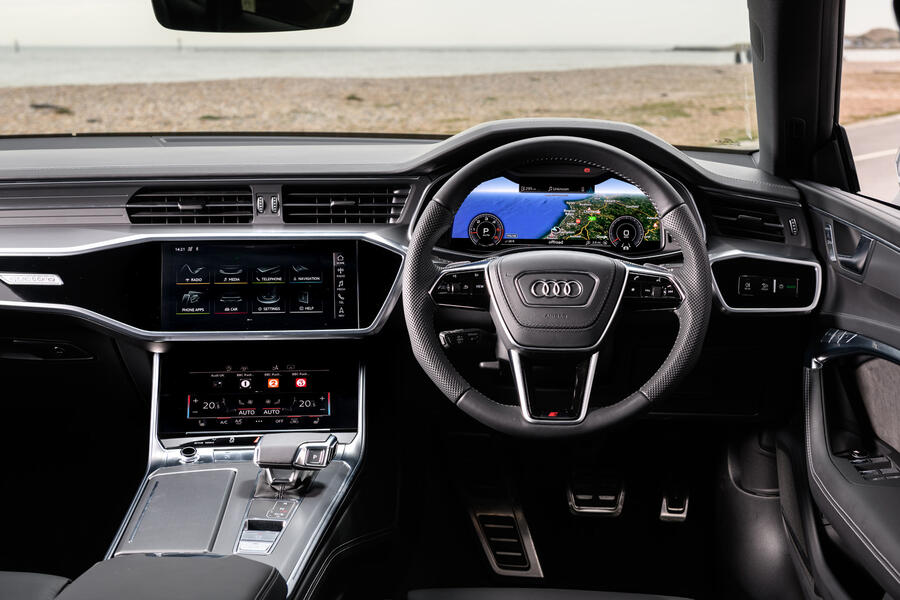 Recalls 
The front passenger airbag might not inflate fully in an accident.
Vehicles might have been fitted with a hinged towing bracket on which the locking mechanism in the hinge module could be faulty.
Moisture might enter the belt- driven starter-alternator, causing problems with starting.
Need to know 
Go for the 40 TDI if you cover lots of miles, because it offers the best fuel economy, at 48.7mpg. The V6 diesel 45 TDI and 50 TDI claim respectable averages of 39.2mpg and 38.7mpg. Stick with the 45 TFSI petrol and you should see 36.7mpg, but the more potent V6 55 TFSI is a bit thirsty, at 31mpg.
Audi doesn't have an amazing reliability record, ranking 18th of 30 brands in the latest What Car? Reliability Survey. The A7 didn't feature, but the subcutaneously similar A5 scored a decent 96%.
Our top spec
Sport: The base trim level brings all the equipment you could ever need and is a good compromise if you value comfort. S Line adds sports suspension and 20in wheels that do nothing for ride quality, while Vorsprung is quite costly.
Our pick
50 TDI: Unsurprisingly, most used A7s are diesels. If you can stretch to the most potent one, you won't regret it. It offers a lot of performance, yet its running costs are similar to those of the lesser 45 TDI.
Wild card
55 TFSI Vorsprung: Why not treat yourself to the creamy, smooth and superbly punchy (but thirsty) 3.0-litre petrol V6? Vorsprung trim brings air springs and four-wheel steering, doing wonders for agility.
https://www.autocar.co.uk/car-news/used-...-sportback