12-11-2021, 06:35 PM
Nearly new buying guide: Audi E-tron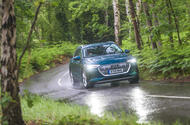 If you want to go electric in familiar luxury, this is a great option
At its launch in 2019, the E-tron was marketed under the somewhat jumbled slogan "Electric has gone Audi".
As the brand has rolled out more EVs and committed to shunning combustion in 2033, electric has gone… more normal, and we can approach used E-trons with a bit more familiarity. 
At the entry level, we have the 50 Quattro 71kWh version, which packs 308bhp and can go from zero to 62mph in 6.8sec. The next step up is the 55 Quattro 95kWh variant, with 403bhp and a 5.7sec 0-62mph time. 
Then there is the E-tron S – or, more specifically, the S Vorsprung Quattro 95kWh. This range-topping model gets 503bhp and a 4.5sec 0-62mph time, making it the quickest of the bunch.
Officially, the 50 Quattro can cover 198 miles with a full battery, although you're more likely to get 150 miles or so in real-world driving. The 55 Quattro has a WLTP rating of 254 miles and the E-tron S 223 miles.
In terms of trim, Technik and Sport are the most affordable. Standard equipment on the Technik includes heated front seats, part-leather upholstery, electric folding door mirrors, a powered tailgate, keyless go, cruise control, front and rear parking sensors, a rear-view camera and air suspension.
S Line is your mid-range option. It comes with a sporty bodykit, 21in alloys, adaptive sports air suspension, matrix LED headlights, privacy glass and extended leather. 
Top-rung Vorsprung adds imposing 22in alloys, a 360deg parking camera, a panoramic sunroof, keyless entry, heated front and rear seats, a head-up display, a 16-speaker Bang & Olufsen sound system, blindspot monitoring and adaptive cruise control with steering assist. And… breathe. 
Out on the road, the E-tron's air suspension does a grand job of wafting you along in Comfort mode, dealing extremely well with all manner of lumps and bumps. The car weighs more than 2.5 tonnes with the driver on board but still handles pretty tidily around bends. The wide tyres provide lots of grip, the steering is precise enough and the suspension does a good job of preventing the car from leaning like a certain well-known Italian tower through corners.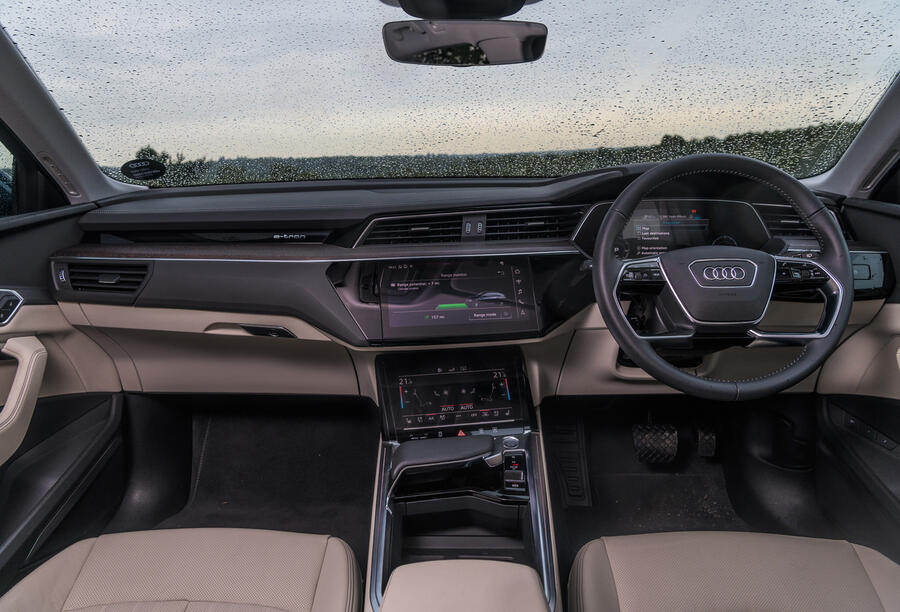 Inside, it's all very plush and upmarket, and above the 8.6in touchscreen climate control panel sits a 10.1in touchscreen that works as part of the infotainment system. There's also a 12.3in digital display behind the steering wheel that Audi calls the Virtual Cockpit. Front and rear passenger space is excellent, as is boot space.
Used prices begin at around £46,000. That will get you a 50 or 55 Quattro from 2019 or 2020 with average mileage. The trim is likely to be Technik at that price point. For an S Line model, you will have to increase your budget to about £57,000, but these cars will have low mileage. Vorsprung spec brings another substantial jump in price – to around £66,000. For the sporting E-tron S variant, which is usually found in the more rakish Sportback bodystyle, expect to pay upwards of £76,000.Need to know
Like conventionally powered Audi models, the E-tron comes with a three-year/60,000-mile warranty. Its drive battery is separately covered for eight years or 100,000 miles.
The E-tron is part of a confusing, inconsistent naming structure, especially given that the E-tron tag has previously found itself on a plug-in hybrid variant of the A3 hatchback. The E-tron's smaller SUV sibling is named the Q4 E-tron, while the fastback is called the E-tron GT. SUV models with sloping rooflines also gain the Sportback title. 
Audi paused production of the E-tron from February to May 2020, but this was due to problems with the supply chain, not the car itself.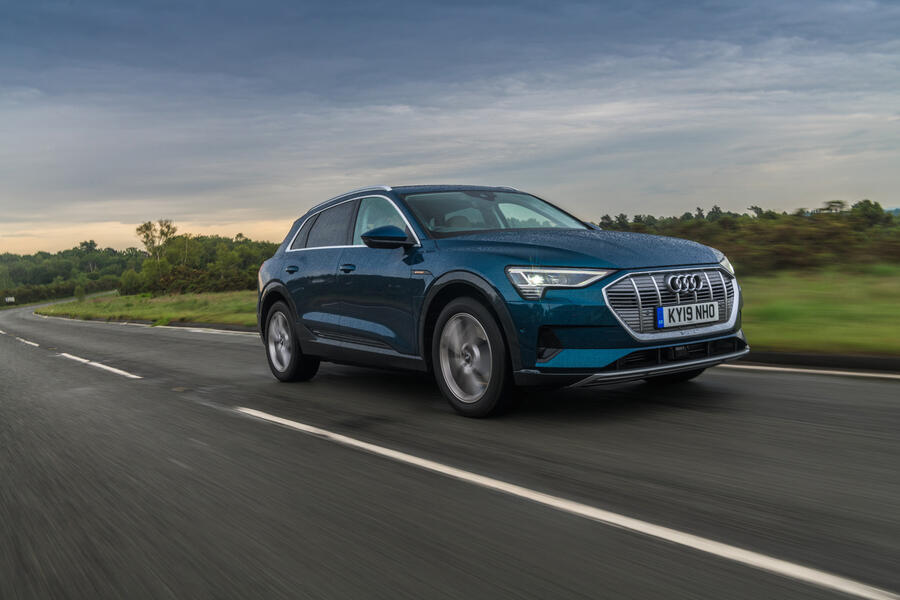 Buyer beware
Electrics: Our long-term E-tron developed faults with its adaptive cruise control and emergency call function during its time with us. Owners have reported the phone app not connecting to their car. There have been reports of the four-wheel-drive "limited stability" warning light coming on intermittently. Malfunctioning warnings for the suspension system, low tyre pressure, the lane departure assist system and the distance warning lights have also been noted. 
Body and interior: Owners have complained about a failing rear light bar and some even had to have the unit replaced with a redesigned component. Other owners have reported issues including bubbling paint, major water leakage and damp carpets in the front footwells, and numerous charging problems.
Recalls: Water might get into the high-voltage battery of some E-trons, resulting in a short circuit or fire. 
Nuts that don't meet Audi's specification might have been fitted on the rear-axle suspension links of a number of E-trons. A dealer will be able to replace the affected nuts free of charge. 
Some E-trons might have an electromechanical brake servo with a manufacturing discrepancy.
Others might suffer a loss of power and display the message "safely stop vehicle". A software update for the electric drive system will resolve the issue.
Our pick: 55 Quattro
We would step up from the 50 Quattro to the 55 Quattro for the boost in range: 198 to 254 miles. Performance is plentiful, too, and used prices aren't much higher. 
Wild card: E-Tron S
If you want to ramp up the sporting appeal, the S should be your go-to. It's seriously quick, and looks the part too. However, make sure your pockets are deep – twice as deep as someone looking to buy an entry-level variant. 
Our top spec: Sport/Technik
We don't see much point in upgrading beyond the base level, because it offers most of the luxuries you are likely to want, including LED headlights and dual-zone climate control.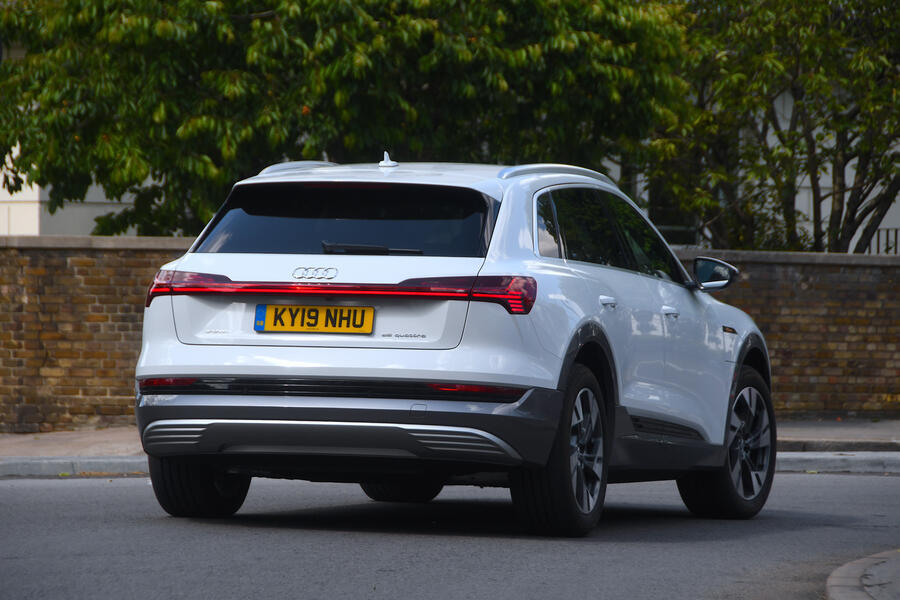 Ones we found
2020 E-tron 50 Quattro Technik, 5000 miles, £48,900
2020 E-tron Sportback 55 Quattro S Line, 7500 miles, £62,507
2021 E-tron S Sportback, 1000 miles, £82,000
Oliver Young
https://www.autocar.co.uk/car-news/used-...udi-e-tron