10-04-2021, 05:46 AM
Nearly new buying guide: Audi Q3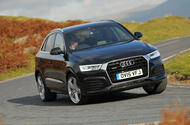 A first-generation Q3 looks much like a current Q3, so save your cash
Audi's Q3 is so well built and its styling so evolutionary that you have to ask yourself why you'd buy a brand-new second-generation model starting at £34,640 on the road when you could have an example of its predecessor, a 2013-reg one-owner 2.0 TDI 140 SE quattro with a full main dealer service history, for nearly £27,000 less.
The answer might be because the used one hasn't got the latest infotainment technology and isn't as efficient, because it has done 85,000 miles and because it no longer smells so nice. Still, all that image and quality for just £8000…
You can pay as little as £6000 for a used Q3 or as much as £30,000 for an example of its hot spin-off, the RS Performance model. The sweet spot is around £12,000 for a 2016- reg Q3 2.0 TDI 150 SE with 60,000 miles. That's a facelifted model, by the way. (Such cars date from spring 2015.)
Click here to buy your next used Q3 from Autocar
Scared of diesel? Another £1500 will get you a same-age and mileage 1.4 TFSI COD 150 SE. If you're only tootling around lightly loaded, it's fine, but the diesel has extra useful heft and even more of it in 181bhp form.
The Q3 was launched in 2011. It was one of a small number of premium, compact SUVs, the others including the BMW X1 and Range Rover Evoque. Next to the Evoque, the Q3 looked fairly bland but in a way that suggested effortless quality, an attribute that has served it well. It's about the size of an A3 but the rear is more cramped, and although the boot appears big on paper at 460 litres, it not that usable a space, so test it out first.
From launch, engines were the traditional mix of diesels and petrols, and until the 1.4 TFSI's arrival in 2014, all of them were 2.0 litres. The lower-powered petrols have always been front-wheel drive only but their diesel equivalents are a mix of that and quattro four-wheel drive. More powerful Q3s are all quattro. The four-wheel drive system aids traction on slippery roads but forget straying too far from your picnic spot: the Q3 has too much fancy body addenda to risk going far off road.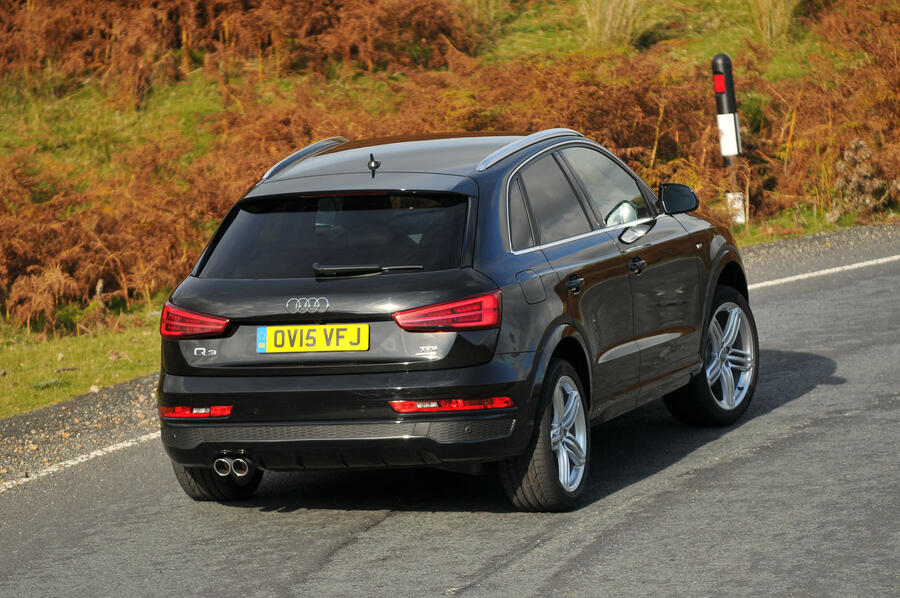 Transmissions are a choice of a six-speed manual or the S tronic seven-speed dual-clutch automatic. The S tronic gearbox suits the Q3, a car that's best enjoyed at a trot rather than a gallop.
The 2015 facelift brought new technology, including cylinder on demand (COD) for the 1.4 TFSI and slightly more power for the 2.0-litre petrol and diesel units. All engines were cleaned up to meet Euro 6 emissions regs. As for styling, the nose and tail were given a makeover while SE trim got xenon headlights and S line sweeping indicators.
However, viewed in isolation, you'd be hard pressed to tell pre- and post-facelift cars apart. Of the four trims – depending on the year, they range from SE to Black Edition – SE offers the best value and goes without the larger, ride-spoiling alloy wheels and sports suspension.
BUYER BEWARE
Engine On diesel models, check the level of the engine oil. Too high may indicate regeneration issues with the diesel particulate filter. Whatever the level, take the car for an extended, medium-speed drive to see if you can trigger limp-home mode, if it happens suggesting DPF issues caused by insufficent higher speed journeys. Owner surveys report that petrol engines are more reliable than diesels. That said, a batch of 2017-reg 2.0 TFSI engines had camshaft problems. 
Wheels Audi recommends that on four-wheel drive versions, the tyres, ideally premium, are the same make.
Body Make sure the xenon headlights don't flicker. Also, where high beam assist and lane assist are fitted, that the headlights don't dazzle oncoming drivers. Check rear wheelarch mouldings are secure. 
Interior Check the windscreen demister works.
Need to know
Q3 petrol models rank third in the 2019 What Car? Reliability Survey's family SUV class, behind the Volvo XC40 and Kia Sportage. Diesel Q3s trail in 15th spot.
Some early Euro 5 2.0 TDI engines were caught up in the VW emissions scandal, or the 'EA189 NOx emissions issue' as the VW Group calls it. Check the status of the vehicle you're interested in at audi.co.uk.
Make sure tall family members can fit in the back. The roofline is more sloping than it appears and impinges on head room.
Optional Drive Select offers a choice of four driving modes with, where adaptive dampers are also specified, the possibility of adjusting the ride settings. S line suspension reduces ground clearance from 170mm to 150mm.
Our pick
Audi Q3 2.0 TDI 184PS SE S Tronic Quattro: Entry-level SE trim forgoes the larger wheels and sports suspension of pricier Q3s but still offers lots of great kit. The 148bhp diesel is more common but this 181bhp unit has more grunt. 
Top spec pick
Audi Q3 Black Edition This version ladles on goodies such as privacy glass, a Bose sound system and part-leather trim, but the 19in alloys and sports suspension won't suit everyone. Prices start at £18,950 for a 2017 2.0 TDI.
Wild card
Audi RS Q3 Performance: There's the 335bhp RS Q3 and then there's the 362bhp RS Performance. It does 0-62mph in 4.4sec, which is 0.4sec quicker than the RS. Prices start from £29,800 for a 2016-reg example.
Ones we found
2011 Q3 2.0 TDI 140 SE, 148,000 miles, £6295
2013 Q3 2.0 TFSI SE S tronic quattro, 80,000 miles, £10,900
2016 Q3 1.4 TFSI 150 SE, 45,000 miles, £13,600
2018 Q3 2.0 TDI S line Edition quattro, 17,000 miles, £20,500
READ MORE
Mercedes to launch 32 new models by 2022 in massive rollout 
2021 Mercedes-Benz EQS previewed in new official images 
Mercedes prices new GLE and GLC plug-in hybrid SUVs
https://www.autocar.co.uk/car-news/used-...de-audi-q3