11-06-2021, 04:02 PM
Nearly new buying guide: BMW X5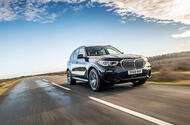 It's an SUV for keen drivers and keen deals if you go nearly new
Butch bodywork? Check. Opulent interior? Check. Premium badge? Check. Chuck in BMW's reputation for building nifty driver's cars and this latest X5 looks like it has the luxury SUV marketplace all sewn up.
Indeed, good driving manners have been an X5 staple since the first iteration hit the streets in 1999. This fourth-generation model has been around for only a year or so, but it still entices potential purchasers with a healthy range of hotshot engines.
The diesel line-up kicks off with a 261bhp 3.0-litre straight six in the xDrive30d, followed by a 394bhp M50d. Petrol fans have three options: a 335bhp 3.0-litre xDrive40i, a 523bhp M50i and a 616bhp 4.4-litre V8 in the X5 M Competition. Meanwhile, the 389bhp xDrive45e is a petrol-electric plug-in hybrid that has a claimed EV range of 54 miles.
Equipment levels are very generous, with even the entry-level xLine getting 19in alloy wheels, a 12.3in infotainment system, LED headlights and parking sensors front and rear, along with a rear-view camera. M Sport has 20in alloys and sportier exterior and interior styling, while M50i and M50d X5s have 22in alloys, adaptive headlights, an upgraded Harman Kardon sound system, an M Sport exhaust and an M Sport differential for increased traction in corners.
Much like all X5s, the current model excels on the road. No rival this side of the Porsche Cayenne can match the X5 for handling prowess, because it has very good body control for something so tall, as well as loads of grip. Ride comfort isn't much of an issue, either, since nearly all models get air suspension. With it, the X5 maintains its composure over harsh potholes and ridges in the road without any of the floaty, wallowy sensations that make many similarly equipped rivals feel all at sea.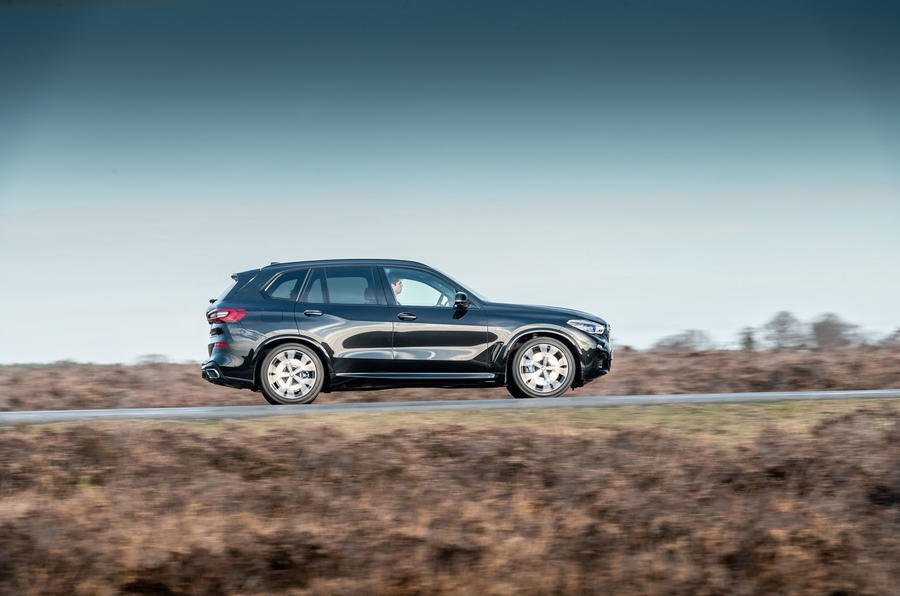 Interior quality is impressive, too. Every surface is swathed in soft-touch materials and highlighted by genuine metal finishes that give it a highly luxurious feel. There are also traditional buttons for frequently used controls, such as the air-con and infotainment system. Front and rear occupants won't have much to complain about, because there's lots of head, leg and shoulder room for all. And there's plenty of adjustment in the electric driver's seat, including adjustable lumbar support. With the optional third row in use, some passengers won't be quite so happy, but the X5 isn't any worse than the Range Rover Sport in this regard.
What isn't quite so good is boot capacity; it trails the Cayenne, Volvo XC90, Audi Q7 and Mercedes-Benz GLE for load space. What's more, the plug-in hybrid loses 150 litres of capacity because of its battery.
Prices start at between £43,000 and £48,000 for an xDrive30d, or between £46,000 and £53,000 for an M50d. If diesel doesn't suit you, an xDrive40i will cost you around £50,000, while the few used examples of the xDrive45e that are available aren't far off the price of a new one, such is the demand for them.
BUYER BEWARE
Gremlins Apologies but there's no other way to sum up the sorts of problems you might encounter with an early, pre-2020, X5. According to owners and forum users, they include cornering lights not working, Cross Traffic alert issues,  CarPlay issues, wrinkly seat upholstery (there's some debate over whether this is a production error or intended), cars not having the latest available software version, whistling sounds at high speeds, failure of 3D view and the camera view not flipping from forward to rear on changing gear. 
Need to know
Aside from the probably unobtainable 166.2mpg official WLTP figure for the xDrive45e (it gets more like 25mpg when its battery is depleted), the most economical models are the xDrive30d, at 37.2mpg, and the M50d, at 34mpg. Of the three petrol models, the xDrive40i has a WLTP combined figure of 28.2mpg, the M50i returns 23.2mpg and the X5 M Competition consumes fuel at a rate of 22.1mpg.
On a small number of early-build 2018 cars, the front passenger seat wasn't tightened down correctly at the factory. Check with a BMW dealer to find out if your car still needs remedial work.
Our pick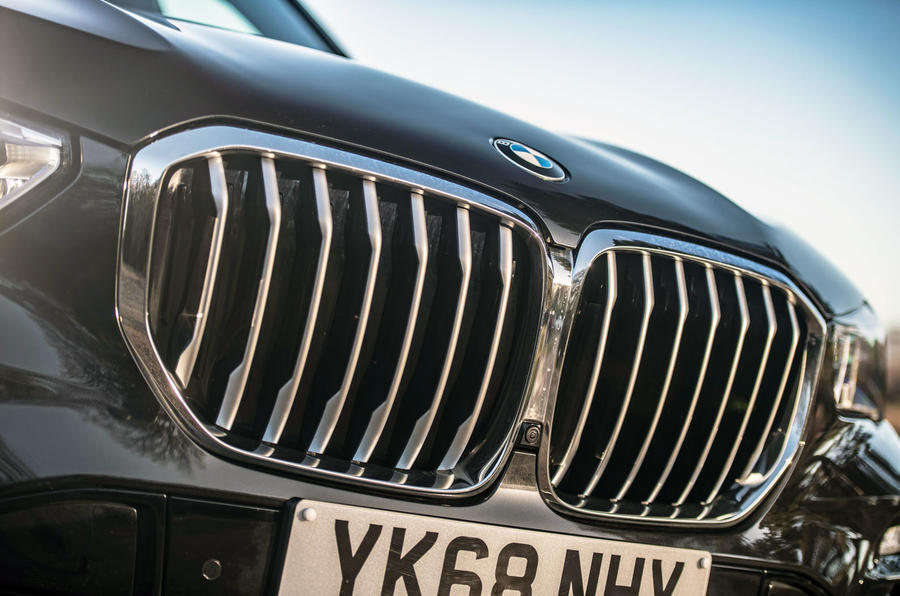 xDrive30d M Sport: The entry-level diesel is perhaps the most sensible option, because it never feels like it's lacking in performance and it provides the best blend of punch and fuel economy. It's also well equipped and an attractively priced used car.
Wild card
xDrive45e: If you have easy access to charging facilities, this plug-in hybrid is a bit of a crowd pleaser, because it has 389bhp at its disposal and, thanks to a large (24kWh) battery, has a claimed electric-only range of 54 miles.
Ones we found
2019 BMW X5 xDrive30d M Sport, 28,000 miles, £48,500
2019 BMW X5 M50i, 18,000 miles, £70,950
2020 BMW X5 xDrive45e M Sport, 4000 miles, £71,000
READ MORE
Why BMW design will stay polarising on purpose 
New BMW 128ti: front-drive hot hatch vs Ford and Renault rivals 
https://www.autocar.co.uk/car-news/used-...ide-bmw-x5