02-21-2022, 03:22 PM
Nearly new buying guide: BMW X6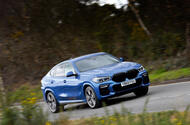 This trailblazing coupé-SUV is more desirable than ever
Coupé-inspired SUVs appear to be the flavour of the month for many of the world's biggest car makers.
Audi has the Q8, Porsche the Cayenne Coupé and Mercedes-Benz the GLC, but one that inspired the segment is the BMW X6.
It first joined the BMW range in 2008 and at the time was considered vulgar by some, but it is now credited with kick-starting the desire for luxury, premium SUVs with sleek coupé-like styling. As of 2019, the X6 is now in its third generation, and it's better than ever.
It is a pleasure to be behind the wheel of today's X6, and not only because of the impressive entry-level equipment. An intuitive gearbox and direct handling relative to the car's size are key to its driving appeal. We are also admirers of its long-distance abilities, but perhaps best of all is the BMW's selection of punchy petrol and diesel engines.
Click here to buy your next used X6 from Autocar
The X6 offers a versatile selection, including options for both frugal economy drivers and those hankering after a 2.2-tonne performance SUV. All units are mated to an eight-speed automatic transmission and equipped with rear-axle-biased four-wheel drive.
The X6's petrol line-up starts with the xDrive40i, powered by a 3.0-litre turbocharged engine producing 328bhp and 560lb ft. Above it sits the X6 M50i, which draws inspiration from BMW's M performance division with a powerful twin-turbocharged 4.4-litre V8 making 523bhp and 533lb ft. That will get you from 0-62mph in 4.3sec, which is mightily impressive given the car's size and weight.
Diesels are traditionally the biggest sellers in the UK, and you won't need to compromise on power if you're eyeing up a more economical proposition. The entry-level 3.0-litre xDrive30d offers 282bhp and 457lb ft: drive it carefully and you'll be able to get more than 45mpg. The most powerful diesel is a quad-turbo 3.0-litre unit producing 394bhp and 560lb ft and badged M50d.
BMW added an electrified model (well, sort of) shortly after launch. The mild-hybrid xDrive40d benefits from an electric motor in addition to its 335bhp 3.0-litre diesel engine. The tiny 11bhp motor is used to assist the wheels during low-rev acceleration. Rated at 48.7mpg, it is your best bet for economy. 
At the very top of the pile sits the X6 M Competition, the most powerful and fastest-accelerating production combustion SUV that BMW has ever made. Powered by the same 4.4-litre V8 petrol engine as the M5, the X6's lairiest model puts out 616bhp and 552lb ft for a 0-62mph time of 3.8sec, but the firm ride isn't suited to everyday driving.
Equipment levels are generous even in entry Sport trim, with 19in wheels, adjustable air suspension, cruise control, automatic emergency braking, adaptive dampers, ambient lighting and BMW's excellent iDrive infotainment all coming as standard.
Move up to M Sport spec for a louder exhaust and performance styling, with blue brake calipers and aggressive side trims and front and rear bumpers. Alternatively, range-topping M Sport Performance brings 22in wheels, M Performance suspension, a premium Harman Kardon sound system and the most eye-catching exterior design. 
The X6 is also usefully practical, despite its angular coupé styling. The interior is spacious, helped by a 26mm increase in length over the previous car, and its modestly sized boot at least expands to 1530 litres with the seats folded down. 
Despite its divisive origins, there really is a lot to like about the X6.
Need to know
X6 prices have held firm since launch. The xDrive30d started at £59,340 when new in 2019 and can be bought today from around £53,000. Petrols start at £60,000. The M50i and M50d, originally £76,870 and £74,335 respectively, now cost upwards of £67,000. You will need £90,000 for an X6 M Competition.
BMW quotes 46.3mpg for the xDrive30d entry-level diesel and 40.9mpg for the M50d. The petrol-powered xDrive40i will return 35.3mpg and the M50i 27.2mpg.
The 2021 What Car? Reliability Survey did not test the X6. However, the X5, which shares the same platform, was third out of eight luxury SUVs. BMW finished 13th out of 30 brands, ahead of Mercedes, Volvo and Audi.
Buyer beware
Load space: The X6 loses a practicality point or two when compared with some of its coupé-SUV rivals. The BMW's 580-litre boot is smaller than those of competitors such as the Mercedes-Benz GLE Coupé and Porsche Cayenne Coupé, which measure 650 litres and 625 litres respectively. The X6 does, however, feature a split-and-fold 40/20/40 rear seating arrangement.
Loose cables: Check the battery cables of any X6 with mild-hybrid tech: the 48V starter-generator might not have been secured properly during production. BMW dealers can solve the problem by checking the screw connection of 48V positive/negative battery cables on the starter-generator. The recall affects only 338 cars, but make sure it has been completed on any MHT cars.
Our pick
xDrive30d: The xDrive30d has all the power you will ever need at a significantly lower price. It is the most prevalent variant in the classifieds so you can afford to be choosy.
Wild card
M50i: The 616bhp V8- powered X6 is an absolute hoot. It also sounds terrific and appropriately has the most imposing exterior design, but expect to shell out both to buy it and to run it. 
Our top spec
M Sport: This trim level offers the best value if you want a mix of performance-related enhancements and updated exterior design. 
Ones we found
2020 BMW X6 xDrive30d M Sport, 19,000 miles, £57,840
2020 BMW X6 xDrive40i M Sport, 8000 miles, £64,940
2020 BMW X6 M50i, 9000 miles, £69,450
https://www.autocar.co.uk/car-news/used-...ide-bmw-x6