05-14-2022, 02:18 PM
Nearly new buying guide: Jeep Wrangler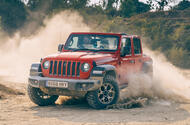 This all-American off-road hero has our attention now prices are lower
Is there a car with a more recognisable silhouette than the Jeep Wrangler?
Few come close, but there's more to the large SUV than its fashion icon status. The current, fourth-generation model is one of the best off-road machines around and its initial high price has fallen into a more attainable area on the used market.
First introduced in 2018, the current Wrangler was given a design refresh outside and inside compared with its predecessor. In addition, it gained new LED lights, enhanced infotainment and extra safety kit. It also continued to be available in two- and four-door bodystyles.
Driving the Wrangler is a mixed bag. Quite simply, it's among the toughest and most capable offroaders you'll find today, with front and rear Dana 44 axles for improved rigidity, Tru-Lock electronic differentials and a disconnectable sway bar in its most serious off-roading guise, the Rubicon.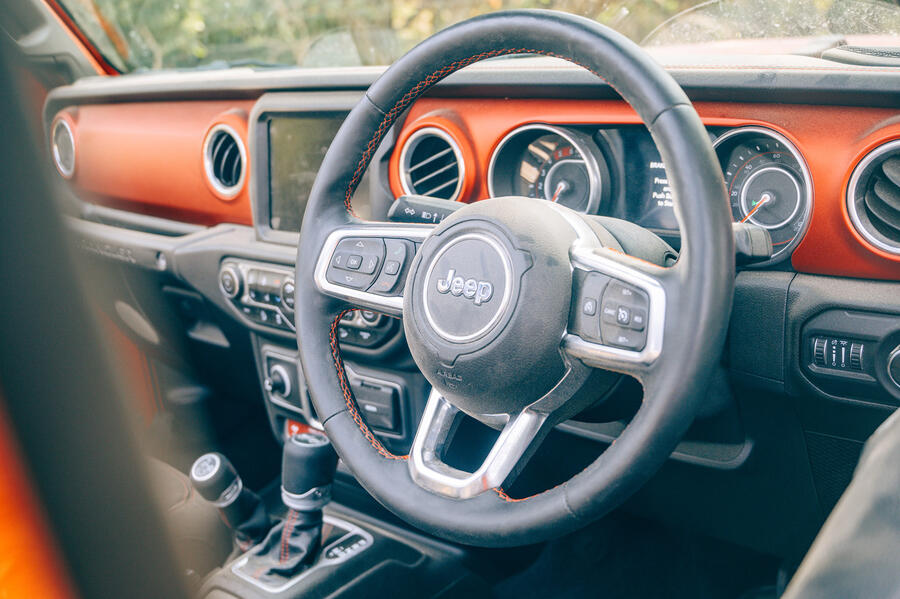 A more spacious and robust cabin stands out as one of the model's key improvements over its forebear for everyday driving. However, the Wrangler's handling and ride comfort fall behind most other SUVs on sale, with the Land Rover Defender and Toyota Land Cruiser both stronger in these areas.
Two new engines, one petrol and one diesel, were available at launch. The diesel, a 2.2-litre Multijet II turbo, produces 197bhp and 332lb ft. Jeep claims it offers combined economy of 30.1mpg, as well as a 0-62mph time of 9.0sec.
The petrol engine, meanwhile, is a 2.0-litre turbo unit producing 268bhp and 295lb ft. This allows the Wrangler to go from 0-62mph in 8.1sec and reach a top speed of 112mph. Economy drops to a combined 24.4mpg. Both engines are available exclusively with an eight-speed automatic transmission.
In 2021, the Wrangler gained its most powerful engine: a 6.4-litre V8 producing 463bhp and 469lb ft, which cuts the 0-62mph sprint to 4.5sec. Unfortunately, V8 variants were never sold in the UK, but importer Clive Sutton can bring one into the country for you.
Also from the 2021 model year, the diesel was dropped. The model gained adaptive cruise control and auto headlights as standard, too.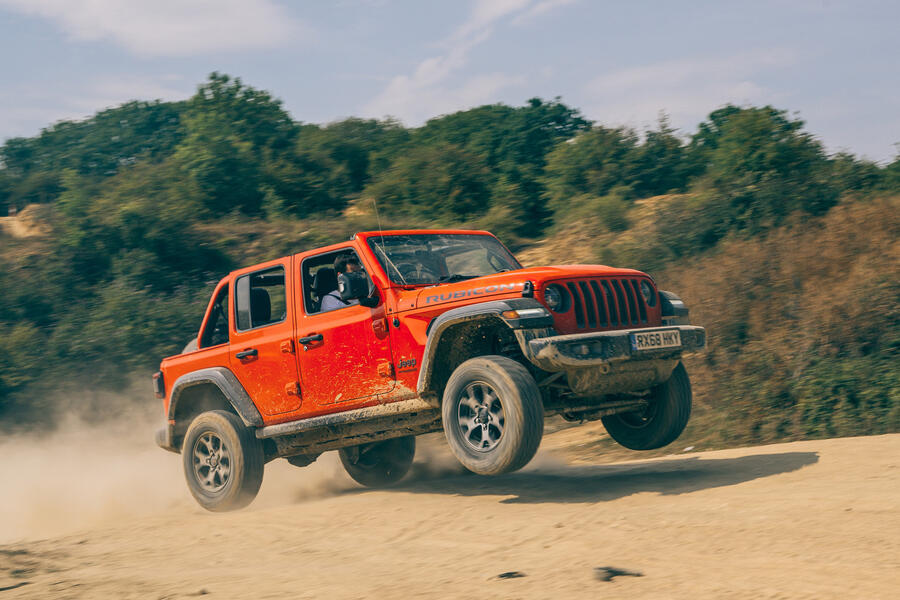 There are three trim levels on the Wrangler. Sahara is a well-equipped entry-level spec. A set of 18in wheels, climate control, automatic LED headlights, cruise control, parking sensors, a rear parking camera, keyless go and an 8.8in infotainment system are all standard. The next-step Overland adds leather upholstery, heated front seats, blindspot monitoring and a body-coloured grille.
Look to the range-topping Rubicon for the ultimate off-road package. It gains adventure-enabling equipment such as Tru-Lock differentials, a front sway bar, a 240V heavy-duty alternator, an auxiliary switch bank and a 700-amp maintenance battery.
Exterior changes on top-rung cars include the addition of rock rails, flared arches and a black, three-piece modular hard-top roof, while the car sits on 17in wheels.
These, along with a choice of four different off-road regimes, means there is no car that can bring you closer to nature than the Wrangler – even with its desperately thirsty engines.
Need to know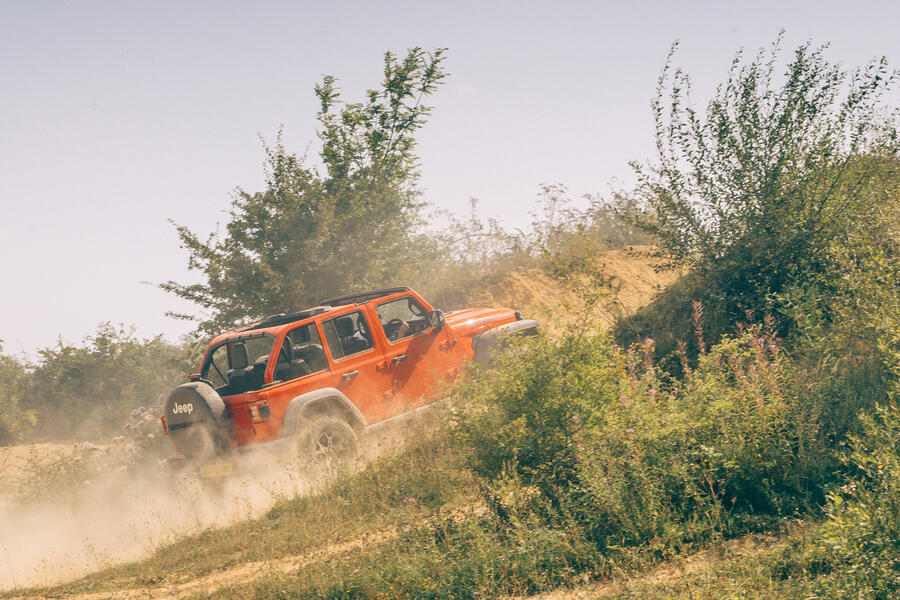 The Wrangler was launched as a £44,495 car in 2018 but an early 2.0 petrol or 2.2 diesel will now start from less than £35,000. Rubicons are at least £38,000 today, still a decent saving over the original £46,495. More good news: most used cars have driven fewer than 40,000 miles. Clive Sutton has a 101-mile 6.4-litre V8 import on sale for £110,000.
Jeep sells new Wranglers with its '5-3-5' service offer: a five-year warranty, three years of servicing and five years of roadside assistance. Plenty of used Wranglers will still be fresh enough to have life left in this offer.
An 80th Anniversary special edition arrived in 2021. It has its grille and headlight bezels painted grey, 18in two-tone alloy wheels, automatic LED headlights, a body-coloured hard top and black leather seats, along with plenty of interior kit. It's retaining its value, with prices remaining north of £50,000.
Buyer beware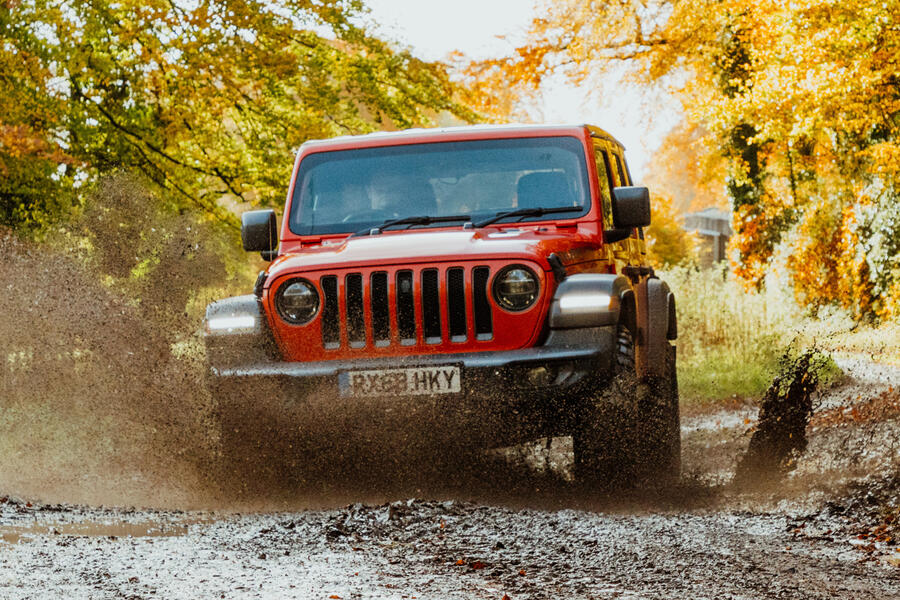 Lone star: The Jeep Wrangler received a one-star Euro NCAP safety rating when it was tested in 2018. It scored just 50% for adult occupancy, 69% for child occupancy, 49% for vulnerable road users and 32% for its safety assist functions. It graded poorly for driver protection in the chest and neck, while the absence of lane assist and automatic emergency braking also held back its score.
Rust issues: A number of Wrangler owners report issues with bubbling paint and rust around the door hinges. This should be covered by the warranty but some drivers say they have had difficulty claiming for it.
Our pick
2.2 Multijet II: The diesel is powerful enough and refined and it offers a combined 30.1mpg. Not that you would buy a Wrangler for its economy…
Wild card
2.0 GME: The petrol is faster and more fun than the diesel and enables the Wrangler to hit 62mph quicker than a 1.5-litre Volkswagen Golf can.
Our top spec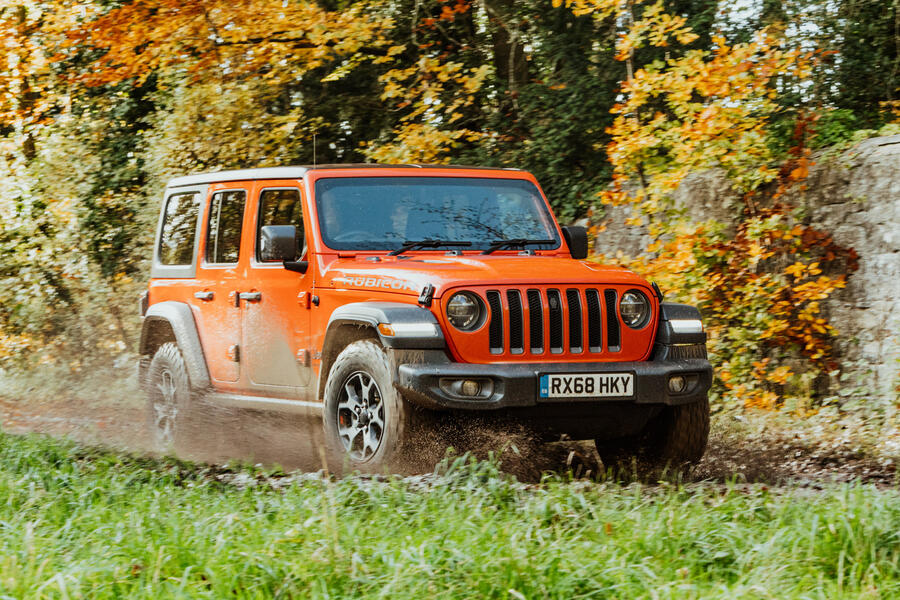 Sahara: Sahara makes a claim for itself with excellent equipment. The highest trim levels are specifically for those planning to do serious off-roading.
Ones we found
2019 Jeep Wrangler 2.0 Overland, 30,000 miles, £34,995
2019 Jeep Wrangler 2.0 Sahara, 14,000 miles, £37,480
2019 Jeep Wrangler 2.2 Sahara, 15,000 miles, £37,990
https://www.autocar.co.uk/car-news/used-...p-wrangler