09-15-2021, 03:31 AM
Nearly new buying guide: Maserati Ghibli
Diesels are by far the most common, using a 3.0-litre V6
Italian brand's executive saloon makes sense as a premium-badged alternative to the 3 Series
If you've ever wanted to go to a Ferrari dealership for your next used car, then buy an approved used Ghibli. Many Maserati dealers share their premises with the fabled brand, so when you stroll onto a Maserati forecourt in search of a used Trident, you may find yourself rubbing shoulders with 488s and the like. 
Better still, the experience may cost you from as little as £25,000 – what one dealer is asking for a 2016- reg Ghibli V6 diesel with 26,000 miles. If that's below your price range, how about the most expensive we found, a pre-registered 2019 Ghibli V6 GranSport for £66,457? That's £1600 more expensive than the model's current new price, but as you'll find when you go Ghibli hunting, prices can be inflated by options packs costing up to £3000 and limited-edition packs costing up to £5500. 
Happily, like all options, they depreciate faster than the car they're fitted to. And don't avoid them, because some, such as the driver assistance packs, have useful driver and safety aids. 
Click here to buy your next used Ghibli from Autocar
The Ghibli was launched in 2013 and tasked with putting a rocket up the brand's global sales. Key to the plan was the diesel version, powered by a 3.0-litre V6 making 271bhp. Today, this version dominates the used car classifieds, outnumbering the other engines – 345bhp, 404bhp and 424bhp twin-turbo 3.0-litre V6 petrols – by around two to one. 
At this point it's usual to recommend that high-mileage drivers go for a diesel over a petrol. And so we do in the case of the Ghibli V6d, pausing only to mention that in Autocar's hands it typically returned an economy figure in the low 30s. Still, that's better than the petrols, which manage around 10mpg less. 
However, the petrols suit the Ghibli's image rather better, especially the more powerful 404bhp S version, which, following the model's facelift in 2017, gained an extra 20bhp. Alas, it was dropped in 2018, so today only the standard 345bhp petrol is available new.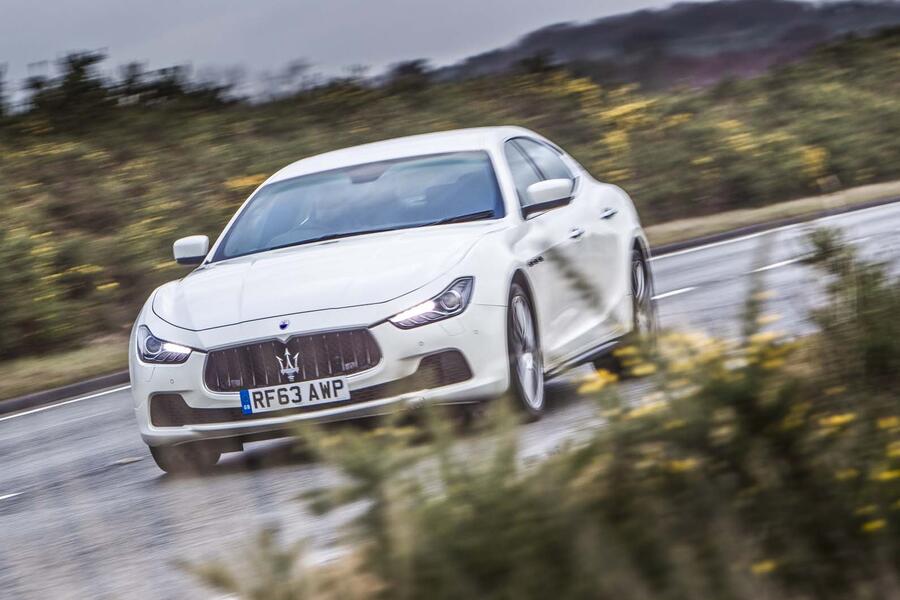 Maserati claimed the facelifted Ghibli was 70% all new but, aside from the engine, the only obvious changes were more aggressive looks and a new infotainment system, plus the arrival of two new trim levels: GranSport and GranLusso. Dig down, though, and you'll find the steering went from being hydraulic to a faster and lighter but more precise electric system. The car also gained a raft of new safety and driver assistance features, at least as options. 
Pre- and post-facelift, the Ghibli sends its power to the rear wheels via an eight-speed ZF automatic gearbox. It can be controlled by steering wheel-mounted paddles on top-spec versions. These same versions also have Skyhook adaptive suspension. It's an option on other trims and worth looking out for over the optional sports suspension. 
'You're not like everyone else' is Maserati's slogan for the new Ghibli. It applies just as much to a used one starting at half the price.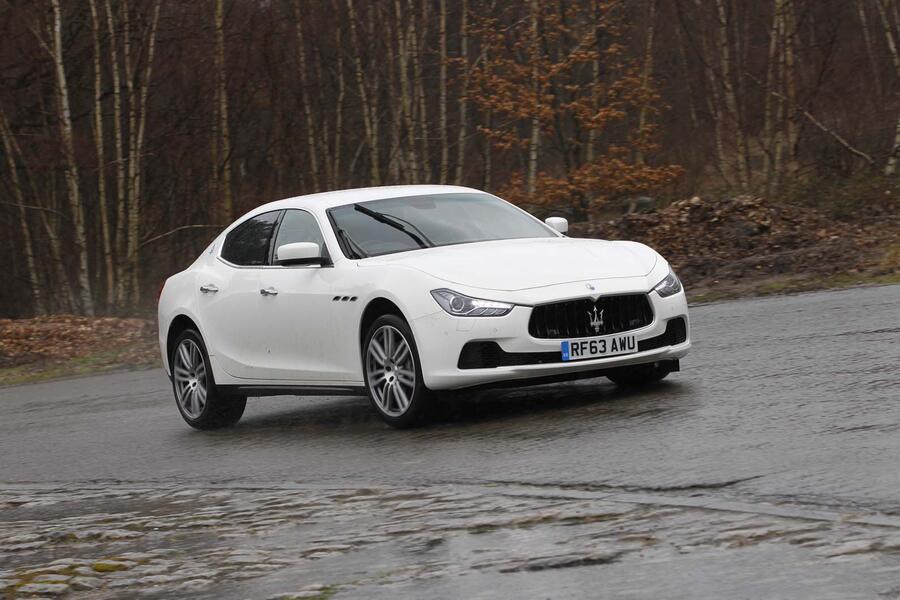 BUYER BEWARE
EngineIf it's an early Ghibli (2013), keep your eye on the oil pressure during the test drive. Affected cars were repaired under warranty but some may have slipped through. A noise from the 425bhp V6 petrol engine between 1000 and 2000rpm could be turbo wastegate chatter. It's not a problem, apparently.
Electrical Some owners have reported that the battery drains quickly.
BrakesThe brake pedal has been known to stick on some Ghiblis, so check its operation thoroughly.
InteriorGhibli build quality has come in for criticism so listen for creaks and buzzes and check everything works.
Infotainment systemSat nav glitches and problems turning up the volume are not unknown on 2016 pre-facelift cars. A Maserati dealer should be able to remedy these.  
Need to know
The Ghibli has been the subject of a number of safety recalls: possible short circuit in driver's seat wiring, possible loss of vehicle control, risk of the throttle sticking, a fuel line leak and the possibility of the vehicle moving away after the driver has exited it. 
What might be regarded as essentials on a luxury car are only available as options on the Ghibli. They include a rear parking camera, a blind spot detector and a wi-fi hotspot. Look out for them on used cars. 
Options packs are popular with new buyers. Ones to look out for on used Ghiblis include the Premium Pack (powered steering column and front seats with memory) and Driver Assistance Pack Plus (with a surround view camera).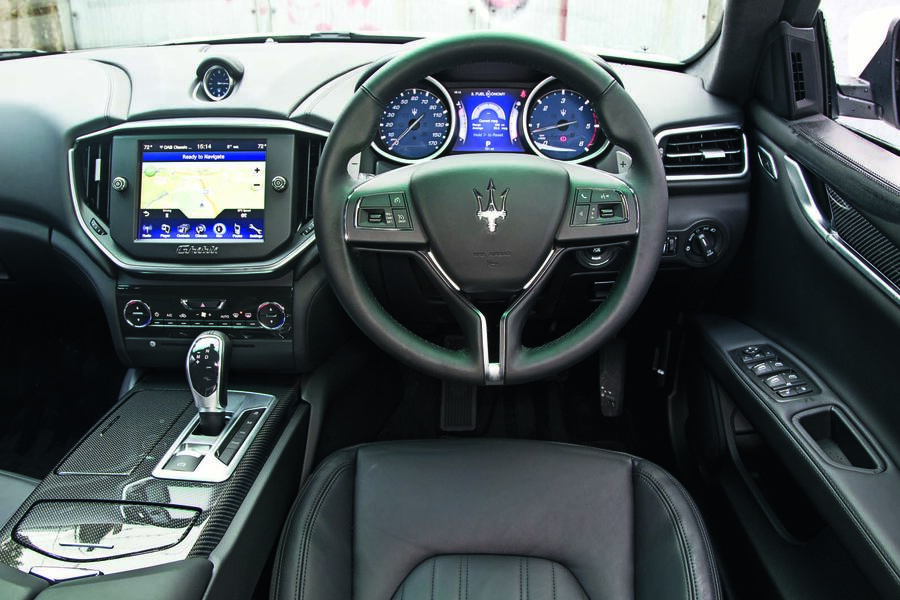 Our pick
Ghibli V6 S (2017 on): The post-2017 S enjoys a 20bhp uplift over the earlier S, giving a power output of 424bhp and 0-62mph in 4.9sec. A pity it was later dropped from the range.
Ghibli V6D Gransport Nerissimo Edition: Pretty rare but worth the hunt for a bling-rich specification that includes Zegna fabric, polished silver brake calipers and Nero dashboard and carpets. Looks best in Bianco Alpi.
Ones we found
2014 Ghibli 3.0 TD, 65,000 miles, £17,499 
2015 Ghibli 3.0 TD, 29,000 miles, £22,300 
2016 Ghibli 3.0 V6, 39,000 miles, £27,000 
2018 Ghibli 3.0 V6, 5000 miles, £46,500
Read more
Used car buying guide: Maserati Quattroporte
Maserati plans shake-up to combat sales slump​
https://www.autocar.co.uk/car-news/used-...ati-ghibli