10-23-2021, 11:16 AM
Nearly new buying guide: Nissan Leaf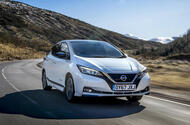 Used examples of the second generation electric hatchback can now be found for £7k less than a new one
Not everyone can afford a pricey new electric car, no matter how much less it would cost to fuel. Some of us instead have to wait for depreciation to take its toll, and that's where early examples of the second-generation Nissan Leaf come in.
Here's a car that provides all of the practicality of a family hatchback and plenty of modern safety technology, and since the Leaf remains one of the most popular EVs, there are loads of second-hand examples for sale.
You can find a well-specified, mid-range 2018 Leaf for £20,000 or so – a substantial saving of around £7000 compared with the list price of a new one.
Click here to buy your next used Leaf from Autocar
There are two motor/battery combinations: the standard Leaf uses a 40kWh pack and a 148bhp motor, while the pricier Leaf e+ gets a 62kWh pack and a 214bhp motor.
The regular model has a 0-60mph time of around 8.0sec, making it much nippier than conventionally powered rivals. And in the Leaf e+, you actually need to be a bit gentle with your right foot when accelerating out of junctions, otherwise you'll spin its front wheels.
There's a choice of trims, but entry-level Visia is best avoided – unless you're a fan of hair shirts. In fact, that model was dropped shortly after launch, because most buyers went for the next step up, Acenta, to get 16in alloy wheels, blindspot monitoring, lane departure warning, adaptive cruise control, a reversing camera and a 7.0in touchscreen infotainment system with Android Auto and Apple CarPlay.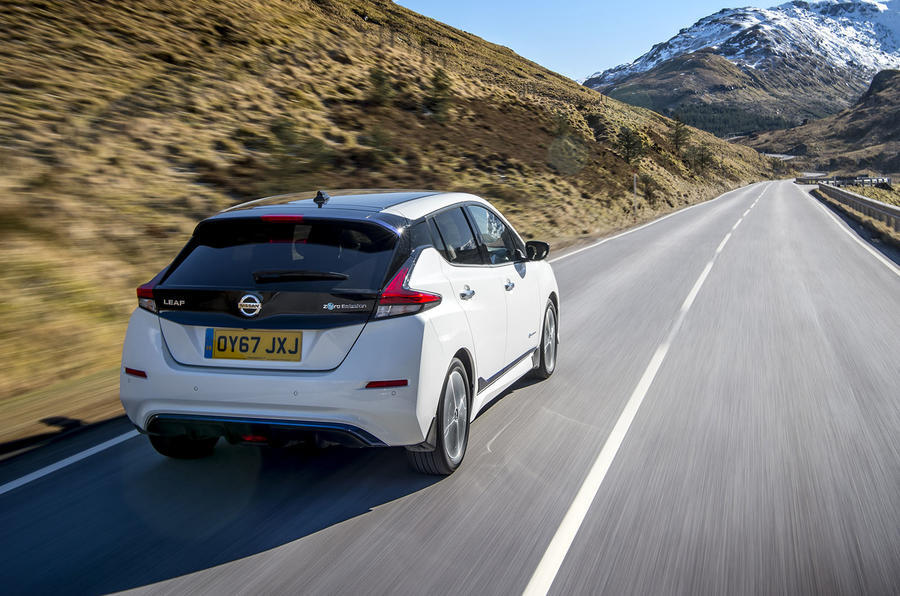 Arrive at a corner and the Leaf remains fluent, thanks to little body lean and well-weighted steering. Grip is good too, and while the handling won't inspire you, it's reassuringly safe and secure. The ride comfort is generally very good as well, with only larger bumps catching out the Leaf.
In terms of refinement, the rival Volkswagen e-Golf is better, but the Leaf still impresses. Obviously, there's no engine noise to disturb the calm, but a little bit of wind noise and road noise do make their presence known, while the suspension transmits the odd clunk.
Lift off the accelerator and you will feel the regenerative braking take effect, especially in e-Pedal mode, which slows the Leaf down without the need for you to touch the brakes at all. It's a great way of harvesting energy that would otherwise be wasted to recharge the battery. No doubt you'll soon find yourself lifting, coasting and driving gently in your Leaf, creating a much more relaxing driving experience.
Another aspect you will enjoy, particularly if you are able to install a home charger, is getting into your car with a full 'tank' every morning. Home charging is also how you can run your EV for a fraction of the cost of a normal car, negating its slightly higher used purchase price.
BUYER BEWARE
Charging cables and Leaf SD card Check these are present
Battery Request a battery state of health report (a Nissan dealer will be able to supply this). If fully charged, make sure the battery charge graphic reflects this. On the test drive, note how the range falls and calculate whether it is within expectations.
Brakes Make sure the discs are not badly corroded through lack of use.
Body Despite its electric powertrain, the Leaf is shaped like a normal car, with a significant nose, largely so that it can comply with pedestrian safety legislation. However, not all of its front end is visible from the (rather oddly perched) driver's seat, so check carefully for any scuffs. As always, check for kerb damage to the alloy wheels, too.
Need to know
Early examples of the Leaf Mk2 were unable to rapid-charge as quickly as anticipated, particularly if the car had already been rapid-charged earlier in the day. This was due to programming that limited the rate of charge to the battery if the internal temperature of the pack reached a preset threshold, in order to prolong battery life. This threshold has since been raised, improving the speed of charging.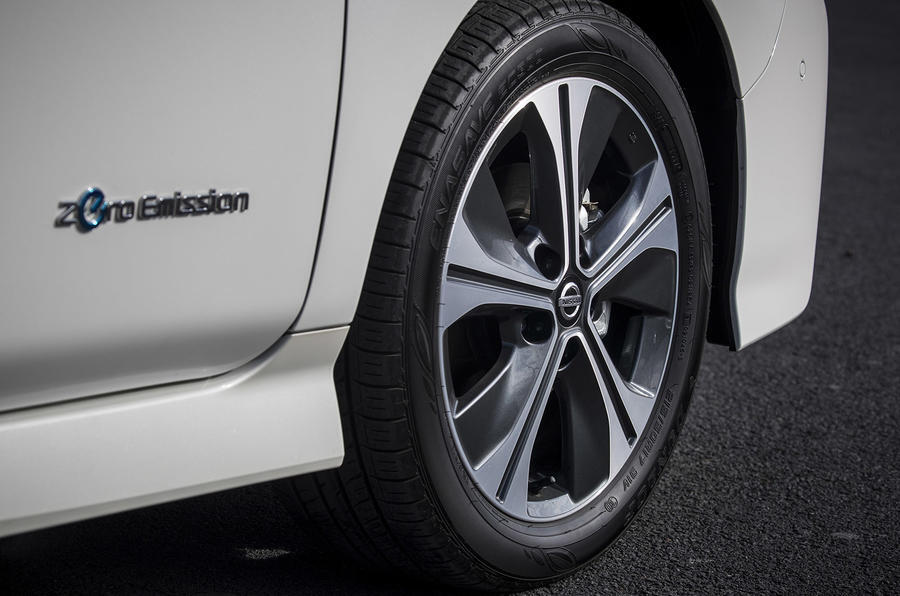 Our pick
Leaf 40kWh: A regular 40kWh Leaf will provide the majority of motorists with more than enough range both in summer and winter, plus Acenta trim brings lots of goodies and safety tech.
Wild card
Leaf E+ 62kWh: The e+ has an official range of 239 miles, compared with the 40kWh version's 168 miles, but it's expensive to buy and has a stiffer ride, in an effort to offset the heavier battery pack.
Ones we found
2018 Nissan Leaf 40kWh Visia, 59,000 miles, £15,950
2018 Nissan Leaf 40kWh Acenta, 15,844 miles, £19,175
2019 Nissan Leaf e+ 62kWh Tekna, 12,000 miles, £28,995
READ MORE
New Nissan Leaf priced from £21,990 in the UK 
Nissan Leaf long-term test review: final report 
https://www.autocar.co.uk/car-news/used-...issan-leaf