09-26-2021, 12:25 PM
Nearly new buying guide: Porsche Boxster (981)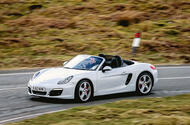 Boxster's chassis is ideally honed for real-world use
Previous-generation Boxster values are holding strong. Here's why
Having been unveiled at the Geneva motor show in 2012, the 981-generation Porsche Boxster reached its seventh birthday just last month. 
Ordinarily you would expect a car of that age to be worth only a fraction of what it cost to buy new, perhaps as little as one-third. But were that true of Porsche's mid-engined roadster there'd be 62-plate Boxsters kicking about on the used market with £12,500 price tags. If that were the case, Porsche would probably never sell a brand new sports car again… 
The 981 has held its value better than just about any other comparable performance car. The cheapest examples offered for private sale go for around £23,000, but if you want a Porsche Approved car with a two-year manufacturer warranty, you'll have to budget for £28,000. The 981 Boxster arrived in the UK during the summer of 2012, the entry-level version costing from £37,589 and the higher-powered Boxster S £45,384.
Click here to buy your next used Boxster from Autocar
While those original buyers will be very pleased with how well their car has held onto its value, the rest of us will find it a touch regrettable. After all, even after seven years the bargain-basement 981 Boxster doesn't seem much closer now than it was back in 2012. There is another way of looking at it, however. These cars are depreciating more slowly now than they've ever done, so if you were to stick £28,000 into one today, you'd get most of that back two or three years down the line.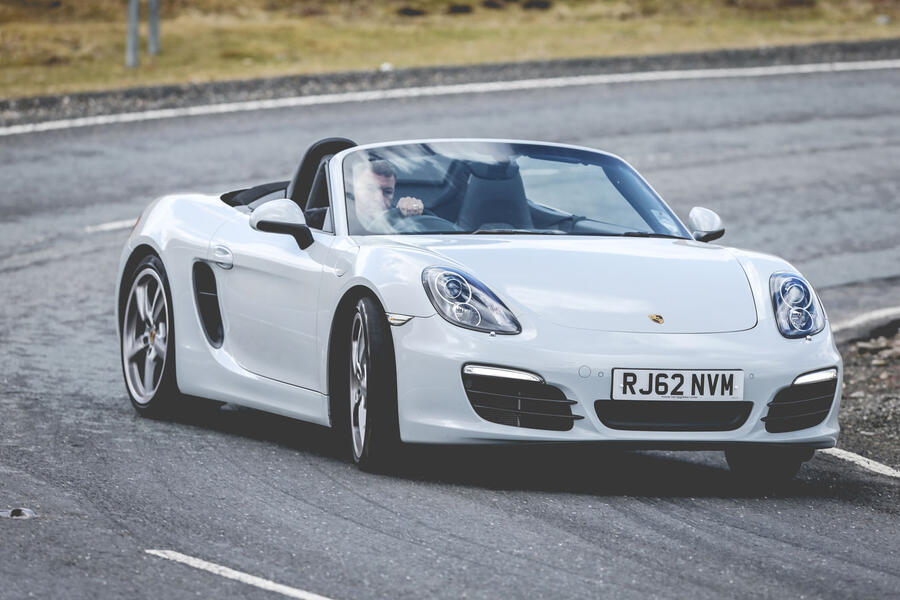 The 981 Boxster was a bigger car than the 987 it replaced, but it was also lighter and more powerful. While it is undoubtedly true that the earlier cars with their hydraulically assisted steering were more tactile, this newer model has a far more modern cabin, much more muscular styling and, in the way its suspension combines body control with ride comfort and bump absorption, one of the best real-world sports car chassis of recent memory. 
Apart from being such a joy to drive, the Boxster has resolutely held its value, it seems, because the model that replaced it in 2016 just hasn't been met with the same level of demand. Its turbocharged four cylinder is nothing like as sonorous as the 981's tuneful normally aspirated flat six, and many buyers have elected not to upgrade. 
For the full interactive sports car experience you'll probably want the manual transmission, in which case your options will be somewhat limited. So many new buyers ticked the PDK box on the options list that finding a manual car today is anything but straightforward. Porsche's approved used stock showed only four such examples offered for sale for less than £35,000 at the time of writing, although it should be said the PDK dual-clutch automatic 'box is actually very good in its own way. And if the basic 981 Boxster with 261bhp is simply far too underpowered? You'll want to spend upwards of £34,000 on the 311bhp Boxster S.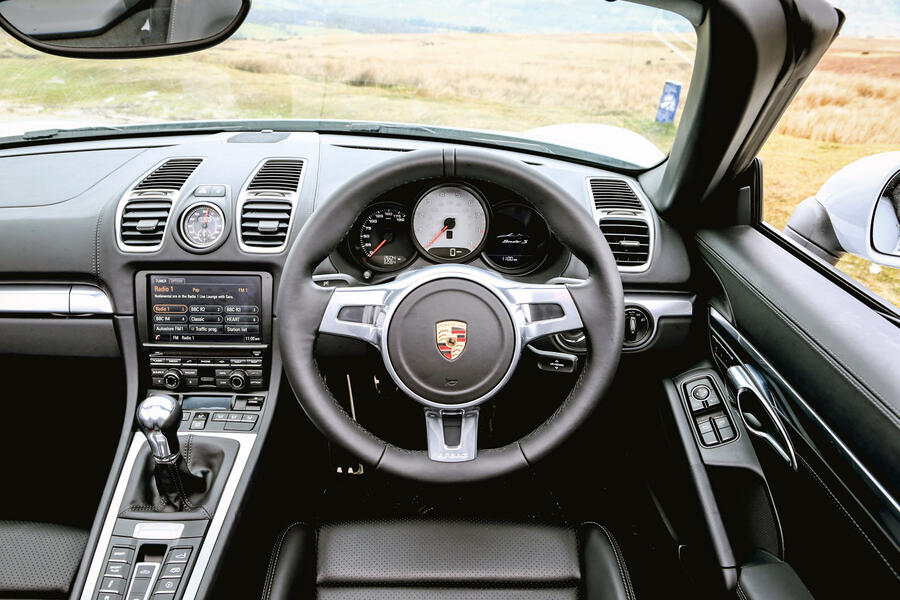 BUYER BEWARE
Engine Make sure servicing has been carried out at least every two years or 20,000 miles. Engine mounts have been known to fail, leading to excessive vibration, so be sure they're in good shape. 
Diagnostics Plugging the car into a Porsche PIWIS computer will reveal the presence of any fault codes and records of over-revving. It'll also provide confirmation of the true mileage.  
Gearbox Expect around 50,000 miles from the clutch. On PDK cars, be sure the fluid has been changed at the specified six-yearly interval.
Brakes With a complete set of discs and pads costing up to £1200 it pays to check for excessive wear and factor replacement into your offer.
Body Check the headlight pods aren't delaminating. Crouch down and peer along the sides checking for irregular surfaces, paint overspray and an orange peel finish. Cycle through the hood operation checking that it works as it should and that there are no tears in the fabric or heavy algae staining on the edges. Get the car on a ramp and inspect the underside for corrosion (it's not unknown).
Interior Some early cars suffered loose door trims, repaired under warranty. Check the car has Bluetooth (it was an option) and that the central locking and, where fitted, seat memory, function as they should. 
Drive it There's no substitute for a thorough road test of several 981s, sampling different suspension and performance options as you go. 
Need to know
The 981 Boxster should be serviced every 20,000 miles or two years, whichever comes first. A minor service is around £500 at a main dealer; the major service is only a little more expensive. 
In 2015 Porsche introduced the Boxster Black Edition. Aside from black paintwork and 20in wheels, these models also got an uprated infotainment system, parking sensors at both ends, cruise control, two-zone climate control and a better stereo. 
Along with Porsche Torque Vectoring, other options to look for are Porsche Active Suspension Management and the Sport Chrono Package, which includes adaptive transmission mounts. Uptake was modest, though, so you might have to wait patiently. 
Our pick
Porsche Boxster (981): The faster Boxster S is more desirable in absolute terms, but it costs quite a bit more. The basic Boxster is fast enough and best enjoyed with the superb six-speed manual transmission. 
Wild card
Porsche Boxster GTS: Cherry-picking all the best performance bits from the options list, such as Sport Chrono, the 2014 GTS was the most involving Boxster of the lot (save for the super-rare Spyder). You'll pay for it, though: the earliest cars still command £50k.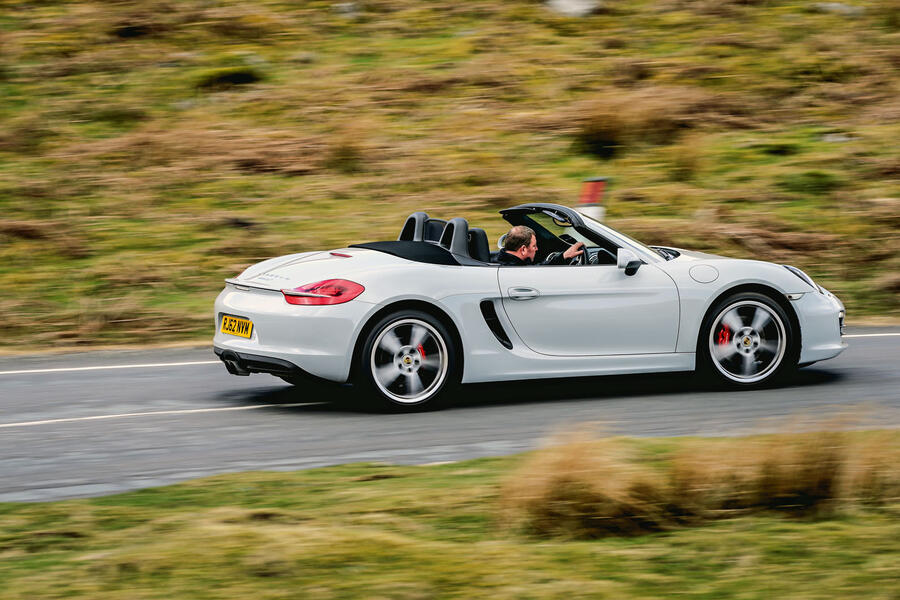 Ones we found
2014 Porsche Boxster, 50,000 miles, £27,994 
2014 Porsche Boxster, 32,000 miles, £30,799 
2013 Porsche Boxster S, 41,000 miles, £33,957 
2014 Porsche Boxster S, 35,000 miles, £34,995
Read more
Used car buying guide: 986-generation Porsche Boxster
https://www.autocar.co.uk/car-news/used-...oxster-981