12-27-2022, 10:52 AM
Nearly new buying guide: Porsche Panamera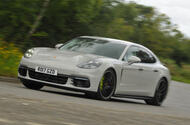 Introduced in 2009, the Panamera was not welcomed with open arms
Stuttgart's four-door 911 had a shaky birth, but its blend of dynamics and practicality fail to disappoint
Practical Porsches have always had a hard time winning over the enthusiasts. The Porsche Cayenne SUV was given a hostile reception when it first appeared in 2002, and the same happened with the Porsche Panamera executive car in 2009. The latter model wasn't welcomed with open arms, rather howls of derision. 
The reaction owed mostly to the model's 'hunchback-911' looks, although Porsche managed to improve on those quite significantly for the Panamera's second generation. Introduced in 2016, this latest car has won over critics, not only in the style department but in many others, too. 
There is a varied and powerful range of engines, for starters. On the petrol front, you can choose from an entry-level 325bhp 2.9-litre V6, a 621bhp 4.0-litre V8 (in the Turbo S), a 417bhp diesel or a selection of hybrids. 
The 4S E-Hybrid mates a 2.9-litre V6 with an electric motor for a combined output of 552bhp. Needless to say it's quick, and you can travel up to (a claimed) 33 miles on electric power alone.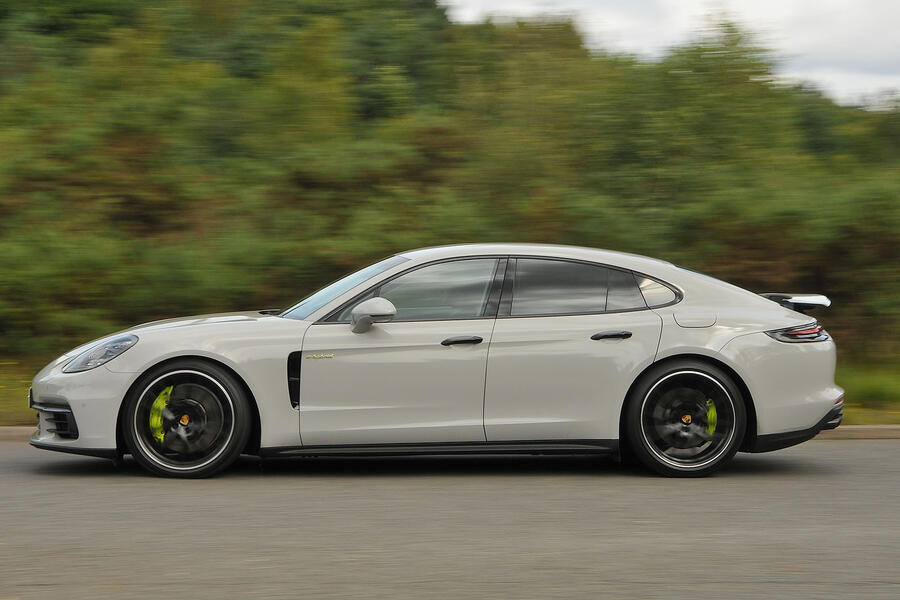 Go for the Turbo S E-Hybrid and that emission-free figure dips to 31 miles, but you get a lot more grunt. With a combined 680bhp from its V8 and electric motor, it has more power than an Audi R8 and McLaren Artura. Launch it and 0-62mph flashes by in 3.2sec. But how does the Panamera drive? Well, it's impressive, and that's without any caveats for being a big, heavy executive car. 
The steering is weighty but direct and responsive, plus there's seemingly endless grip. It's wonderfully rewarding to drive, with excellent body control and balance. From new, you could even pay extra for a four-wheel steering system to improve agility. 
Admittedly, the ride can be rather firm, but it's always well controlled and never uncomfortable. The non-standard air suspension is your best option if you can stretch to it, but don't worry if you find yourself with a car that has the standard set-up. It's very nearly as good.
Your trim depends on your chosen engine, although all Panameras come with a plethora of standard equipment from new. This includes climate control, a 12.3in touchscreen infotainment system, a DAB radio, sat-nav, leather seats, cruise control and LED headlights.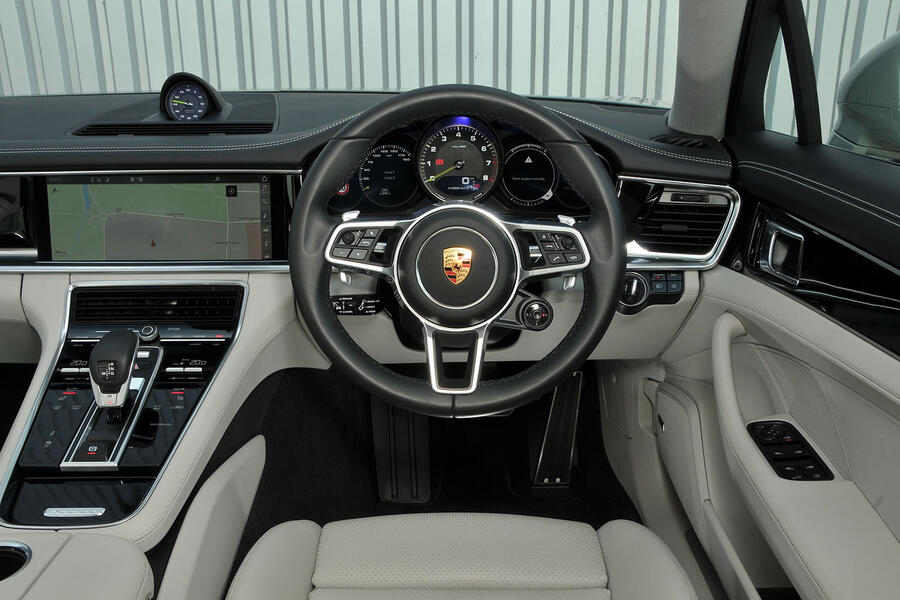 The Panamera's interior is not only very luxurious but there's also plenty of space, particularly in the front. Unless you opt for the Sport Turismo 'estate', it's strictly a two-seater in the back, although they will both enjoy a good amount of head and leg room, even seated behind taller front-seat occupants. 
The entry point into used second-generation Panamera ownership as of writing is around £50,000. For that money, expect a 4 or 4S example with more than 50,000 miles under its wheels. A 4 E-Hybrid is likely to set you back around £5000 more, but that's significantly less than its 2020-introduced 4S E-Hybrid counterpart, which comes with a £100,000-plus price tag. 
Turbo S E-Hybrids have been known to go for more than £100,000, although they tend to start at around £85,000. A regular Turbo (with its 542bhp V8 and no electrifed assistance or zero-emission running) will cost around £65,000.
Our top spec
4 E-Hybrid 10 Years Edition: If you want the hybrid, this special edition is the value buy. You will get a lot of kit, such as a panoramic roof, heated seats, soft-close doors and a Bose hi-fi.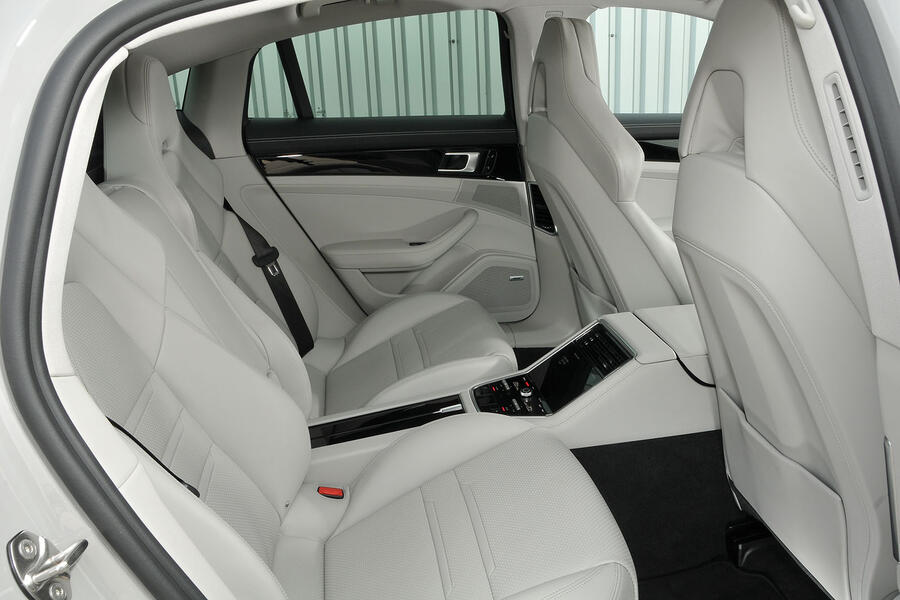 Buyer beware
Servicing: Don't expect servicing to be cheap, especially if you have it done through Porsche. To get a Porsche-approved warranty (£770 for 12 months), your vehicle has to pass a 111-point check. Servicing is required every two years or 20,000 miles. 
Recalls: Reported problems are few, but the Panamera was the subject of a UK recall. Porsche recalled 197 examples over concerns about the connecting links on the rear-axle anti-roll bar. The issue can lead to excessive noise and an activated yellow warning light.
Need to know
The 2.9 V6 averages 27.7mpg, the 4 E-Hybrid 141.2mpg, the 4S E-Hybrid 128.4mpg, the GTS 23.3mpg, the Turbo S 22.1mpg and the Turbo S E-Hybrid 104.6mpg.
Pre-April 2017 cars have CO2- based road tax and will be pricey. After that, the flat rates of £165 (petrol) and £155 (diesel) apply.
Five-door Panamera and Sport Turismo estates have 495-litre and 520-litre boots respectively.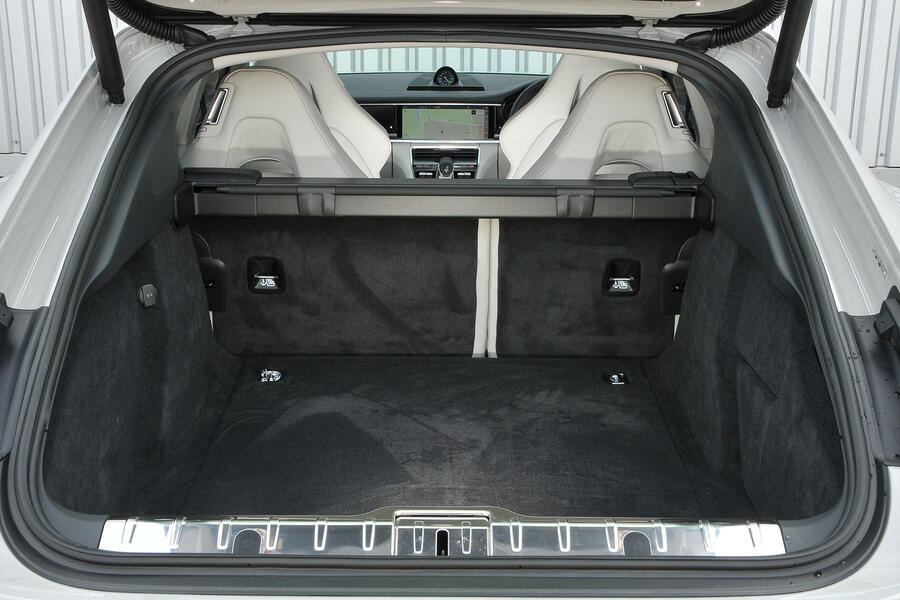 Our pick
2.9 V6 4 E-Hybrid: 4 E-Hybrids are among the most affordable Panameras on the used market. They offer impressive economy, great performance and four-wheel drive. A great all-round choice.
Wild card
Turbo S E-Hybrid Sport Turismo: Arguably one of the best multi-taskers around. Immense performance yet can sip fuel. It can do the school run, then thrill you on the way back home.
Oliver Young
https://www.autocar.co.uk/car-news/used-...panamera-0