01-07-2023, 01:29 AM
Nearly new buying guide: Range Rover Evoque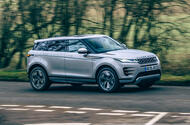 The second-gen Range Rover Evoque was a neatly-styled evolution over its predecessor
There is plenty to like about this luxury off-roader, but be wary of reliability
The first-generation Range Rover Evoque was such a handsome beast it would have sold by the bucketload even if it had handled like a shopping trolley. As it turned out, it didn't handle like one, but it did gain a bit of a reputation for poor reliability. 
Unsurprisingly, this second-gen car didn't mess with the visual formula. It was a gentle but neatly-styled evolution of the first, while underneath it introduced a range of more powerful and efficient engines and some upgraded tech. It's a lovely car but guess what? You still might find yourself on firstname terms with your local Land Rover service manager. 
Don't write it off, though, because there is plenty to like here. To begin with, there were three power grades for both 2.0-litre petrol and diesel options. The petrol range consisted of a 197bhp P200, 247bhp P250 and 296bhp P300, while diesel lovers could pick between a 148bhp D150, 178bhp D180 and 237bhp D240. Merely a year after launch, the diesel range was revised to a 163bhp D165 and 197bhp D200. There was also a 305bhp plug-in hybrid, the P300e, for 34 miles of electric-only driving. 
Aside from some front-wheel-drive versions of the D150 and D165, all Evoques have four-wheel drive and a nine-speed automatic gearbox.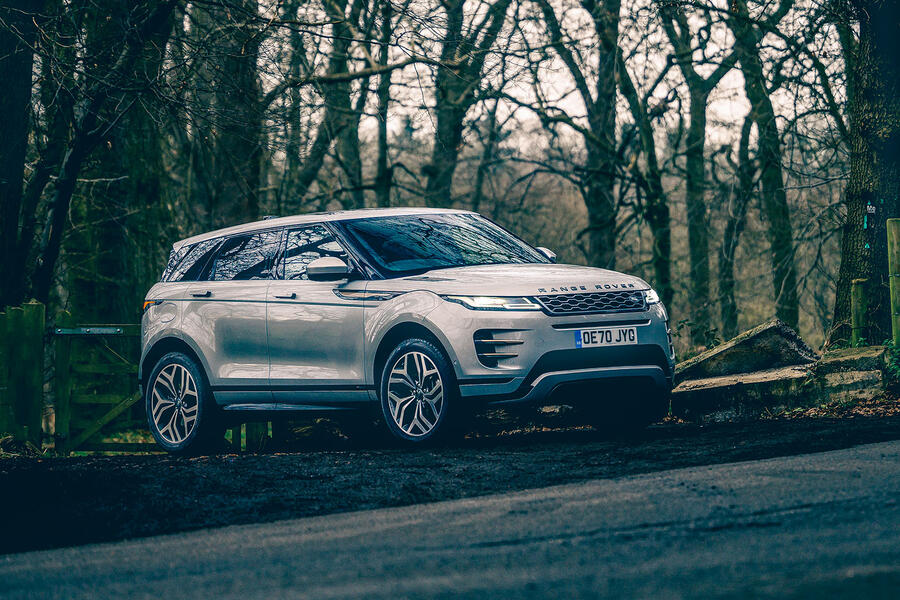 Every version gets dualzone climate control, automatic lights and wipers, front and rear parking sensors, heated front seats and a 10.0in touchscreen infotainment system with Apple CarPlay and Android Auto. A standard-fit rear-view camera was changed to a surround-view camera from late 2020 onwards. 
Step up to S for larger, 18in alloys, leather seats and an upgraded Pro version of the infotainment system. 
SE adds 20in wheels and a digital instrument cluster while HSE has a Meridian sound system and adaptive cruise. R-Dynamic gives the Evoque a more sporting look. Top-spec Autobiography has 21in wheels, adaptive LED headlights and a panoramic glass roof.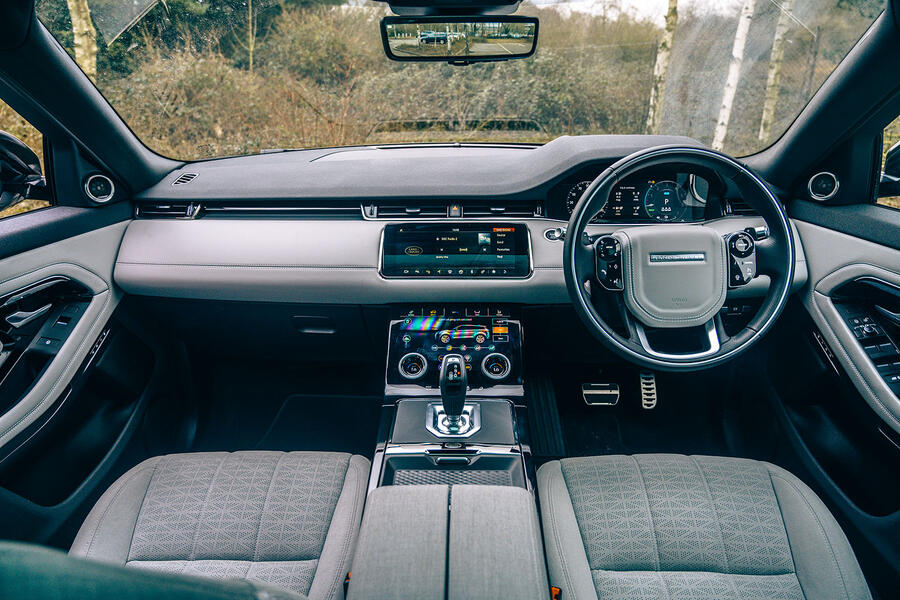 On the road, it's wonderfully refined, whichever engine is under the bonnet, and there's very little wind or road noise. Ride quality is especially good on cars with 17in or 18in wheels, and traction in slippery conditions is excellent and grip levels strong. It is, as you might expect, very capable off road, too. 
Visibility is good aside from some fairly chunky roof pillars and a shallow rear window, but parking sensors and cameras mitigate some of those issues. Material quality is high, plus there's even the option of finding an Evoque with a vegan-friendly Eucalyptus textile pack. 
The infotainment is a real step up from the previous car's. It responds promptly to inputs and has a simple, more intuitive menu layout. 
Space is good for tall people up front – even with the panoramic roof – and pretty good in the rear. A buggy or a set of golf clubs can be stowed in the boot without issue, and a standard 40/20/40-split folding rear seat improves flexibility, and those seats fold flat, too.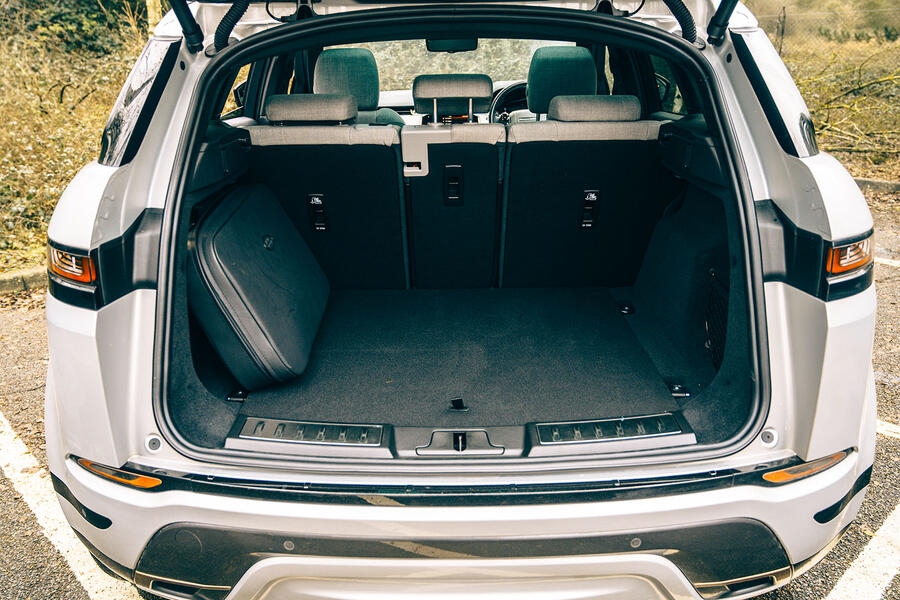 Our top spec
S: Standard kit is generous, but an S model also gets the Pro version of the Pivi infotainment and a few extra luxuries. Any trim level after this gets 20in alloy wheels that do the ride no favours.
Need to know
You'll need at least £25k to get an early, entry-level D150. Spend £25k-£30k on a 2020 model, depending on trim, £30k- £35k on a 2021 car and £35k and above on a 2022 version.
The D150, D180 and D240 officially average low 40s to the gallon. This was improved to 46.3mpg for the D165 and 42.7mpg for the D200. Petrol models all average a smidge over 31mpg. The headline stat is the P300e PHEV's official 188.9mpg.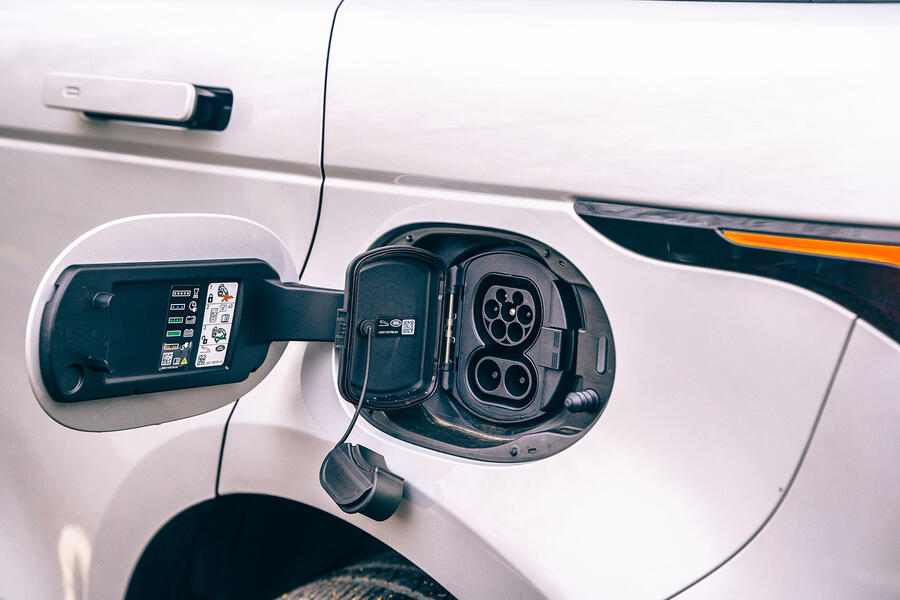 Buyer beware
Check recall record: Recalls have been issued for the following faults. An issue has been found with the emergency call system, which contacts the emergency services in the event of an airbag deployment or when the SOS button is pushed. The rubberised fuel return hose assembly may have been incorrectly manufactured. The second-row seatbelt assemblies may contain a physical seatbelt retractor part that is of a different specification to that intended. An electrical overload event in the 48V electrical system may cause a failure of the metal oxide semiconductor field effect transistor. Check with a dealer to make sure all these works have been carried out.
Reliability is an issue: The reliability survey of our sibling title What Car? puts this second-gen Evoque in 36th place out of 39 cars in the family SUV class.
Our pick
P300e: The plug-in hybrid is the fastest model in the Evoque range (0- 60mph in 6.1sec) and it's smooth around town and punchy on the motorway. It can officially travel up to 34 miles on electric power alone.
Wild card
Hyundai Tucson: This spacious and decently refined car scored 100% for reliability in the same SUV class the Evoque did poorly in. It lacks the premium-badge appeal, though. Heart or head? Up to you…
https://www.autocar.co.uk/car-news/used-...r-evoque-0