09-26-2021, 02:10 PM
Nearly new buying guide: Skoda Yeti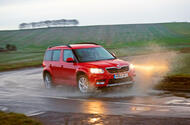 The Yeti's boxy looks gave it a distinct character
Skoda's characterful Yeti proved to be a minor masterstroke, as would buying one
With the quirky Yeti crossover, Skoda proved something that many of us had come to doubt: that while the Volkswagen Group's strategy of sharing platforms, engines, suspension systems and whatever else between the various models across its brands is clearly good for business, would any of them ever be able to produce a car with a discernible personality of its own?
Then, in 2009, the Skoda Yeti arrived, with its unusual styling and a distinct character all of its own. 
The Yeti predated today's seemingly unstoppable SUV-mania, and even now it doesn't really sit comfortably in that category. It shared its underpinnings with the Volkswagen Golf, and although it is a little taller than a conventional hatchback, it doesn't have so many of the unavoidable drawbacks of a high-riding SUV. In fact, its seating position and on-road manners are much more car than SUV-like, which means it can be fun to drive on the right road. That's where the better part of its distinctive personality comes from. 
Click here to buy your next used Yeti from Autocar
What the Yeti does borrow from today's SUVs is flexibility, practicality and, if it's a four-wheel drive model, real off-roading ability. The VarioFlex rear seat system – which allows you to slide the bench forwards and backwards, remove it entirely or pull out only the middle chair to create more second-row space for two – gives the Yeti a level of versatility few other cars can match.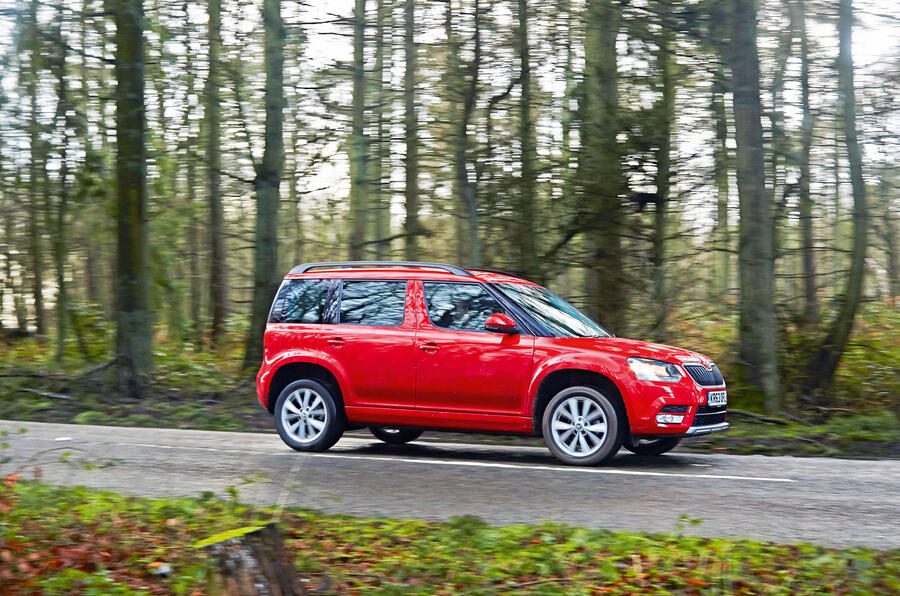 For all of those reasons, it is close to incomparable as an affordable family car a decade after its launch. The cheapest official Approved Used cars start at around £7000 and many of them have covered fewer than 50,000 miles. The 4x4 models start at £8000 and it's worth paying that bit extra. Not only does a second driven axle make the Yeti better suited to winter driving (particularly when matched with winter tyres), but the four-wheel-drive cars also benefited from a more sophisticated multi-link rear suspension architecture. 
The 2.0-litre turbodiesel that you'll find beneath the bonnet of the vast majority of these Yeti 4x4s is strong and torque-rich, whether it's in the lower, 138bhp state of tune or the higher 168bhp specification. Upwards of 45mpg is well within reach, too. Approved Used Skodas come with a 12-month warranty and roadside assistance over the same term, although buyers have the option of upgrading to 24-month cover.
What's most agreeable about the Yeti, though, is that Skoda's designers and engineers were able to peer into an enormous warehouse packed to the rafters with VW Group mechanical components, all of them very well used across the business and long since over-familiar, and yet they pulled down only the right parts and wrapped them up in a funky body to create not only an original concept but also a very charming car. With the Yeti having now been replaced by the Russian-doll Karoq, we'll probably never see its like again.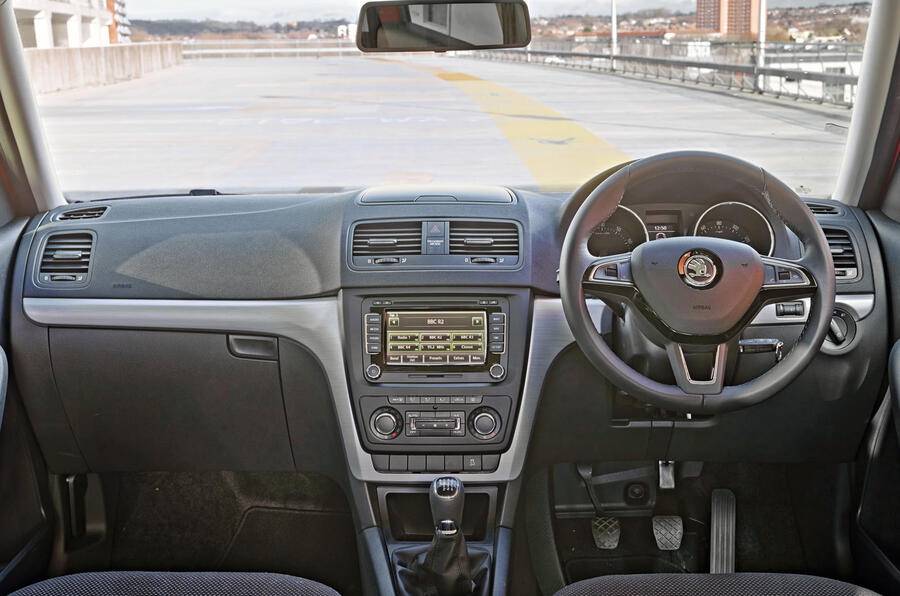 BUYER BEWARE
Engine As with many VW Group turbocharged engines, the Skoda's oil level needs regular monitoring so dip it and look where it is on the stick. Too low and chances are it's always been run like this. Some early 1.2 and 1.4 engines suffered failure of the timing chain caused by oil starvation. Staying with turbos, check the turbocharger is not blowing smoke, a condition that can be caused by the wrong grade of oil or by infrequent oil changes. If the engine is a diesel, check the oil is of the prescribed low-ash type. Check its level, too. Being too high could indicate regeneration (cleaning) issues with the diesel particulate filter.
Transmission Listen for squawks or squeaks emanating from the dual-mass flywheel as you pull away. If a towbar is fitted, check the operation of the clutch which may have been slipped once too often as the weight of a trailer is taken up. On four-wheel-drive versions, check the fluid in the Haldex transmission has been changed at 40,000 miles or three years. Some early automatic (DSG) versions can suffer shift and engagement problems so check all is well since repairs can be very expensive.
Body and interior The Yeti is bought for its practicality so give the body and cabin a thorough inspection, checking for casual dings, scrapes and tears, and for rust around and under the centre body protection strip. Check the parcel shelf is present and be sure the air conditioning system works since the condensers can suffer stone damage. If it's a 4x4 Yeti, check the previous owner hasn't misjudged its off-roading abilities and damaged the underside, sills and lower portions of the bumpers.  
Need to know
The Yeti's slightly odd front styling won't be to all tastes, not least due to its somewhat gawky foglights. Skoda updated the car with a more conventional front end in 2013 and these models aren't much more expensive today. 
On top of the VarioFlex rear seat system, the front passenger seat can also be folded forward into a horizontal position. That means the Yeti can be used to transport very long objects, such as rolled-up carpets or, er, guttering. 
A number of owners have reported issues with hesitating engines. This can be fixed by the fitment of a shim beneath the turbo solenoid, which is a cheap and simple repair that should have been applied to an approved car. 
Our pick
Skoda Yeti 2.0 TDI 4x4 170: A 4x4 Yeti with the more potent diesel engine is uniquely appealing: quick, good to drive and practical. On a set of mud and snow tyres, it'll also go much farther into the woods than you might imagine.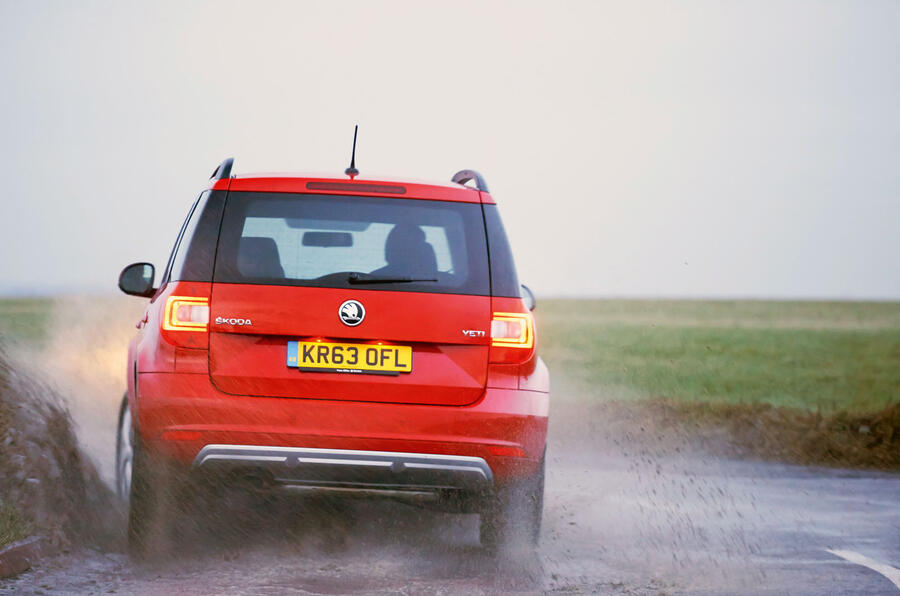 Wild card
Skoda Yeti 1.2 TSI: Front-drive Yetis don't have the 4x4's low-grip traction and aren't as fun to drive, but it'll be more than adequate in most circumstances. The 1.2-litre petrol engine is cleaner, too.
Ones we found
2012 Yeti 1.2 TSI, 40,000 miles, £7295 
2014 Yeti 1.6 TDI Greenline, 52,000 miles, £7985 
2012 Yeti 2.0 TDI 4x4 Elegance 140, 59,000 miles, £8000 
2013 Yeti 2.0 TDI 4x4 Elegance 170, 56,000 miles, £9495
Read more
Taking the Skoda Yeti on an epic journey through Bhutan​
Skoda to build new European factory to meet demand​
https://www.autocar.co.uk/car-news/used-...skoda-yeti