10-22-2021, 05:55 AM
Nearly new buying guide: Tesla Model S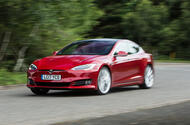 Six years after it arrived, this is still one of the best electric cars
No doubt you'll have opinions of the bloke himself, but it says a lot about Elon Musk's foresight that the oldest model in Tesla's current line-up still feels fiercely futuristic compared with almost any other new car.
In fact, even if you buy a six-year-old Tesla Model S, it's more cutting-edge and innovative than many of the modern alternatives, whether they're engine-powered or electric.
And while some versions of the Model S asked for north of £100,000 when new, you'll find that used ones start from just £30,000 today. No matter the model you go for, you'll get a big car that handles tidily, rides nicely and has a dose of luxury to go with its sizeable electric advantages.
Click here to buy your next used Model S from Autocar
Used market prices start with a 60 or 80 model from 2014 with one motor driving the rear wheels. For a big boost in performance (and, in most cases, range), look out for later cars with a D suffix, which indicates dual motors and four-wheel drive.
Of the lot, the 75D makes the most sense, with prices starting at around £40,000. It will be able to cover more than 200 miles from a full charge in real-world driving conditions and still crack 0-60mph in a staggering 4.3sec.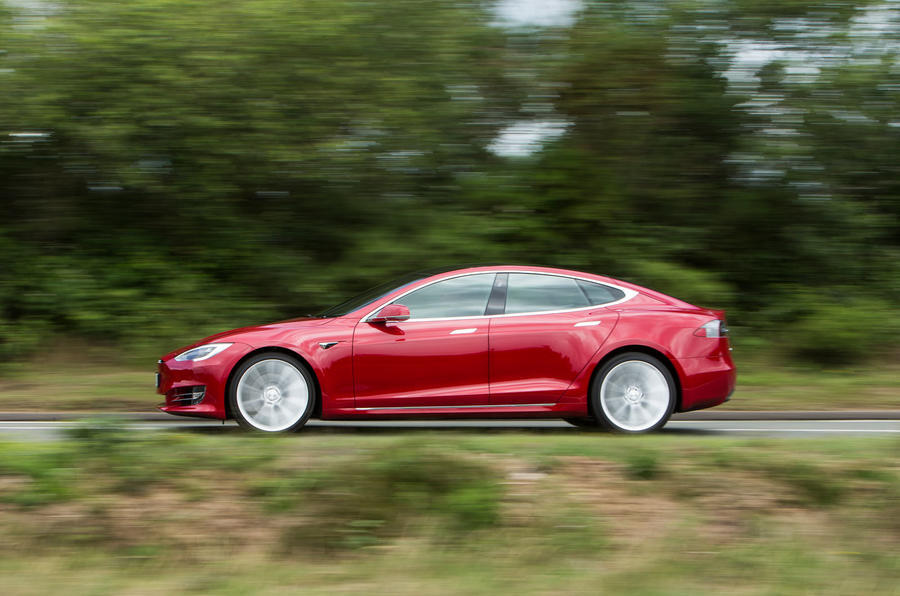 But if you're hell-bent on speed, try the P100D with Ludicrous mode (or P100DL in Tesla slang). You will obliterate 0-60mph in 2.5sec and never meet anything faster than you on the road. This version is scarce, though, so don't dither if you find one; prices start from around £65,000.
While Tesla's headline-grabbing performance figures are a major draw, its charging infrastructure solution should appeal more. With its Supercharger network, you'll have access to 500-plus charging stations at more than 60 destinations around the country and pick up a 10-80% charge in as little as half an hour. Plus, the used Model S you've found may be able to use them for free; ask to see the Tesla account linked to the car to find out.
If you do that, you'll also get a handle on what 'self-driving' abilities your car has. This gets complicated, because the Autopilot system (which includes lane-keeping assistance and adaptive cruise control) has changed definition and names down the years and didn't always come as standard.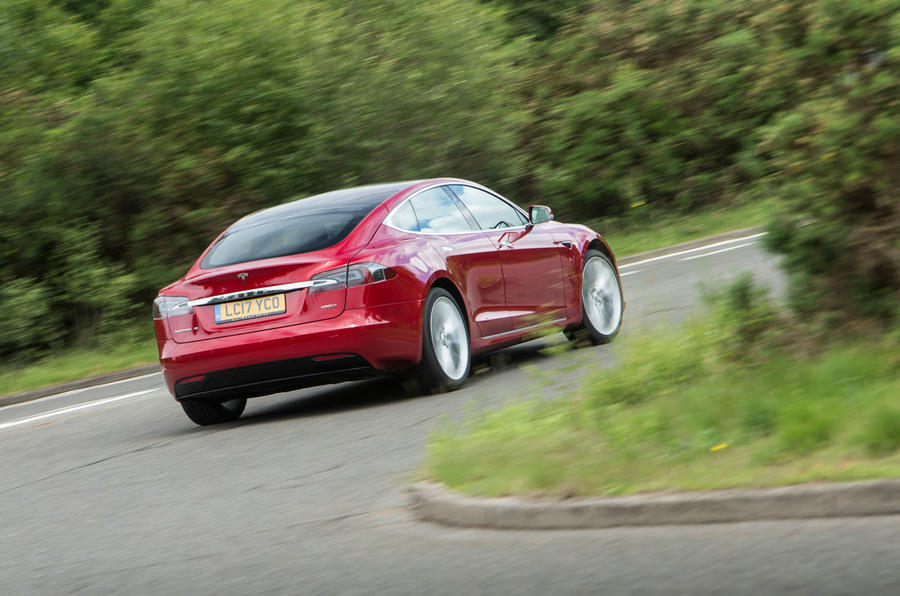 You may also see Full Self-Driving Capability, which allows the Model S to park itself, change lanes on the motorway and even be controlled at very low speeds from a smartphone. Plus, it enables the car to recognise stop signs and traffic lights and come to a standstill. It will also be able to use Autopilot to navigate around cities – once the tech and law allow.
You need Autopilot 2.0 to support Full Self-Driving Capability, so a car built from late 2016 onwards. And even if the Model S you fancy doesn't have this tech, you can add it over the air for a fee.
BUYER BEWARE
Battery Give it a health check at a Tesla workshop because early models (pre-2016), in particular, can suffer degradation issues or failure.
Drive unit Some early cars suffered poor bearing lubrication so listen for unusual noises. Accelerate hard feeling for vibration suggesting the front driveshafts have failed. 
Warning lights A cooling light could mean low coolant or a failed pump, both serious.
Suspension and brakes Scrutinise the suspension for damage and failure and check that the. dampers aren't leaking. Be sure there's no judder through the pedal when braking (it's surprisingly common for an EV).
Body Check you're happy with the sometimes iffy panel fit and alignment and remember that any damage is likely to be expensive and, because of the relative lack of industry expertise, troublesome to repair. With the car on a ramp, inspect the battery carrier for signs of impact damage. Feel for damp patches in the boot. Check the windscreen wipers and all exterior lights work. Staying with the lights, be sure they're not suffering from heavy condensation and filling with water. If fitted, be sure the panoramic roof isn't leaking, that the door handles work and that the boot opens and closes (while there, check the reversing camera isn't suffering from water ingress).
Interior The S is a laptop on wheels so check the infotainment, control and autonomous services for the usual snags and delays that afflict ageing computer systems. Be sure all updates have been performed and if there are any stubborn issues, explore the possibility of software and hardware upgrades (for example, the MCU – media control unit – was upgraded to the MCU2 in 2018 from the earlier MCU1 and is a worthwhile investment). Again, pre-2016 cars are more troubled than later ones. Look for yellow banding on the edge of the screen indicating that the glue securing it is failing, as well as the screen itself. Be sure the heater works because a few owners have reported it failing.
Towhook This is not advised or made available by Tesla so avoid a car that has one fitted. 
Recalls Check they've all been actioned, including the one concerning the power steering pump securing bolts. Staying with the steering, if it feels heavy or won't self-centre easily check the condition of its universal joint; it may need lubricating.
Need to know
The latest Model S variants are badged Long Range and Performance, but they're so new that you won't find many for sale.
There was a seven-seat option for the Model S, but cars with this are very rare on the used market.
There are signs of gradual improvement, but overall Tesla has a dreadful record for reliability.
Every Model S comes with an eight-year, unlimited-mileage warranty covering its battery pack, while the car itself gets a four-year/50,000-mile warranty.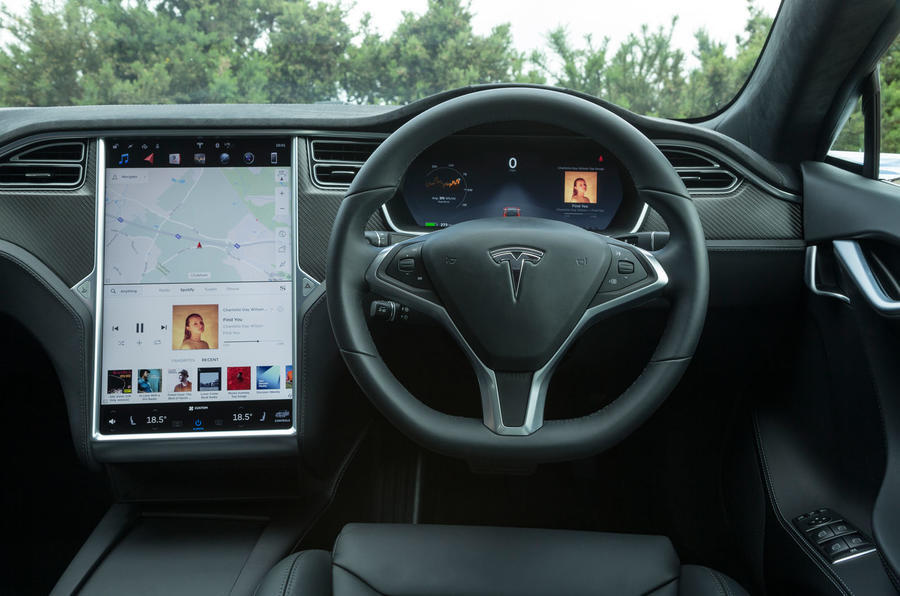 A light facelift in 2016 brought a new front end without an imitation grille surround and the Bioweapon Defence Mode air filtration system.
Our pick
75D: With great range and great performance, this is a fine example of an electric car that's exciting to drive and easy to live with. Still goes toe to toe with any other modern EV.
Wild card
P100D Ludicrous: Not just ludicrous but also maddeningly, frighteningly rapid beyond all reason. It's the Model S to have if you crave ultimate performance bragging rights, even if you'll need access to a disused airfield to be able to make full use of its pace.
Ones we found
2014 Model S 85, 79,000 miles, £29,995
2016 Model S 75D, 48,000 miles, £41,995
2017 Model S P100D Ludicrous, 31,500 miles, £65,000
2019 Model S Performance, 2484 miles, £92,950
READ MORE
Tesla Model 3 is April's best-selling new car in UK
Inside the industry: Tesla's success starts on the playground 
https://www.autocar.co.uk/car-news/used-...la-model-s