10-14-2021, 06:08 AM
Nearly new buying guide: Volkswagen Arteon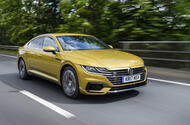 VW's sleek saloon didn't set the world alight - but that means bargains can be found on lightly used examples
Take the Volkswagen Passat. Add a dash of glamour, a pinch of practicality and a teaspoon of kit. Voilà, you have the Arteon: a five-door fastback offering a choice of six impressive engines.
The turbocharged petrols are a smooth 148bhp 1.5-litre, a sweet-spot 187bhp 2.0-litre and a hold-onto-your-hats-boys 276bhp 2.0-litre. And then there's a similar trio of diesels, offering 148bhp, 187bhp and 237bhp. Unless you really need the extra frugality of an oil-burner, the Arteon is best served in petrol form – specifically with the 187bhp engine, which is smooth, punchy and quiet.
The equipment choice is simpler: pick between SE, Elegance and R-Line. SE is no bargain-basement special, coming with LED headlights, parking sensors and tri-zone climate control. Elegance adds leather seats (heated in the front) and digital dials, while R-Line gets you sportier-looking bumpers, larger alloys and a host of detail upgrades to the interior.
Click here to buy your next used Arteon from Autocar
We'd look for a 187bhp 2.0 TSI Elegance, because that will provide all the equipment you're likely to want. However, that combination appears difficult to find on the used market; the flashier R-Line models are more common.
Whichever model you find, you'll be buying a fast, relaxing executive express. Those seeking real five-door thrills should look to the rear-wheel drive BMW 4 Series Gran Coupé, but the Arteon is more involving than its saloon sibling, remaining composed when you hustle it, finding plentiful grip and responding accurately and reassuringly to your inputs.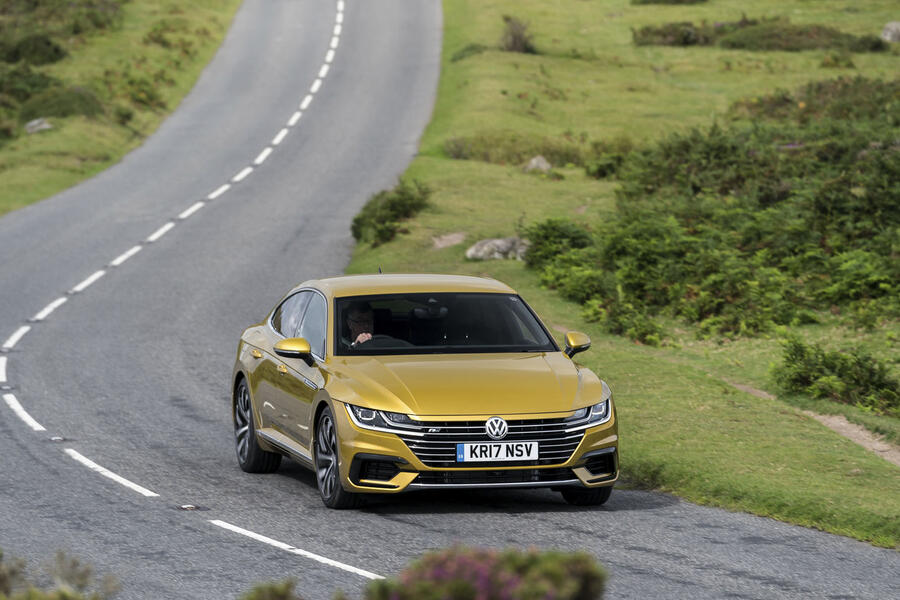 The optional adaptive suspension (DCC) blesses the Arteon with a ride that's especially good at high speeds, although it's not perfect in town, as the occasional thump from a ridge is sent into the interior. This is a trait that's exacerbated by the standard suspension set-up, especially when the car is also fitted with larger wheels. Finding DCC on the used market isn't easy, either.
The Arteon's interior is particularly appealing. It's mostly shared with the Passat, but that's no bad thing, because it's beautifully made. An impressive 8.0in infotainment touchscreen is standard (a 9.2in configurable one is an option) next to a slick digital instrument display.
The Arteon trumps many of its rivals for space in both the front and rear. Granted, your head will be close to the roof in the back if you're tall, due to that fancy roofline, but there's more room than in most rivals. The boot is comparatively huge, too, and it's made even more practical by the Arteon being a hatchback.
Prices start around the £18,000 mark for a 2017 Arteon with an above-average mileage and an entry-level petrol or diesel engine. Between £20,000 and £24,000 opens up a wider selection, while the most potent models start from £26,000.
BUYER BEWARE 
Engine If it's a 1.5 TSI car fitted with a manual gearbox, check there are no hesitancy issues at low speed that cause the vehicle to 'kangaroo'. It was a widely reported problem on early cars which VW claimed it was a developing a fix for. 
Interior Owners have reported sundry rattles and squeaks from trims and, where fitted, the sunroof.
NEED TO KNOW
The Arteon's two recalls concern early cars. One was because the rear wheel bearing housing could fracture, the other because the sunroof trim might not have been bonded correctly to its frame.
The Arteon didn't feature in the latest What Car? Reliability Survey, but the closely related Passat did. It ranked a disappointing 19th out of 22 in the executive car class, while Volkswagen came 16th of 31 manufacturers in the same survey.
If its original list price was less than £40,000, including options, the Arteon will cost £145 per year in road tax. Over that threshold, it increases to £465. All the more reason to go for a lower-spec car.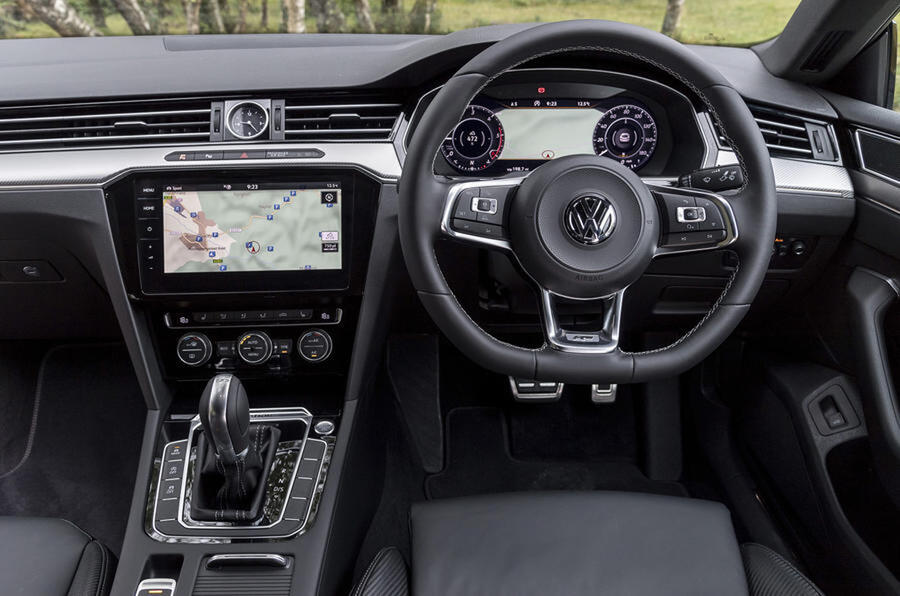 OUR TOP SPEC: R-LINE
Sportier-looking bumpers, larger wheels and lots of choice on the used market. This flashy trim doesn't add essential kit, but clearly its looks are a hit.
OUR PICK: 2.0 TSI 190 ELEGANCE
The 187bhp diesel motor provides really smooth and punchy performance, and stick to the 18in alloys (rather than upping to 20in) for the comfiest ride. Elegance gets you loads of kit.
WILD CARD: 2.0 TSI 272 4MOTION R-LINE
Ballistic performance is hardly in keeping with the elegant subtlety of the Arteon, but that doesn't stop the range-topper being an absolute hoot. It's a real wolf in sheep's clothing.
ONES WE FOUND
2017 Arteon 2.0 TSI 190 R-Line DSG, 33,225 miles, £18,000
2018 Arteon 2.0 TDI 150 Elegance DSG, 2110 miles, £23,290
2018 Arteon 2.0 BiTDI 4Motion R-Line DSG, 8160 miles, £26,499
2019 Arteon 2.0 TSI 272 Elegance 4Motion DSG, 5980 miles, £26,200
READ MORE
Volkswagen Arteon long-term review
2021 Volkswagen Arteon Shooting Brake spotted undisguised
Volkswagen Arteon R: 2020 hot saloon will be joined by Shooting Brake
https://www.autocar.co.uk/car-news/used-...gen-arteon