09-18-2021, 12:39 AM
Nearly new buying guide: Volkswagen Golf R
'Iconic' is overused in motoring journalism. But for describing the Golf? There's no other word
Perhaps the most surprising thing about the Golf R was how quickly it began appearing on the roads in serious numbers following its launch in 2014. Of course, the cheapest version, the three-door manual, cost only around £4000 more than the cheapest GTI (£30,000 compared with £26,000) and, remember, this is the age of the PCP when such differences translate to only a few extra pounds on the monthly payment. But VW was also pushing the new model hard with incentives.
The result is that today, used Golf Rs are almost as plentiful as used GTIs, with prices starting at around £11,000 for a high-miler. However, from £14,500 is where solid 14-reg cars with 50,000 miles begin.
There are manuals and threedoors in the mix but the vast majority are five-door automatics (sevenspeed DSG). Owing to its relative scarcity and particular appeal, the three-door is, like for like, more expensive than the five-door, but a cast-iron service history and unblemished condition are essential.
Click here to buy your next used Golf R from Autocar
Supply-wise, auto and manual versions of the three-door are split 50/50 whereas, unsurprisingly given its broader reach, five-door Rs are predominantly automatic. If you're tempted by the three-door's sportier looks, be aware that access to the back seats is, naturally, trickier – a fact that, over time, may come to bother you more than it does now.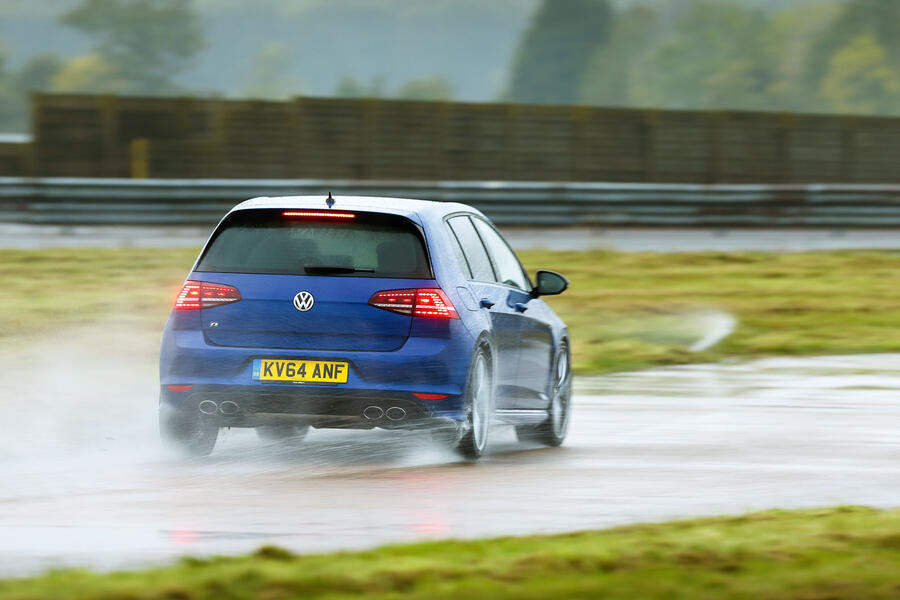 Colour is critical. It's subjective but many think the R looks best in blue, which, happily, is the most plentiful colour. On later cars, Turmeric Yellow (it looks like gold) divides opinion and is rare but worth considering if you've an eye on future resale. Black and white are safe as houses and play to the R's Q-car character.
With so many used Rs to choose from, the right options help a car to stand out. Among the more desirable ones is Adaptive Chassis Control (ACC), which offers Comfort, Normal and Race modes. Despite its name, Comfort still feels quite brittle but that's the price you pay for the R's sharp responses.
Other choice options include leather, climate windscreen, uprated Dynaudio system – at full whack, it will loosen your fillings – and panoramic sunroof. The optional 19in Pretoria alloys are sought after but check their condition first. The standard-fit sound actuator that enhances the engine note is good but, in 2017, VW made a sports exhaust package available for £2975.
Desirable though all these options are, don't let the right car slip through your fingers for want of a few goodies since the R is already well specced in standard trim, with sports suspension, four-wheel drive, 18in alloys and xenon headlights, not to mention a good sound system. In 2016, the car was given a mild makeover, receiving a 10bhp boost, LED lights, a new media system and some subtle styling changes. Underneath it all, though, it was the same great performance bargain.
BUYER BEWARE
Engine This has a taste for the black stuff but, unfortunately, you'll never know if it's been checked and topped up as necessary. If it's low when you dip it, assume the worst. The oil should be changed every 10,000 miles. Avoid a remapped car since you can only assume it's been driven hard. It will also invalidate any warranty. The coolant module is prone to leaking but replacement modules suffer the same problem. After a hot drive, a failing one will produce  a spicy, coolant smell.
Transmission Check the DSG's fluid and filters have been changed every 40,000 miles. Also, that the Haldex four-wheel drive coupling has had fresh fluid every 20,000 miles or three years. Make sure drive is going to the rear wheels. Manual cars can suffer premature clutch slip, so check its operation. 
Interior Check everything works including the front windows, which can play up. Close them fully and press the switch in the up position for a moment to re-set them.
Infotainment Early cars' MIB1 systems (with 5.8in screen and up to end of 2015-reg) cannot have Apple CarPlay retroactivated.
Wheels and tyres Attractive and expensive optional Pretoria wheels are light but prone to buckling (check inner as well as outer faces). Check tyres aren't mixed brand or budget.
Theft Check the car hasn't been stolen and recovered.
Body The bonnet chips easily. Early cars have small paint defects.
Need to know
Ensure the DSG automatic gearbox fluid and filters have been changed at 40,000-mile intervals. Although this generation of DSG is not prone to the issues that afflicted earlier versions, it's vital the gearbox is properly maintained. The Haldex clutch needs servicing every three years.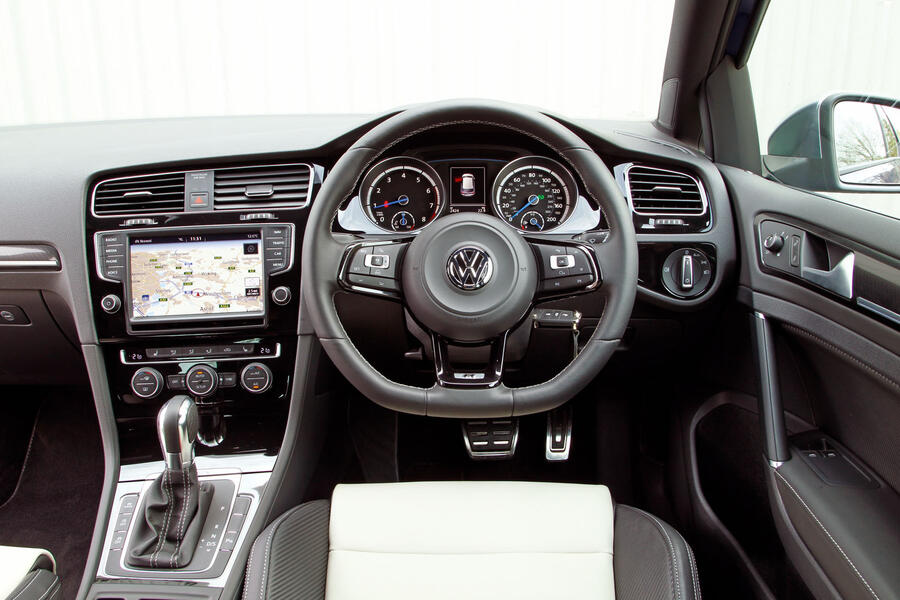 If fitted, check the optional 19in Pretoria alloys are free of damage as they're susceptible to buckling. Replacements are very expensive.
During 2016, the Golf R gained an extra 10bhp, taking it to 306bhp, but towards the end of 2018, it was wound back to 296bhp to meet the new WLTP emissions limits.
The three-door version is still available on 2019/19-reg but has been dropped for the 2020 model year as the replacement Mk8 Golf R beckons.
Our pick
VW Golf R DSG 5dr: With five doors and an automatic gearbox, the R is the perfect high-performance all-rounder. In fact, the auto covers the 0-62mph sprint 0.5sec quicker than the manual. Autocar's test car returned 28.7mpg overall.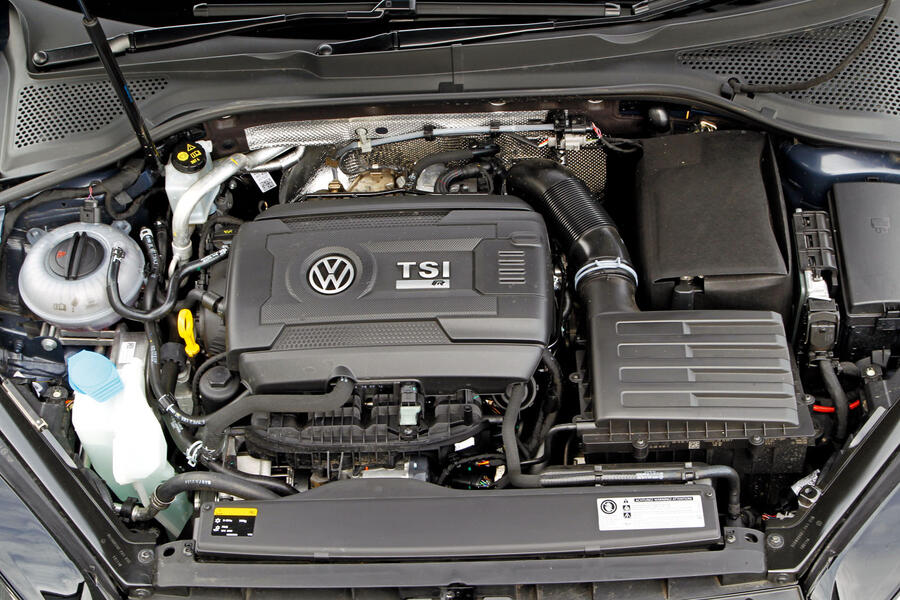 Wild card
VW Golf R 3dr: Three doors and a manual 'box aren't exactly wild but, given that autos outnumber manuals by two to one and five-doors outnumber three-doors by four to one, at least they're scarce.
Ones we found
2014 Golf R 3dr, 115,000 miles, £11,295
2015 Golf R 5dr, 65,000 miles, £14,995
2017 Golf R Nav 5dr, 37,000 miles, £19,695
2018 Golf R 310PS 5dr, 31,000 miles, £21,999
READ MORE
New Volkswagen Golf: first official images leak ahead of tonight's reveal
New Volkswagen Golf to feature class-leading technology
https://www.autocar.co.uk/car-news/used-...gen-golf-r