06-22-2023, 04:05 AM
New £25,000 electric Citroen e-C3 to launch in October this year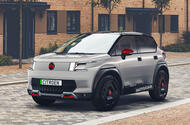 The ë-C3 will be part of a bigger Citroën C3 range also including ICE models
EV will offer more than 186 miles of range and will be part of a C3 line-up also including combustion power
Citroën will pitch itself headlong into the affordable EV market this October with a battery version of its revised C3 range, costing "below €25,000" in France and hitting the UK market at around £25,000.
The ë-C3 will be part of a bigger Citroën C3 range also including ICE models. But Citroën has insisted that the EV version will become the lead offering in its B-hatchback range and represents a bold attempt by the Stellantis group to begin addressing the issue of affordable EVs.
Until now, European manufacturers have concentrated on high-value EVs while Chinese manufacturers make rapid progress with the bigger-scale, low-cost EVs that the market will ultimately need.
The new ë-C3, which Citroën said would be "fully equipped" as standard with niceties like air conditioning and electric windows, will be based on a platform the company claims is "BEV-native".
The new C3 will be identical in its major dimensions to the current ICE C3.
It will have a strong relationship with the C3 introduced to India last year and then to South America. This uses what Stellantis confusingly calls its Smart Car platform, an adapted and improved version of the familiar CMF-B assembly already widely in use.
For now, Citroën isn't quoting technical details, revealing only that the ë-C3 will be around four metres long, be comfortable and up to date and have a range of more than 186 miles.
Citroën has stressed the continuing importance of the C3 to its range. Sales have topped 5.5 million since the model first appeared in 1993, and the company is seeking worldwide expansion.
Recently arrived Citroën CEO Thierry Koskas, who is also sales and market chief of the whole Stellantis group, said the new C3 would be offered in a much-simplified three-level range, each of which with a maximum of five options.
He believes this simplicity will aid buyers who are often confused and frustrated by range complexity and will also streamline the production system at Citroën's factory in Slovakia.
With the new C3 range, Koskas also plans to offer what he called fair price transparency, an attempt to reduce discounting, although he still said the prices would "not be frozen" and there would still be room for some negotiation.
He sees maintaining prices at near-quoted levels as "a matter of discipline".
There's no news yet on UK prices or launch date, but the ë-C3 is expected to reach our market soon after it's offered in France.
Comment: Citroën leading the charge for affordable EVs 
The fear in recent years has been that Europe's car manufacturers would concentrate on building expensive EVs and allow rivals, principally Chinese, first to capture the low-end EV market and then to move into more expensive sectors at their leisure.
Citroën has launched a fightback, and it's rather a surprise that it will begin as early as October this year.
The forthcoming ë-C3 is a brand new, affordable and European-made EV coming to reinforce a meagre range of small European EVs, such as the redoubtable Renault Zoe, which it undercuts considerably.
You could hardly think of a move in the modern car market more ideal for spearheading a new marketing 'kick' for Citroën than this, and that's how the firm intends to use it.
The creators of the legendary 2CV, built from 1948, would be proud.
https://www.autocar.co.uk/car-news/new-c...tober-year