06-16-2021, 02:04 PM
New 2021 Range Rover: long-wheelbase prototype spotted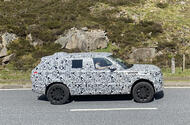 Fifth-generation Range Rover is nearing unveiling, and new shots show the largest variant on the road
Land Rover is well into the development of its new, fifth-generation Range Rover flagship - and prototypes for the largest, long-wheelbase version have entered the final stages of on-road testing.
Images submitted to Autocar by reader Mohammed Rajak show a pair of camouflaged test mules running around the Highlands, one of which towing a trailer, likely for powertrain telemetry purposes.
Numerous prototypes of the luxury SUV have been seen in varying levels of disguise testing across the UK and Europe over the last year or so. Earlier this year, a photographer managed to get closer to one than anybody managed previously, grabbing a look at the prototype's partly disguised innards.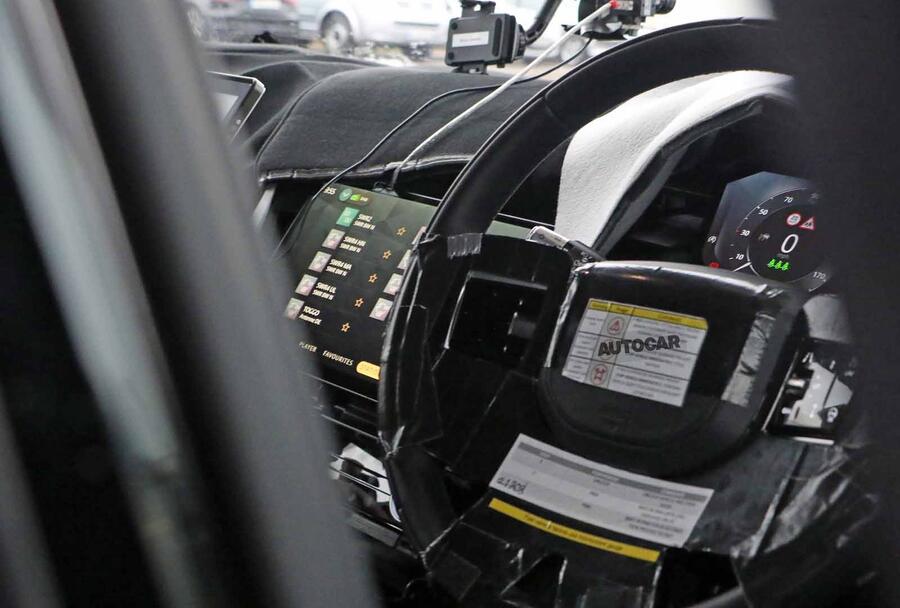 Although we can't make out the overall cabin design, a few clues can be gleaned from the two images showing different angles. The first is a central touchscreen - that appears to be production-spec - which sits proud of the dash centre and is significantly larger than before. It also appears to be running a further developed version of Jaguar Land Rover's latest Pivi Pro operating system. There doesn't appear to be a separate display for climate functions below it like today's car, either. 
A familiar digital dial display is visible, too, though other elements of this prototype's cabin are either covered up or unfinished. We can see a gearlever borrowed from Jaguar's recently updated model range, but there's no indication of it being for production. Haptic feedback controls can be seen on the steering wheel, too.
Heavy camouflage continues to hide key elements of the Range Rover's exterior design. However, we know the overall shape will be evolutionary, while it's possible to make out a new design for the headlights, indicators and daytime running lights.
Earlier mules sported a quad-exit exhaust, suggesting they packed the range-topping V8 engine option, which for the fifth-generation car will be a 4.4-litre turbocharged unit borrowed from BMW.
One image (below) shows off the rear-wheel steering system that will make its debut on the new Range Rover. It's not yet known which variants will receive the system, but it gives clues as to the flexibility of the car's new MLA architecture. 
Previously, the shorter, standard Range Rover was caught on video at the Nürburgring, being pushed to its limits during the usual manufacturer pool, where makers bring prototypes of all shapes and sizes to be put through their paces. 
Featuring a wider stance aided by what looks like a more pronounced shoulder line, wider wheel arches and an imposing front end, the new SUV appears to balance a styling evolution with the tradition that customers expect. 
We can also see that Land Rover has chosen to stick with classic-style door handles rather than the flush-fitting items used on the Velar. At the rear, the shape of the bootlid appears to show that the beloved split-tailgate design is retained. 
JLR is also apparently benchmarking the new model against a Mercedes-Maybach GLS, one of its prime competitors along with the BMW X7.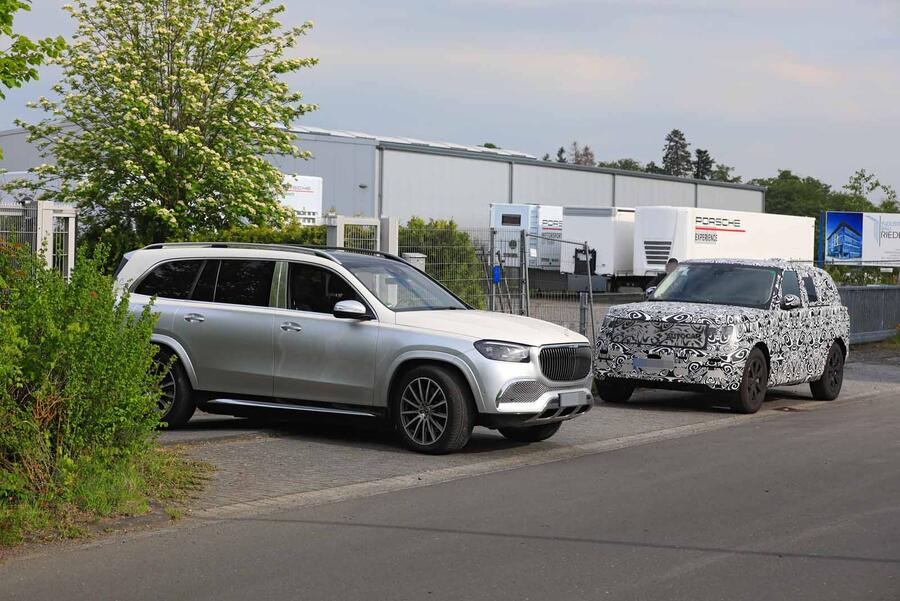 The company's new flagship will replace the current Range Rover, which was launched in 2012, and should give JLR a much-needed high-profit-margin boost just as it embarks on its wide-reaching Reimagine transformation programme under new boss Thierry Bolloré.
It's based on the latest-generation MLA platform, which offers the flexibility of accommodating internal combustion engines, plug-in hybrid systems and full battery electric powertrains. You can read our full 2021 Range Rover scoop for more information. 
READ MORE
50 years of Range Rover: Mk1 prototype meets latest generation
Land Rover Range Rover review (2020)
https://www.autocar.co.uk/car-news/new-c...pe-spotted