06-07-2021, 03:47 AM
New 2022 BMW M2 to be punchier, sharper and sleeker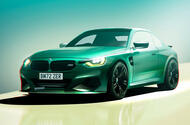 "New M2 (rendered by Autocar above) is more powerful but sharper, too. There's a greater divide between comfort and sport"
Hot coupé will hit the UK next year with a more powerful six-pot and a wider spread of dynamic ability
The second-generation BMW M2 will have even stronger performance and more versatility than the well-received current model when it reaches UK showrooms by the end of 2022, according to insiders.
The new version of M division's smallest model is based on the upcoming third-generation 2 Series Coupé, which has been comprehensively re-engineered with a revised line-up of longitudinally mounted engines, a new eight-speed automatic gearbox, an updated platform, a significantly stiffer body structure and more advanced electronic architecture.
The changes provide the new, G87-generation M2 with much closer engineering ties to other M models than today's M2 has. M division insiders say this will enable the new M2 to offer a further step up in performance while helping it to retain a reputation for dynamic excellence through the sharing of key components.
An internal source told Autocar: "It's more powerful, with greater torque, but sharper, too. It's still puristic, a driver's car, but with a broader spread of characteristics, a greater divide between comfort and sport, than what we've seen up to now."
Central to the model-specific changes for the upcoming Porsche Cayman GTS rival is the arrival of BMW M's S58 engine. The twin-turbocharged 3.0-litre six-cylinder unit was introduced on the X3 M and X4 M, and more recently deployed in the new M3 and M4. It will replace the existing M2's long-running N55 unit, introduced in 2009, as well as the S55 engine used by the more potent M2 Competition and M2 CS.
Key elements of the S58 engine include a newly designed crankcase, a longer stroke, a reworked cylinder head and a more efficient induction system, which uses two mono-scroll turbochargers in place of the single turbocharger in the engine it replaces. As with the older S55 engine, it also gets a petrol particulate filter.
Autocar understands the new inline powerplant, which will be updated to meet Euro 7 emission regulations during the M2's planned seven-year life cycle, will be offered in two states of tune in a move mirroring that of the new M3 and M4 – both with a 7200rpm redline – although only the higher-output Competition car is likely to be available in the UK.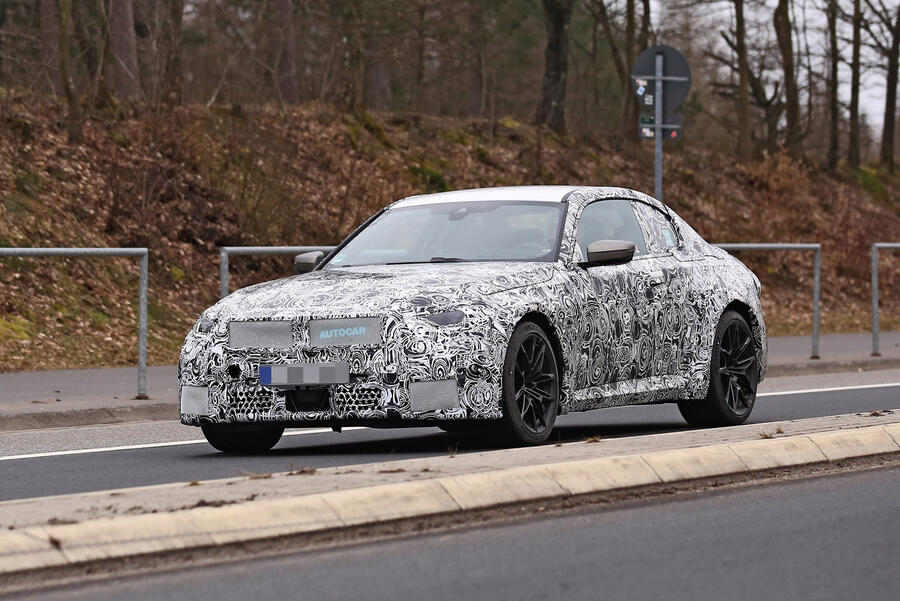 Details remain under wraps more than a year before its planned introduction but standard M2 models are expected to receive up to 410bhp, with the successor to today's M2 Competition set to offer up to 430bhp, just 50bhp short of the standard M3 and M4. The rise in power is claimed to be accompanied by a moderate lift in torque. Again, nothing is official but BMW M sources have revealed to Autocar that the new M2 could have as much as 428lb ft – 22lb ft more than the existing M2 Competition and M2 CS.
BMW will offer the new M2 with the choice of either a standard six-speed manual or a new eight-speed torque-converter automatic with steering wheel-mounted shift paddles. The auto replaces the current seven-speed dual-clutch item, which will no longer be available on the M2.
Both the standard and Competition models will have rear-wheel drive with an electronically controlled M differential. Although four-wheel drive is now offered on the car's M3 and M4 siblings, an xDrive M2 is not planned.
The styling of the new M2 is closely related to that of the upcoming M240i xDrive. Distinguishing elements include a new-look front end with a lower and wider kidney grille than that seen on today's M2 Competition. Set within a deep front bumper, it goes without traditional fixed vertical louvres, adopting electronically operated active elements that open and close to suit the cooling and heating demands of the new engine.
The headlights, LED as standard, also adopt a more angular design and will be offered with optional laser projectors, with dynamic indicators housed within the front lenses.
The bonnet adopts a prominent power dome and the wheel arches have been enlarged to accommodate wheels of up to 20in. A more pronounced shoulder line runs back to form wider haunches below the rear side windows. The windscreen and rear window are also more heavily raked than on the first-generation M2, giving it an altogether sleeker appearance.
In keeping with more recent M models, the tail-lights have a heavily structured design with OLED graphics while the boot slopes down towards the rear and receives a larger lip spoiler than today's model for added downforce. A wider diffuser is also integrated into the bottom of the rear bumper.
An optional carbonfibre package will allow prospective customers to specify the new car with various carbonfibre elements, including the roof and door mirrors, although the M2 Competition is set to get a carbonfibre roof as standard.
The new coupé has grown in size, albeit only moderately over today's 4468mm-long, 1984mm-wide and 1410mm-tall M2 Competition. Along with the increase in dimensions, the wheelbase has been extended by 51mm, at 2744mm, and the tracks have been widened at the front and rear. Crucially, the new M2 will match the 50:50 weight distribution of the less powerful M240i.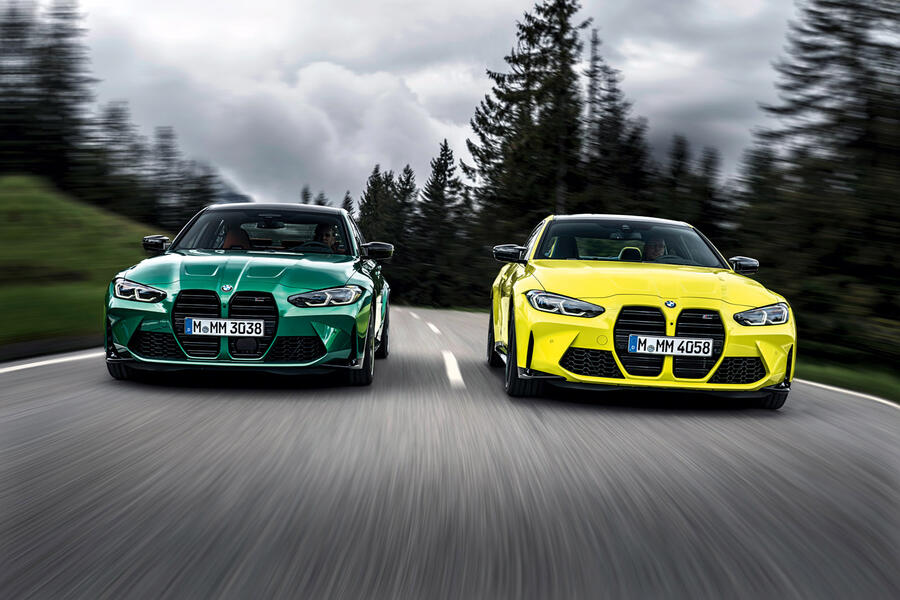 Autocar has been told the CLAR platform adopted by the new 2 Series provides a 40% increase in body rigidity compared with the structure used by the old model. The new M2 will add further rigidity with its own unique front suspension dome brace strut and a new brace integrated within the rear suspension.
Underpinning the new M2 is a heavily reworked MacPherson strut front and multi-link rear suspension. Among the benefits of the new set-up cited by BMW M engineers is its ability to support increased front camber. It will be available with the choice of either lift-related or variable dampers.
In a significant shift in M division operations, the next M2 will be manufactured alongside other 2 Series models at BMW's newly established factory in San Luis Potosí, Mexico. Today's M2 is produced exclusively at BMW's Leipzig plant in Germany. Details about the sourcing of key components, including the S58 engine, have yet to be made official, although insiders suggest it will continue to be manufactured at BMW's Munich engine plant.
READ MORE
Why BMW design will stay polarising on purpose 
BMW to launch nine new electric cars by 2025 
https://www.autocar.co.uk/car-news/new-c...nd-sleeker