05-08-2022, 11:06 AM
New 2022 Range Rover driven: still the ultimate SUV?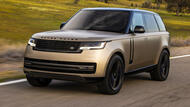 Join Matt Prior as he reviews the all-new 2022 Range Rover, the latest in a long-line of luxury SUVs.
The Range Rover is a staple luxury SUV. It's a car that, unlike some other Land Rovers of recent times, like the Discovery and Defender, has not needed reinventing. A new one arrives and we expect it to play precisely the same role as the outgoing one, only better.
How, then, does this latest-generation Range Rover get on? It, as previous-generation Range Rovers, has a mostly-aluminium structure and an interior clad with the finest materials. Because it's sold in so many countries, it comes with a huge range of engines and even in two wheelbase lengths. There'll be full internal combustion, mild-hybrid, plug-in hybrid and a pure electric variant is coming.
It arrives costing nearly £100,000 and will take the fight to other luxury SUVs like the Porsche Cayenne, Mercedes G-Class and more.
https://www.autocar.co.uk/car-video/new-...timate-suv