10-13-2022, 09:39 PM
New 2023 BMW M2 arrives with 454bhp and manual option
The new BMW M2 will be the last pure-petrol M car
Straight-six coupe touches down as the final pure-combustion BMW M car, priced from £61,495
The second-generation BMW M2 Coupé is the final pure-combustion offering from Munich's storied M division, seeing out the era with drastic increases in power, performance and poise compared with its acclaimed predecessor. 
Its unveiling rounds off a particularly busy year for BMW's M division, which has celebrated its 50th anniversary in 2022 with the debuts of the hardcore M4 CSL, the first-ever M3 Touring, the M Hybrid V8 endurance racer, the updated M8 and – most recently – the XM SUV, its first plug-in hybrid and only its second-ever bespoke model. 
The M2 is what division boss Frank van Meel calls "the entry drug" to the now sprawling line-up of M cars, slotting in below the M3 and M4 to provide BMW once again with a direct rival to the Porsche 718 Cayman and the pricier variants of the Alpine A110. BMW has described the M2 as a spiritual successor to the legendary 2002 Turbo sports coupé (and more directly the short-lived 1 Series M Coupé). It also noted that the original model, which bowed out in 2020, quickly became the best-selling car in the M line-up and ultimately racked up 60,000 global sales.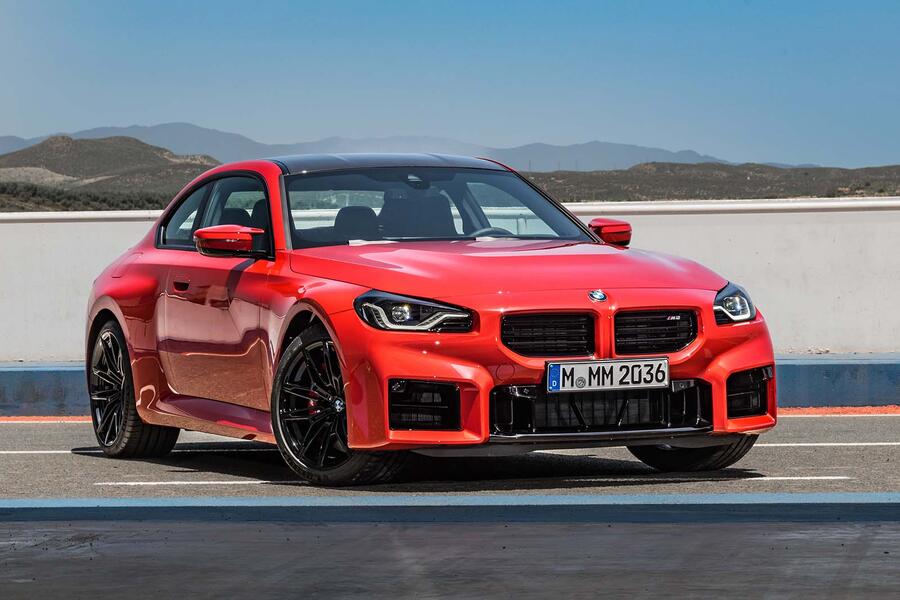 This Mk2 version will be built in Mexico alongside the standard 2 Series Coupé, but it's as far removed from that car as is the M3 from the 3 Series – and, in fact, most of its track-honed drivetrain chassis hardware is lifted from that larger, more powerful saloon.
For now sold exclusively with one engine option and the choice of an automatic or a manual gearbox, the M2 is due to arrive in the UK next May, priced from £61,495 – making it slightly cheaper than the comparably potent and similarly conceived 718 Cayman GTS. 
M bosses haven't, though, ruled out the possibility of more hardcore, perhaps limited-edition additions to the line-up in future. 
As recently reported by Autocar, a lightweight, firmed-up M2 'CSL' is set to follow, with a more extreme design treatment to match its increased power and heightened track focus. 
From launch, the M2 takes its power from a variation of the 'B58' 3.0-litre straight six used by the M3 and M4, giving 454bhp and 406lb ft of torque to propel the coupé from 0-62mph in just 4.1sec (with the automatic gearbox) and on to a limited 155mph – performance figures that make it very nearly as quick as the M4.
The M2 has been designed to be more "extroverted and bold" than its M stablemates, according to van Meel, placing as much of a focus on dynamic flamboyance as it does outright pace and driver engagement.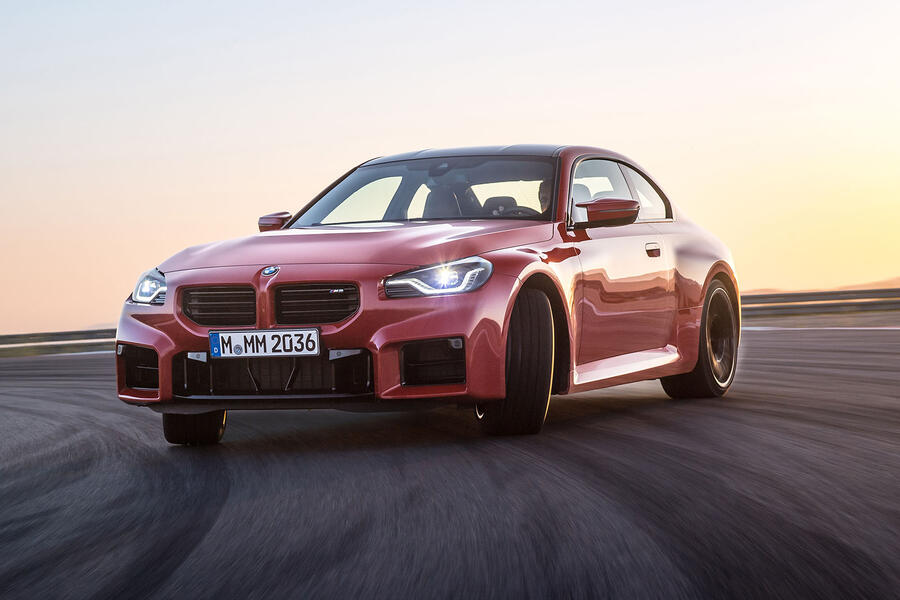 "It's in a segment of one," he said. "There's no other car like this." 
However, he also acknowledged that the previous M2 was "a little bit more playful", saying this new arrival is less loose at the rear and, ultimately, faster around a track. 
However, he continued, "you can drive spectacularly if you change the settings", because it has been configured to give tangibly different driving characteristics in each of its three driving modes: Road, Sport and Track. 
There's still no four-wheel-drive option, though, because engineers were committed to offering a "purist" and traditional experience in keeping with the original M-car formula. 
In line with that purist focus, the M2 is also offered with a manual gearbox. And unlike the stick-shift M3 and M4, this will be available in the UK, given that the M2 will be sold globally in just one guise from launch – unlike the previous car, which was offered here only in Competition form from 2018. 
Van Meel said he had to have some "intense discussions" within BMW to offer the M2 with a manual, because – taking into account its inferior efficiency and performance compared with a modern Steptronic automatic – "it makes no sense any longer". The manual adds 0.2sec to the 0-62mph sprint time, but M still has a lot of customers who "want to be one with the machine, to be directly mechanically connected", which makes an auto gearbox a less attractive option. 
The M2 will be one of just two BMW models still offered with a manual in the UK, the other being the 1 Series hatchback. 
It is 219mm shorter than the M4, at 4575mm from bumper to bumper, but 114mm longer than the previous-generation M2. 
BMW highlighted the 2747mm wheelbase and near 50:50 weight distribution front to rear as a "particularly prominent contribution to its fingertip agility" before adding that the extra 54mm of space between the axles provides a boost in leg room for both rows of seating, enhancing usability over the previous car. 
Meanwhile, a substantial increase in track width – 38mm at the front and 4mm at the rear – visually accentuates the difference between the sports car and the standard 2 Series coupé (compared with which it is 49mm wider overall) and makes the wheels exactly as far apart as those on the M4. 
Headline chassis upgrades over the 2 Series extend to new stiffening braces for the front struts and bespoke aluminium subframe, reinforced C-pillars and track-focused, M-specific adaptive suspension and steering calibrations. 
Stopping power, meanwhile, is provided by huge 380mm front and 370mm rear discs, gripped by six- and single-piston calipers respectively, painted blue or red. 
Otherwise, the M2 is told apart from the 369bhp M240i – previously the hottest version of BMW's smallest coupé – by a purposeful bodykit that comprises a rear spoiler, swollen wings, a low-slung, GT-style rear diffuser, quad-exit exhausts and a bespoke front end with frameless horizontal kidney grilles and wide-set headlights inspired by the 02 family of coupés that BMW produced from 1966 to 1977. 
Overall, it's a much more angular and aggressive design treatment than the previous M2, both a nod to its more serious brief and, van Meel told Autocar, because "a less rounded design is more edgy, more focused". He added: "Design-wise, we're getting closer to our race cars." 
As standard, the M2 comes fitted with 19in front and 20in rear lightweight alloy wheels, but it can be upgraded with 1in-larger rims on each axle. 
Other optional upgrades include a carbonfibre roof, which nets a 6kg loss (from 1700kg) and a lower centre of gravity, and – most significantly – the M Race Track package, which adds carbonfibre bucket seats and removes the 155mph speed limiter, giving the M2 a 177mph maximum.
https://www.autocar.co.uk/car-news/new-c...ual-option