02-27-2023, 02:52 PM
New 2023 Ford electric crossover to be revealed on 21 March
Camouflaged prototypes hint at US design influence
Ford's first EV atop the Volkswagen Group's MEB platform will represent "exploring reinvented"
Ford will unwrap its long-awaited, American-flavoured electric crossover on 21 March - as the big next step in a radical rethink of its European operations and line-up. 
Posting on his personal Linkedin profile, Ford's European passenger car boss Martin Sander said: "With our brand-new Ford Motor Company EV from Europe being revealed next month, it's now time we start getting excited."
He also confirmed the specific reveal date and dropped a potential hint at the new car's name and positioning with the hashtag #ExploringReinvented. Ford has so far remained tight-lipped on a name for its new model, but does already sell a large SUV called the Explorer in the US and mainland Europe - which notably bears similarly blocky proportions to the EV prototype we have seen testing in recent weeks. 
Autocar has previously reported that Ford plans to revive more historic names for new cars, following its reborn Ford Puma crossover and Ford Mustang Mach-E electric SUV, but it has not previously been forthcoming with details about which could make the cut.  
In a brief video accompanying the post (below), Ford of Europe design chief Amko Leenarts lifted the sheet to give a look at the new crossover's two-tone alloy wheels, which certainly hint at a rugged, urban character.
Recent spy shots give a clearer idea of how the newcomer will be differentiated from Ford's existing European line-up – including the Ford Mustang Mach-E – in line with the company's plan to emphasise its American heritage.
It looks to be a similar size to the combustion-powered Ford Kuga SUV but is squatter and lower, with a blockier two-box silhouette and straighter edges - cues derived from Ford's popular US-market F-150 and Bronco SUVs. 
Its size clearly indicates that it will use the same variation of the MEB platform as the mid-size Volkswagen ID 4, rather than the shorter derivative used for the Volkswagen ID 3 and Cupra Born hatchbacks.
We expect the new Ford to measure roughly 4500m long and 1850mm wide, to have a wheelbase of roughly 2800mm and to come with a choice of rear- and four-wheel-drive powertrains, offering outputs ranging from 146bhp to 295bhp. A pair of battery options could give around 210-300 miles of range. 
The first Ford EV to use the MEB platform will be revealed in March before replacing the Ford Fiesta at the firm's production line in Cologne, Germany, around the middle of the year.
This new EV will mark a step change in the design of Ford's European-market cars. As previously reported by Autocar, Ford's most successful US-market cars – the Bronco and F-150 most notably – will influence the design of its future global products.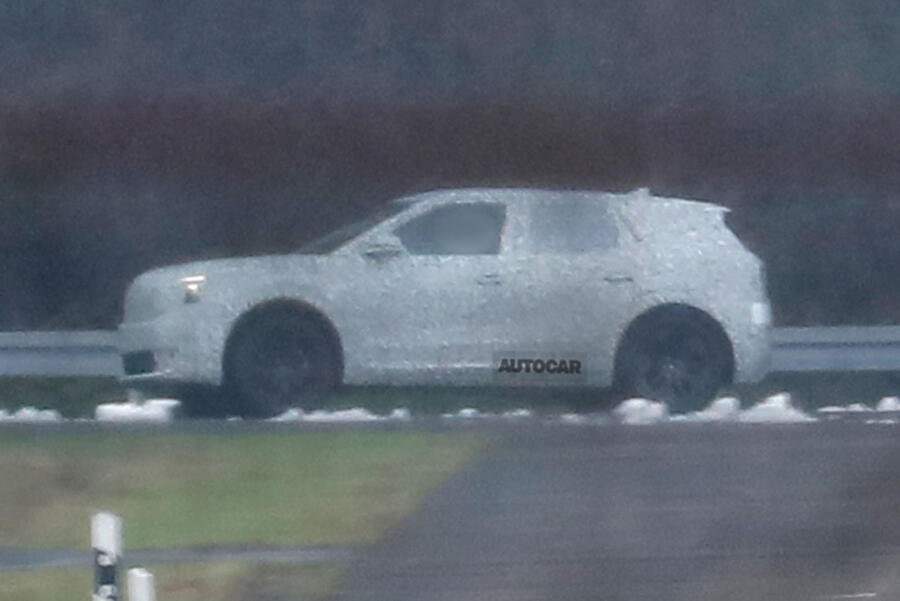 Apart from the new EV's aero-optimised wheel designs, contrasting lower bumper and chunky headlights, everything remained under wraps, but in size and silhouette (as shown by the latest images), it's evident that Ford's new EV will be aimed squarely at cars like the Toyota bZ4X, Nissan Ariya and Volvo XC40 Recharge. 
Ford's Europe marketing boss, Peter Zillig, previously posted a darkened preview image of the car to LinkedIn, similarly giving little away but revealing a charismatic LED front light signature that could become a defining feature of Ford's new-era cars. 
Zillig said all new Ford models will be designed according to the Adventurous Spirit ethos, which is designed to help Ford "connect emotionally with consumers who say they know we're American but don't feel we're American".
He said: "Adventurous Spirit is meaningful because it is authentic. We're not inventing something new. Instead, we're channelling a strength that has helped define Ford for fast-approaching 120 years. We are tapping into something intangible, but real." 
More specifically, the new MEB car will form part of the Active Adventure model line, together with other mid-size SUVs such as the Ford Kuga. 
There are three other 'families' in this new age: Wild Performance is for the Ford Mustang line, Urban Escape is for "statement-making models" like the Ford Puma and Ultimate Outdoor comprises hardcore off-roaders such as the Bronco and Ranger Raptor.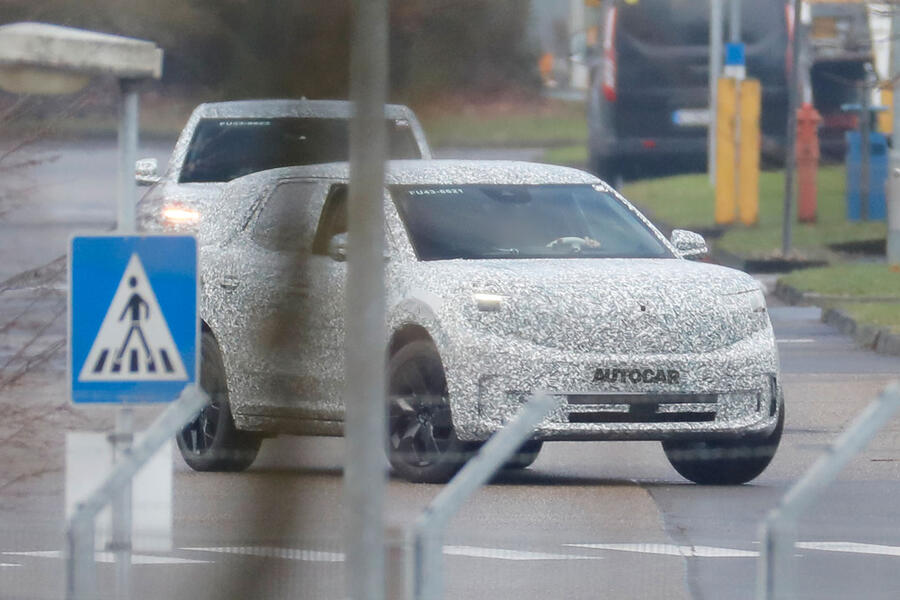 Ford's new European EVs will be built at the Cologne factory where the Fiesta is currently based. The ICE supermini will bow out in July 2023 to make room on the line; Sander previously told Autocar that it "had to go". 
He explained: "We decided to build our first high-volume electric vehicle here in Cologne. There comes the point where we need the space for construction, because we're turning the Fiesta plant into a fully battery-electric plant. This is why we had to make a decision that we have to stop Fiesta production."
https://www.autocar.co.uk/car-news/new-c...d-21-march