04-18-2022, 03:37 AM
New 2023 Indi One EV: Tesla Model Y rival opens for orders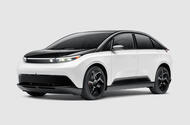 US-built SUV offers a 230-mile range as standard and has been designed to suit European markets
The Indi One, a new crossover SUV from California start-up Independent Electric Vehicles (Indi EV), has opened for pre-orders at this week's New York motor show. The first car has been reserved by William Bridge, CEO of sustainability NGO Global Green USA, whose star-studded honorary board includes Leonardo DiCaprio, Yoko Ono and Robert Redford.
Indi EV was founded in 2017 and has been developing the One – which is sized between a Tesla Model Y and Tesla Model X – for more than three years. Prototypes are being tested ahead of a planned start to production in mid-2023, with crash testing currently under way. Indi EV will build the car in the US, with several sites reportedly under consideration.
The base-model One, with a 75kWh battery and an estimated 230-mile range, will retail at $45,000 (about £34,000). A $69,000 (£52,000) premium model gets a 95kWh pack and 300 miles of range.
It will be sold initially in North America but most of the One's systems have been designed for global homologation, according to head of design Andre Hudson. It's intended that the car will reach European and Asian markets at a later date.
Key to the premium model is a high-powered Windows computer known as the vehicle integrated computer (VIC), which is clearly visible through a panel in the bonnet. It's central to the One's positioning as a 'digital toolbox'. As Hudson puts it: "We believe that the future of EV technology is going to be measured more in processing power than horsepower."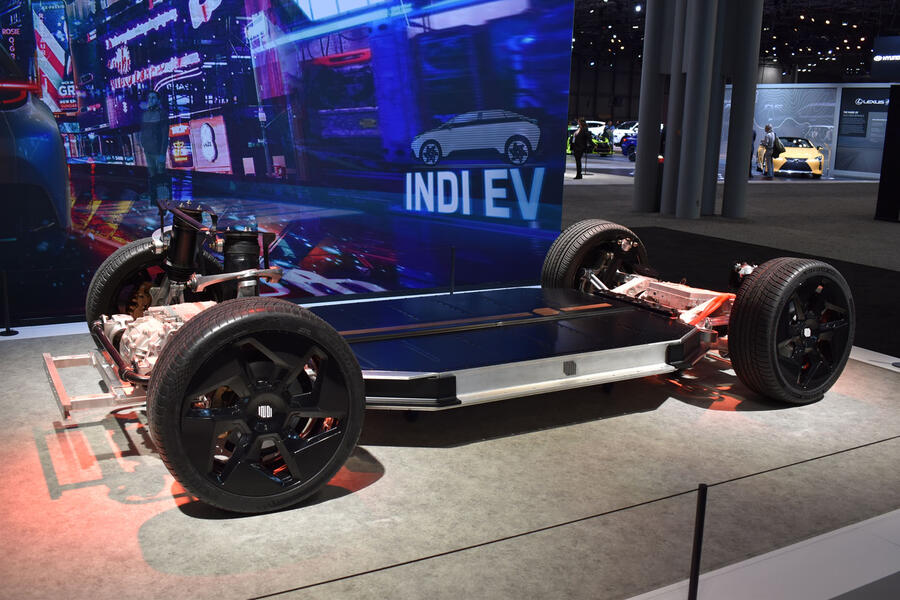 The car's VIC, 5G connectivity, microphones and cameras (three inboard-facing, two outboard) enable it to function as a mobile workspace; as a hub for capturing, editing and uploading content; or as a platform for video games that employ AR or VR. In the last case, the gameplay can move in sync with the movement of the vehicle, which is said to eliminate the nausea sometimes associated with VR. Indi is developing its own games for passengers to play as well as opening the system up to third-party developers.
Despite the focus on infotainment, the AWD Indi One is no slouch, accelerating from rest to 60mph in a claimed 4.2sec for the premium model, which has 470bhp and a top speed of 130mph. The air-suspended chassis is one of many areas of the car where Indi has tapped into the expertise of external consultants and suppliers, such as Tata and seating specialist Faurecia.
Q&A – Andre Hudson, head of design, Indi EV
Former GM and Hyundai designer Andre Hudson joined Indi EV three years ago and has overseen the design of the Indi One
What was the inspiration for the Indi One's styling?"Aesthetically, it was about it trying to feel like a piece of digital hardware. A lot of EVs have gone in a very luxurious, sculptural direction. But on this car, [the styling] is a little bit cleaner, and sheer and simple. Details like the lighting and Indi logo feel like an extension of that computer circuit at its heart."
How have you managed the engineering work?"We have a small core team in LA. Heads of development in each area have been working with engineering partners globally in areas like chassis design, lighting systems and body structure. We developed the battery modules and pack in-house under Tom Gage, who was involved at the start of Tesla."
Indi EV wants to get from foundation to production in six years. Is that only possible with an EV?"The beauty of an EV is that you can bring a lot of the components off the shelf. Items for the suspension, or the electric drive units (EDUs), are huge parts of the development, but you can buy components already validated and tested."
How else have you saved time?We used proven technologies [in our design]. Some of our start-up peers, specifically on the west coast, have been developing EDUs [electric drive units], or trying a different architecture, or seating configuration or seats. It means you start from scratch in development and validation and many issues can come up along the way. If you use proven technology and focus on your core user experience, you can condense the development time.
https://www.autocar.co.uk/car-news/new-c...ens-orders