06-22-2023, 09:01 PM
New 2023 Renault Rafale launched as flagship coupé-SUV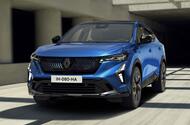 Rafale will be launched as a 197bhp front-wheel-drive hybrid
Flagship strengthens firm's D-segment line-up with focus on driving dynamics; 295bhp version coming
Renault has unveiled its long-awaited D-segment flagship, the Rafale, a powerful hybrid coupé-SUV it promises will be "a vehicle born and bred for driving pleasure".
The new flagship will appear first as a 197bhp front-wheel-drive hybrid, but a 295bhp four-wheel-drive version is also scheduled.
The Rafale launch is the latest move in the comprehensive Renaulution model-renewal plan laid out by group boss Luca de Meo after he arrived three years ago. 
De Meo identified the firm's first mission as being to strengthen Renault's C-segment range - which it has done with the Mégane, Arkana and Austral - and the next priority is the Rafale's D-segment, which accounts for 15% of car sales across Europe.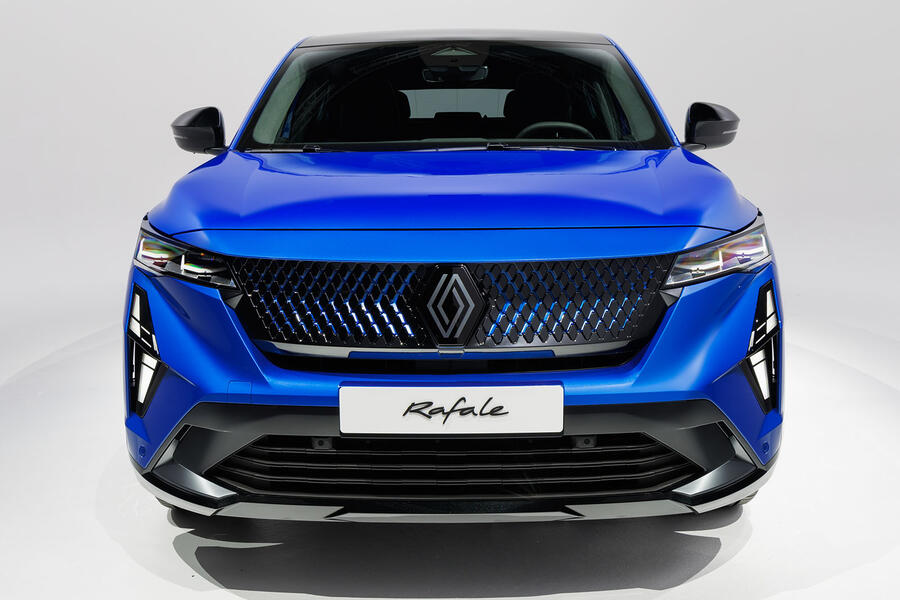 Rafale uses the CMF-CD platform, its own version of a component that already underpins 15 million Renault Group models from the Clio upwards. It fits into the heart of the D-segment with an overall length of 4.7m, is quite tall at 1.61m (as befits a sporty SUV) and has a long wheelbase for the class of 2.74m. 
Its prominent features include a striking new grille, prominent haunches and a long fastback roof, carefully configured both for generous rear passenger head room and to have a 17deg rake angle, considered ideal for efficient aerodynamics.
At launch, the Rafale gets the 197bhp clutchless hybrid powertrain already used by its siblings, the Austral and Espace. It derives its power from a 1.2-litre three-cylinder petrol engine and two electric motors. 
The 129bhp Atkinson-cycle engine drives the front wheels via a four-speed automatic gearbox in unit with the final drive. A 67bhp electric drive motor (with its own integral two-speed dog box) is sandwiched between the engine and main gearbox.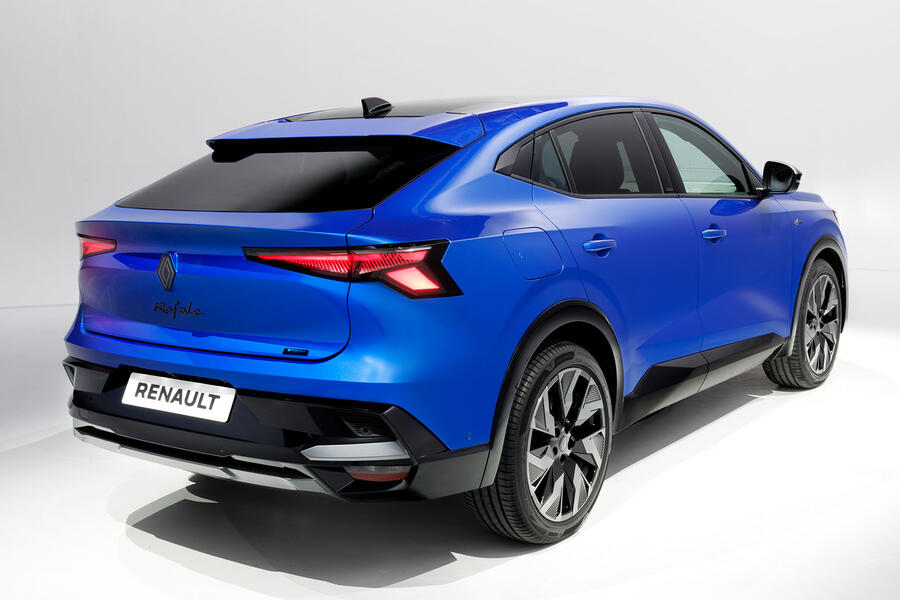 The second electric motor is an integrated starter-generator that starts the petrol engine, collects energy when the car coasts or brakes and can assist with acceleration when needed. 
This powertrain, electronically governed, doesn't need a clutch because the car always starts under electric power only, and the meshing of the two-speed dog box is managed by the electric motor. There's a 2kWh battery under the driver's seat that allows short-range electric driving. 
No performance figures are offered, but they should broadly match those of the 197bhp Austral, given that Renault engineers estimate the similarly powered Rafale's kerb weight to be "from 1600kg".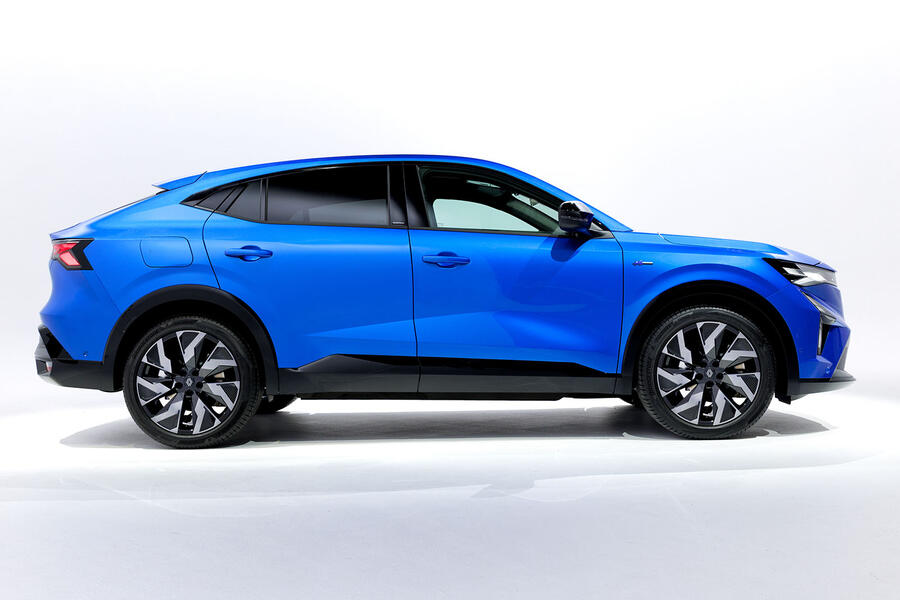 The 295bhp four-wheel-drive Rafale has the same front-mounted powertrain as the original, but accompanies that with an electrified rear axle that uses a separate electric motor in unit with a rear differential. This model has a much bigger battery and is understood to be a plug-in hybrid with an EV-only range of 30-40 miles.
The Rafale shares its platform, including wheelbase, with the family-oriented Austral and Espace but advertises its greater focus as a driver's car with 40mm-wider front and rear tracks plus unique spring, damper and anti-roll bar specifications. 
The car won't appear in France until spring next year and is undergoing final chassis development now, some of which may be carried out in the UK.
Q&A with Gilles Vidal, vice president of design, Renault Group
This is the first new Renault under your direction. What makes it different?
"We were able to start from a blank sheet of paper – one very important thing. "The mission was to make the car assertive, especially at the front and rear, but not to overload it with details. The sharp, shape-defining lines have helped a lot. We think the wider stance carries a special promise of driving pleasure. There's cladding along the sides to split the masses and make the car look sleeker, too. And we've worked hard on the unique wheel styles. "The promise is that this is a great driver's car."
What makes the Rafale's face so strong?
"Two things. We've designed a unique grille made up of angled tiles shaped like the Renault badge, which appear to move as you view them from different angles. That's a great feature when you're close. [And] when the car is driving towards you, the daylight-running lights stand out. You first see the shapes and angles of the Renault badge, and there's nothing like them. That feature will go on all our cars."
How about inside?
"There's plenty: the use of sustainable materials, the new instrument graphics, the superb new seats. We even use slate as a trim material. [Plus] the solar roof that darkens progressively at the touch of a switch and the special rear armrest that offers new things, such as device holders and power sources, for rear passengers."
https://www.autocar.co.uk/car-news/new-c...%C3%A9-suv