09-27-2023, 03:49 AM
New 2024 Audi Q8 range priced from £75,500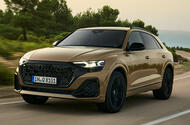 Subtle exterior tweaks include a redesigned grille and new-look headlights
Redesign and trick new lights are part of the refresh for Audi's flagship SUV
Audi's Q8 flagship SUV has gained wide-ranging technology upgrades, an improvement in perceived quality and a simpler exterior design – and it will be priced from £75,500 in the UK.
Set to go on sale on 10 October, the new Audi Q8 range consists of three core specifications in the UK: S Line, Black Edition and Vorsprung, offering a choice of petrol and diesel powertrains. The range is topped by the performance-focused Audi SQ8, which has Black Edition and Vorspung variants.
Entry-level S Line models are fitted with electric sports seats as standard, plus keyless go, a digital cockpit, a head-up display, four-zone climate control and a premium Bang & Olufsen sound system. 
As the name suggests, Black Edition models gain black trim inside and out, including 22in wheels, door mirrors and Audi badges. Black Edition cars start from £80,050. 
High-spec Vorsprung cars are priced from £99,300 and are fitted with a panoramic sunroof, all-wheel steering, powerful LED headlights and leather upholstery. Other kit includes massage seats, heated rear seats, and power-closing doors. 
The powerful SQ8 is priced from £97,245 and has bespoke exterior styling and 23in alloy wheels as standard, as well as Quattro all-wheel drive, adaptive air sports suspension and parking assistance.
Following the lead of the recently updated Audi Q8 E-tron, the German brand's BMW X7 rival is offered with subtle styling changes, including matrix LED lights, smoother surfacing, larger front air intakes for a more aggressive look and a new exhaust system that promises an enhanced engine note.
The most obvious visual tweak is the redesigned grille, which receives a new look specific to Audi's flagship cars, featuring vertical inlays with a brushed aluminium effect. Meanwhile, higher-trim cars get colour-coded body trim for a more minimalist look. 
Power comes from largely the same range of engines as before, with the hot SQ8 using the same 500bhp 4.0-litre twin-turbocharged V8 found in the Porsche Cayenne Turbo and Lamborghini Urus, with cylinder deactivation that allows it to run on four cylinders. 
Autocar understands the even hotter RS Q8 will receive a similar suite of upgrades in the coming months, but there's no word yet on any changes for its 592bhp V8.
Sitting below the SQ8 is the Q8 60 TFSI, which uses a 3.0-litre turbocharged petrol V6 with 335bhp for a 0-62mph time of 5.6sec. All V6 engines use mild-hybrid tech, which allows the engine to switch off and coast for up to 40 seconds in low-demand situations. 
The diesel options also remain as before. The base 45 TDI gets a 227bhp 3.0-litre V6, with the 50 TDI using a 282bhp version to shave the 0-62mph time by a second to 6.1sec. Top speeds are 140mph and 150mph respectively.
To help give the car more of a brooding presence, the Q8's headlights are available with redesigned matrix LEDs to make the front of the car look wider. The driver is able to choose between one of four 'light signatures' using the infotainment system.
They use 61 OLED segments (in place of the 10 on the smaller Q4 E-tron) and have the ability to provide specific warning signs to fellow road users and give a range of bespoke styles for each driver, or signatures.
The rear lights have also been restyled with gloss trim, with Audi's new dechromed badge integrated into the light bar. The car has Audi's Dynamic Light function, first introduced on the Q6 E-tron, which can depict a red triangular warning symbol on the rear lights, in combination with the hazard lights, to warn other drivers of obstructions. 
Much as on the outside, changes have been kept to a minimum inside. The Q8 receives three new trim options: Sakhir Gold, Ascari Blue and Chili Red, all of which have a metallic finish. Five new alloy designs are available, ranging from 21in to 23in.
The car's infotainment system is now able to run third-party apps for the first time, allowing the driver to stream services from Amazon Music or Spotify. The Audi virtual cockpit display has also been given sharper graphics.
https://www.autocar.co.uk/car-news/new-cars/audi-q8