08-24-2022, 12:56 AM
New Bentley Batur previews look of future EVs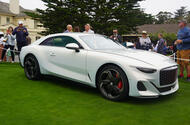 Bentley Batur is powered by Crewe's most potent W12 but previews design of future EVs
Mulliner-built limited-run special packs 730bhp W12 but design previews new-era EV
Bentley has launched a new, ultra-low-volume Mulliner coupé, the Batur, which previews how its future electric models will look.
The launch of the limited-run car also signals the end of production for the ubiquitous 6.0-litre Crewe-built W12 engine that has powered its cars for 20 years.
The Batur, revealed in front of a 500-strong contingent of Bentley owners as part of Monterey Car Week, has been designed over the past year and will reach its first customer in mid-2023.
It is a two-door fixed-head coupé based on the underpinnings of the latest, longer-wheelbase Bentley Continental GT launched in 2018 and is powered by the punchiest W12 ever, still under development but claimed to make at least 730bhp and 740lb ft of torque. This will make it Bentley's most potent road car yet.
To go with its mighty engine, the Batur offers Bentley's most advanced chassis available, as well as Bentley Continental GT Speed-level tuned three-chamber air suspension, 48V electric active anti-roll control, an electronic limited-slip differential (with torque vectoring) and unique 22in wheels with rear steering.
The Batur will be hand-built in Crewe by Mulliner, Bentley's specialist coachbuilding arm. The car will closely follow the path of its predecessor, the barchetta-bodied Bentley Bacalar, which was revealed last year as a concept but subsequently productionised for a batch of 12 cars that sold out instantly.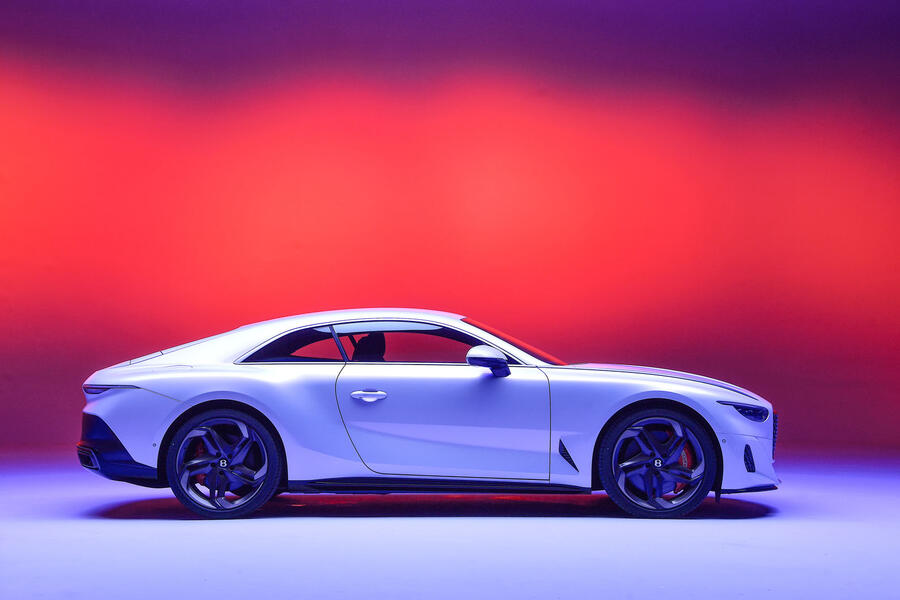 "We don't build our concept cars to throw away," said CEO Adrian Hallmark. "We build them for customers to buy."
Named after a volcanic lake in Bali, Indonesia, the new Batur will get a run of 18 cars, each selling for £1.65 million before options and local taxes — and they are all sold out, too. Several of the prospective owners are serial Bentley customers who have just received or are still awaiting delivery of a Bacalar: eight of the 12 Bacalar have now been built and delivered.
The new Batur is the first publicly revealed work of Bentley's refreshed design team, led by design director Andreas Mindt, who joined the company at the start of last year. Mindt says the Batur's new-form language will be a key part of the company's "transformational journey" towards the launch of its first battery-electric car, a fifth Bentley model line, in 2026.
After celebrating its centenary in 2019, Bentley revealed a 'Beyond100' programme that entails a self-funded spend of £2.5 billion over five years – 85% of it going on new model development – that will include the opening of a brand-new plant for the company's BEVs.
Mindt, who as a junior designer worked on Bentley's mid-engined Hunaudières supercar concept in 2003 soon after he joined the Volkswagen Group, has conducted a fresh review of Bentley's design values over the past 18 months, going back to fundamentals such as why the company exists and what it's good at.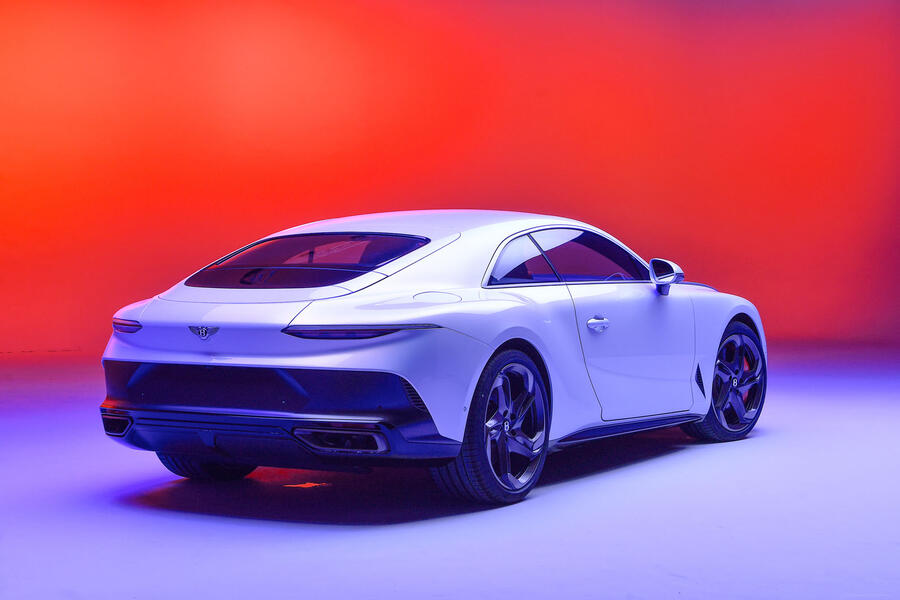 This ground-level research identified three Bentley buzz words – potent, inspirational and harmonious – and the Batur's simple, unadorned and highly sculptural shape is the result. Mindt summarises his aim as being "to deliver presence through sculpture".
He said: "We don't need decoration. We believe luxury car customers' priorities are changing, and not just in cars. They want their cars to be quietly impressive, not flashy. We're moving away from two-dimensional graphics towards designs with surfaces that play a lot with light and shadows."
Mindt cites three special qualities he says will guide the future design of Bentleys, beyond the usual "strong and muscular" characteristics most luxury car makers claim.
The first is what Mindt calls "resting beast stance". The Batur has no wedge to its shape ("too many cars are shovel-shaped") but instead looks like it's sitting on its rear wheels and haunches, ready to go.
The second is "upright elegance": the design team has taken the opportunity to modernise the Bentley grille and make it more upright because they believe this gives the car a stronger face and a more dominant stance.
The third element is "endless bonnet". Mindt said: "A long bonnet has always been a mark of power and prestige in luxury cars. It's the only accent element in the Batur's fundamentally clean shape, and it also helps move the car's visual mass to the rear, increasing the impression that it sits on its rear axle and adding strength to its haunches.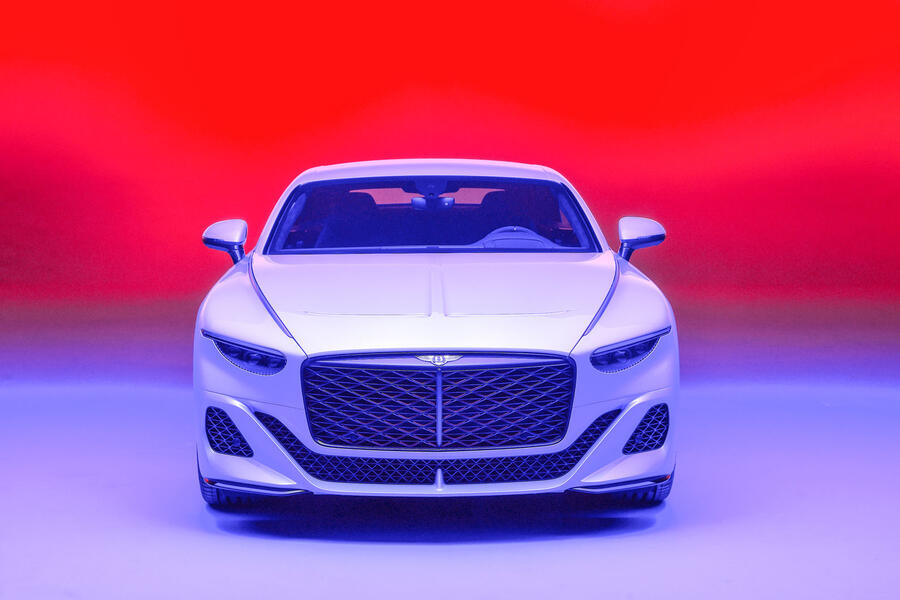 "Overall, we've kept Batur's form very clean and simple. We've relied on curvaceous surfaces, bisected in the right places, to reflect light and shade and add muscle to the design."
The Batur is a strict two-seater, designed for the ultimate in personalisation, and for luxurious, long-distance high-speed grand touring. As with the exterior, almost every surface can be coloured and covered to the customer's preference. Seat trim will be either Scottish leather, described as low carbon, because it doesn't have to travel as far as a sustainable Italian variety also offered. A third alternative is Dinamica, a highly durable suede-like material.
A wide range of veneers will be offered for the fascia, including natural fibre composite (a sustainable material new to Bentley), and each fascia will get a unique, graphical etching of its W12 engine's audio signature. The carpets will match the leather and are made from recycled yarn, another Bentley first. Some fascia controls, including the ventilation 'organ stops', can be specified as 3D-printed 18-carat gold.
The Batur build programme will begin when Bacalar development finishes. Each owner will spend several hours with a Bentley designer and a specially created Mulliner visualiser configuring their car. Mulliner boss Paul Williams said the high level of personalisation possible in each car means the build phase should take "several months".
Andreas Mindt's Bentley past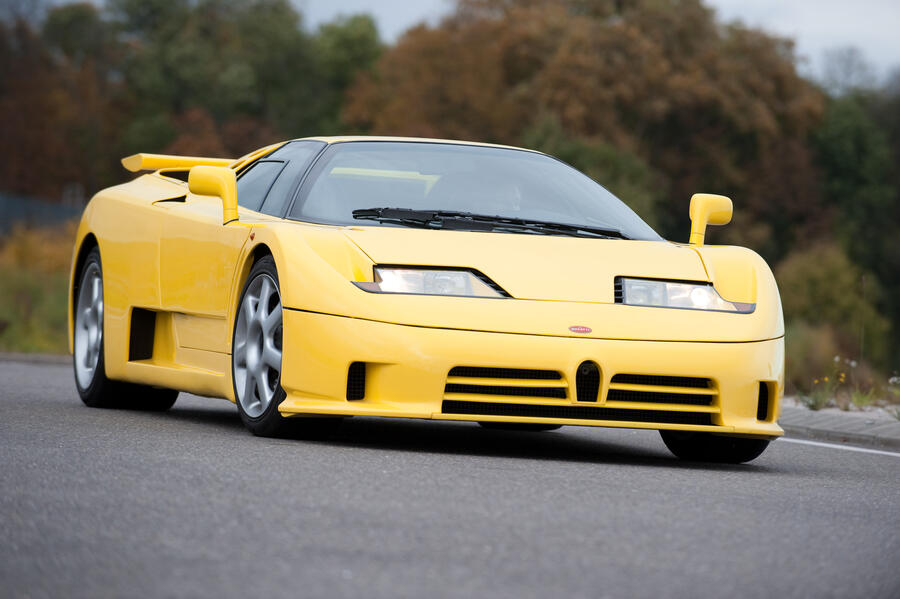 Bentley's Coventry-trained design chief, Andreas Mindt, whose back catalogue includes everything from the Volkswagen Golf and Bugatti EB110 (pictured) to the Audi Q8 and E-tron GT, had an early dalliance with Bentley design soon after he joined the VW Group as a junior designer.
"I was involved in designing the Bentley Hunaudières," he says, "the mid-engined concept that was launched at the Geneva show in 2003. That was a big year for Bentley: the company launched that concept, won Le Mans and delivered Her Majesty the Queen's Bentley limousine, which she still uses."
Mindt soon moved on to VW affairs from the Hunaudières, which proved to be nothing but a show car, but he believes several of its most noticeable elements – the round headlights and the individualistic rounded shape of its front wings – were influential of the shape of the pioneering Bentley Continental GT, standardbearer for Bentley's post-Rolls-Royce era.
Ironically, it looks as if Mindt has arrived at Bentley in perfect time to guide the fortunes of another seminal model: the much anticipated 'fifth model' EV due in 2026, which will springboard Bentley into another new era and towards achieving its aim of having an all-EV carbon-neutral range by 2030 and becoming "the world's leading sustainable luxury mobility company".
Mulliner powers on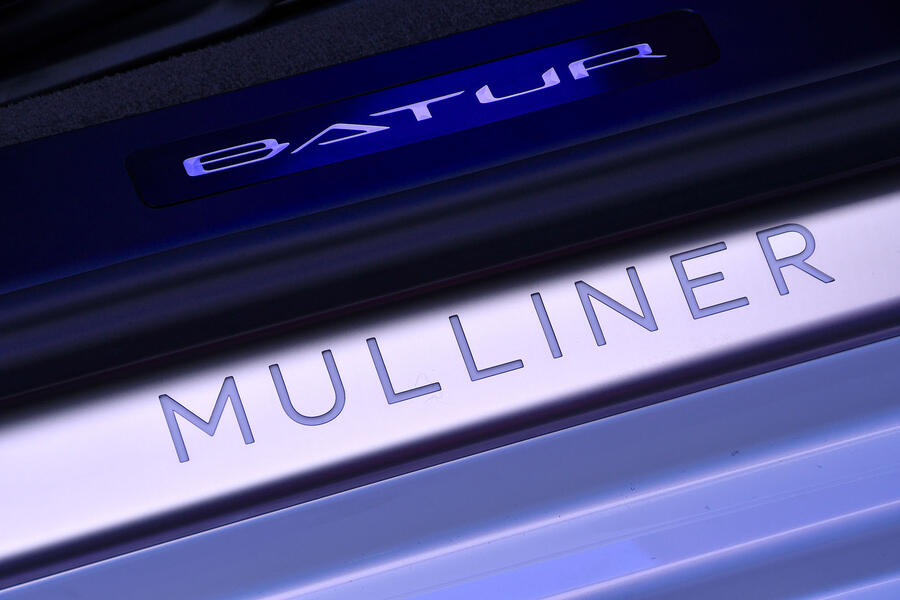 Bentley's coachbuilding arm, Mulliner, which is making the latest Batur and the even rarer Bacalar, has been experiencing "exponential" growth in recent years despite the intervention of Covid-19.
According to Bentley CEO Adrian Hallmark, Mulliner's bespoke business for the first five months of this year was a mind-bending five times greater than that for the whole of 2019, the most recent full year against which latest results can be judged.
The business has lately matured into three arms. There's the coachbuilding side, which makes the Batur and Bacalar, plus the continuation Blower and Speed Six models. There's the 'created by Mulliner' business, which offers buyers special features to personalise their production models. And there's the Mulliner Bespoke business that'll take your personal commission for a car, if you can't find anything in the range you want. 
"Twenty years ago, it wouldn't have been possible to take on the Mulliner projects we tackle now," said Hallmark. "You couldn't have been confident of finding enough customers. But now it's an extremely important part of our business, and not just for monetary reasons.
"As Bacalar and Batur demonstrate, we can push our design language into the future in an exciting way that involves fairly low risk. And, of course, it allows us to expand our market."
https://www.autocar.co.uk/car-news/new-c...future-evs