11-05-2022, 06:20 AM
New BeyonCa Optus 1 is luxury electric GT for 2024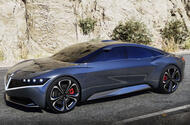 BeyonCa gets rapid charging and sleek aero bodywork
Chinese start-up, founded by ex-VW China boss, goes after the Porsche Taycan
Newly formed Chinese electric car company BeyonCa has unveiled its first model – a luxury GT called the Optus 1.
Set to enter production in 2024, the new saloon has been conceived to rival upmarket electric offerings like the Porsche Taycan at a price BeyonCa CEO Su Weiming suggests will start at around RMB1 million (£118,000) in China.
The concept car unveiled by BeyonCa is claimed to closely resemble the upcoming production version of the Optus 1, which is due to be revealed at the 2023 Shanghai motor show.
Key styling elements include a blanked-off, arrow-shaped grille with an integrated BeyonCa logo as well as thin LED headlights and a prominent splitter up front.
Further back, the Optus 1 receives a short bonnet, large wheel houses, heavily structured sills, a stepped window line, curved roofline and boat-tail rear end, with the upper part of the boot forming an integral spoiler.
Apart from its muscular-looking haunches, the surfacing is mostly smooth throughout in a move aimed at optimising aerodynamic efficiency. 
At 5200mm in length, the concept is 237mm longer than the Porsche Taycan but 16mm shorter than the Mercedes-Benz EQS. BeyonCa confirms the car also has a 3000mm wheelbase.
Su says the upcoming production version of the saloon will receive a battery of up to 130kWh in capacity. It is based on an 800V electrical architecture with charging at up to 350kW and is claimed to have both CTP (cell to pack) and CTC (cell to chassis) construction.  Further details about the drivetrain and range of BeyonCa's first model have not yet been revealed.
Among the features being developed for the Optus 1 are sensors that can monitor the driver's blood pressure and alarms to alert of a medical emergency. Su says software has been developed that will enable the new saloon automatically to intervene by slowing down or stopping in an emergency lane when a medical emergency is detected.
Such an emergency triggers the BeyonCa healthcare service, with a doctor able to observe the driver and give advice on what to do next via the car's infotainment system.
"My philosophy and understanding has always been this: if you do not go beyond the car in a specific way, it will not be a complete story," he said.
The new model is also claimed to support a high level of automonous driving.
BeyonCa was founded as Binli Intelligent Technology by former Volkswagen China executive vice president and current Renault China CEO Su in 2021.
Its name stands for 'Beyond the Car'.
Headquartered in Beijing with a design centre in Munich, Germany, and an artificial intelligence development hub in Singapore, BeyonCa has received a claimed RMB10 billion (£1.2bn) in investment from Changjiang Capital, a Wuhan-based subsidiary of Changjiang Securities, in a deal brokered by the Wuhan government.
Details of the financing have not yet been revealed, although the suggestions are that Renault and its Chinese joint-venture partner Dongfeng Motor are stakeholders.
In the public debut for the new Chinese car maker on 10 October, Su said BeyonCa was targeting the high-end premium segment with rivals such as the Audi A8, BMW 7 Series, Mercedes-Benz S-Class and Porsche Taycan.
"Our idea is to create something under a more nimble corporate structure. What we achieved in more than one year here would take seven or eight years at a conventional auto maker," he said.
Others involved in the creation of BeyonCa and the development of the Optus 1 include Christian Klingler, former Volkswagen board member responsible for marketing, Hans-Joachim Rothenpieler, former research and development boss at Audi, and Dirk van Braeckel, former design boss at Skoda and Bentley.
The involvement of Klingler, who held a close association with former Volkswagen Group chairman Ferdinand Piech, has led to rumours within German automotive industry circles that the Piech family may be involved in the financing of BeyonCa.
Beyonca plans to begin production of the Optus 1 in China but is also eyeing production activities in other countries as part of a five-year start-up strategy. Su says the new company plans to release three to five new models over the next three to five years.
Dongfeng Motor will produce the Optus 1. The Wuhan-based car maker is said to have been active in the various elements of the development of the new saloon through its upmarket electric car brand, Voyah.   
https://www.autocar.co.uk/car-news/new-c...ic-gt-2024