09-13-2023, 09:28 PM
New Chery Omoda 5 brings 187bhp petrol engine for £24,000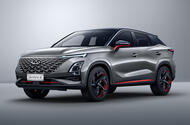 Omoda 5 will rival Toyota bZ4X and Nissan Ariya
Chinese brand confirms pricing for its first UK car, with Omoda 5 EV and larger Jaecoo 7 SUV to follow
Chinese car giant Chery will launch its new Omoda 5 crossover in the UK in February as the first of several models from a new 'fashion'-focused and EV-biased brand at the forefront of the company's global expansion.
The brand has now confirmed the petrol version of the Omoda 5 will be priced from just £24,000 here, making it one of the cheapest cars in its segment. 
It is powered by a 1.6-litre turbocharged four-cylinder engine producing 187bhp and 203lb ft, mated to a seven-speed automatic gearbox and good for 31.4mpg on the WLTP combined cycle, while emitting 170g/km of CO2. 
The entry-level Omoda 5 Comfort comes equipped as standard with 17in alloy wheels, Apple CarPlay and Android Auto, two wireless phone chargers, adaptive ambient lighting, a pair of 10.25in display screens and dual-zone climate control.
The range-topping Noble trim bumps the list price up to £27,000 and adds a heated leather steering wheel, sunroof and larger 18in alloy wheels. 
Prices and details for the upcoming electric version have not been confirmed. Reports suggest it uses a front-mounted motor with 198bhp and 295lb ft, powered by a 64kWh battery that nets a range of 280 miles on the WLTP cycle - figures that would make it a natural rival to the Toyota bZ4X and Nissan Ariya. 
Chery is China's most prolific automotive export brand, selling 450,000 vehicles across Asia, Australia, Africa, Latin America and the Middle East last year. It is perhaps best known in the UK as Jaguar Land Rover's Chinese joint-venture partner and currently handles production of the Range Rover Evoque, Land Rover Discovery Sport, Jaguar XF and Jaguar XE for the local market.
Now, it is one of a number of Chinese companies branching out to Europe and, like rival Great Wall Motor has done with Ora, it will launch here with a new brand conceived with a focus on style, technology and sustainability.
It's called Omoda – the 'O' representing "the bio element we need" and 'moda' pointing to the brand's fashion focus – and will launch in the UK following roll-outs to the Chinese, Indonesian, Australian and New Zealand markets in 2022.
Omoda is targeting 10,000 annual sales in the UK for the 5 and promises "several new models" with a choice of ICE, PHEV and BEV powertrains to follow - although the prevailing focus will be on BEVs. 
Chery has already told Autocar that the second model in its UK line-up will be the Jaecoo 7, a larger SUV in the vein of the Hyundai Tucson with the choice of pure-petrol or plug-in hybrid power.
It remains unclear how the Omoda brand will be sold and marketed in the UK. The company said: "Chery has close and deepened cooperation with Jaguar Land Rover in China as a joint-venture company with a successful record of sales, so the UK is not a market which is unknown to Chery."
UK manager Victor Zhang recently told Autocar: "We are planning to have around 40-50 dealers on board by the time we launch next February." The brand will operate out of a combination of self-run sites and franchises anticipated "to cover the main cities".
https://www.autocar.co.uk/car-news/new-c...C2%A324000