10-29-2023, 06:42 AM
New Ferrari SP-8 unveiled as celebration of twin-turbo V8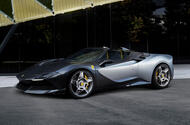 Carbonfibre front end was restyled with thinner headlights and a wider grille
Exclusive new supercar, based on F8 Spider, completely dispenses with a roof
The new Ferrari SP-8 has been unveiled as a celebration of the firm's twin-turbocharged 3.9-litre V8, a four-time winner of the Engine of the Year award.
It takes its underpinnings from the F8 Tributo and F8 Spider – which were themselves named after the powerplant – and repurposes them for a futuristic roadster.
Unlike the convertible F8 Spider, the SP-8 has no roof. This enabled Ferrari's designers to completely rework the tail section of the car, because they no longer needed to accommodate space for a folding roof. 
The result is a dramatic split in the car's shoulder line, with a carbonfibre and glass upper deck and a silver-painted lower area that flows into the engine bay cover.
Entirely removing the roof also required significant aerodynamic adjustments to reduce wind noise, said Ferrari.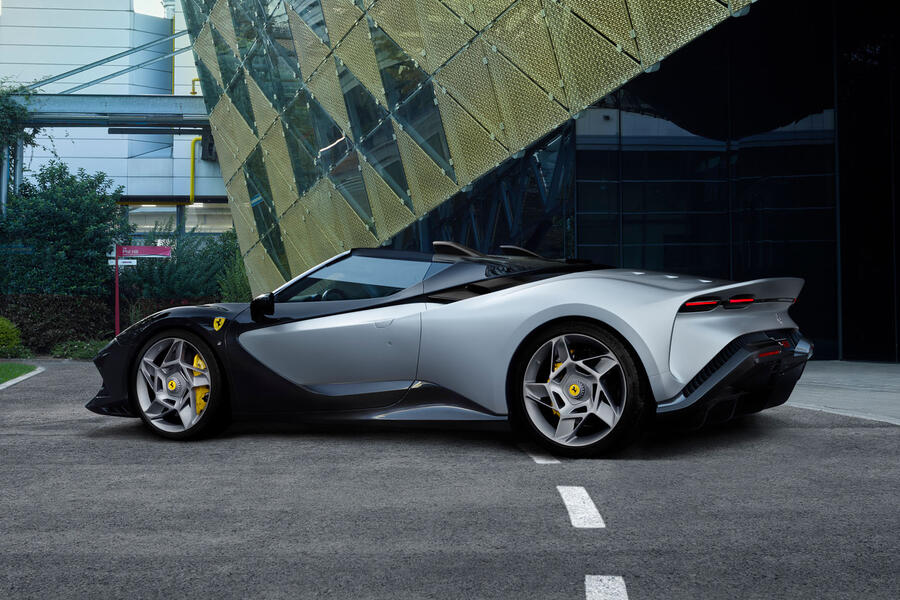 The carbonfibre front end has been restyled with thinner headlights and a wider grille, improving airflow to the front radiators and bringing a more aggressive look. This area has been left unpainted, giving a strong contrast with the matt grey rear end.
The SP-8 also features several references to mainstream Ferraris past and present. The rear lights are derived from those on the Roma grand tourer, while the five-spoke wheels are said to recall those of the F40.
Inside, the centre console has been modified to accommodate the H-pattern-mimicking gear selector from the SF90 and 296 GTB.
The SP-8 is a one-off model, following previous 'Special Projects' cars such as the SP38 and the SP275 RW.
It was commissioned by a client from Taiwan, where the number eight is considered "extremely lucky", according to Ferrari. The supercar will be displayed at the Ferrari Finali Mondiali at the Mugello circuit in northern Italy on 24 October. It will then be housed at the Ferrari museum in Maranello until March 2024.
https://www.autocar.co.uk/car-news/new-c...rrari-sp-8