04-05-2022, 02:18 PM
New Ford Bronco vs Land Rover Defender video review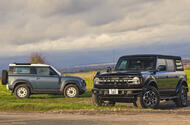 The Blue Oval's off-road icon returns. How does it compare to the British king of go-anywhere ability?
The Ford Bronco is back! Yup, Ford's iconic Bronco SUV has returned for the first time since it was canned in 1996 and it means business.
It's a separate chassis 4x4 with serious off-road credentials. But it isn't officially available in the UK. However you can import one via somebody like London car retailer and importer Clive Sutton. 
By the time you do, the Bronco a fair bit more expensive than it is in the US, where it's priced against the Jeep Wrangler. So we've pitched it against another iconic 4x4, the Land Rover Defender. 
They're not quite identical rivals but they're both great off road and make great adventure wagons. Which is better? Join Matt Prior as we test the two on-road and off of it.
https://www.autocar.co.uk/car-video/new-...deo-review