09-11-2023, 01:46 AM
New Ford Mustang Mach-E Rally is 480bhp electric trail toy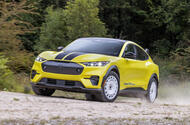 Ford Mustang Mach-E Rally gets styling cues inspired by Ford Focus RS
Electric sports crossover gets rallycross makeover in pursuit of dirt-road thrills; due in UK soon
The new Ford Mustang Mach-E Rally is a hot, trail-ready electric 4x4 that's headed to UK dealerships in early 2024.
Revealed in camouflage at the Goodwood Festival of Speed in July and now unwrapped in full at the Munich motor show, the Mach-E Rally comes with a suite of off-road chassis upgrades, a significant boost in power and a purposeful styling overhaul.
Equipped with a slightly tuned-up version of the Mach-E GT's dual-motor, four-wheel-drive powertrain, the Rally is targeting outputs of 480bhp and a whopping 649lb ft of torque - which should get it from 0-62mph in around 4.0sec, although Ford has yet to confirm final performance stats.
More important is the bespoke chassis set-up: the Mach-E Rally rides 20mm higher than the standard Mach-E, on specially tuned springs and Magenride shocks for enhanced travel and better bump-cushioning, and chunky Michelin CrossClimate tyres, which are wrapped around gloss white 19in rally wheels.
The Rally comes with its own Rally Sport driving mode, which gives a linear throttle response for improved acceleration control, more aggressive damping and improved traction on slippery surfaces. It also adapts the traction and stability control systems "to allow bigger slides". 
Underneath, the 91kWh battery and electric motors are shielded from rocks and bumps by thick underbody shielding, and Ford has coated the body cladding with a protective spray to reduce the risk of chips and scrapes. 
There's a two hook integrated into the front bumper, too, "should off-highway adventures ever get a little too spicy". 
Ford says the Mach-E Rally's bespoke styling was inspired in part by the legendary Ford Focus RS hot hatch, in particular the "dramatic" rear spoiler.
Other unique elements include the contrasting body trim, beefy front splitter, black roof panel, rally-style foglights and racing stripes. 
The interior is more subtly differentiated from the Mach-E GT, with bespoke elements limited to white accents throughout to match the wheels, Mach-E Rally badging and sports seats.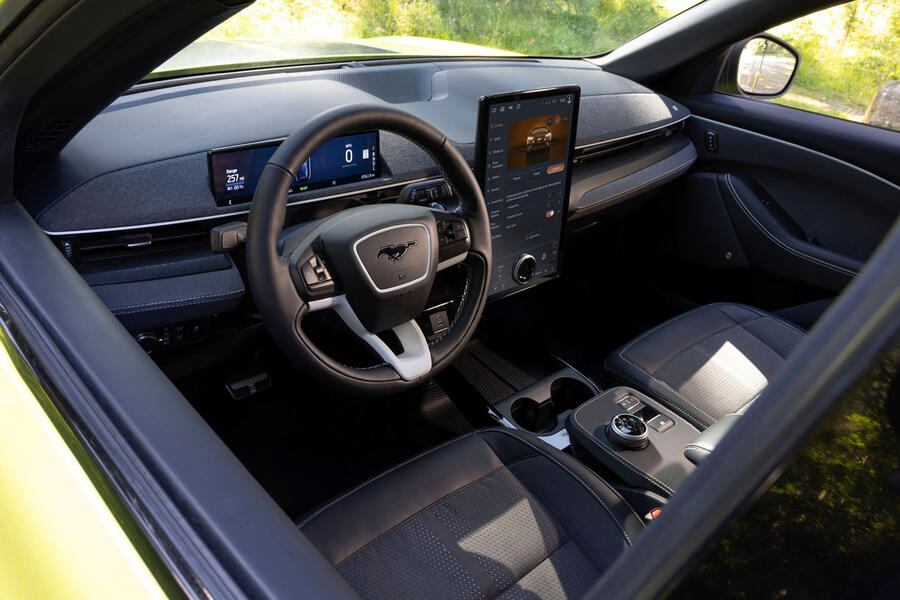 Darren Palmer, who heads up Ford's EV programmes, told Autocar the original idea for the Rally came from a rallycross enthusiast in Ford's new Always On team – created to constantly monitor feedback from customers and social media, which informs the development of over-the-air software updates and model-line additions.
"One of them does rallycross and he seeded the idea: 'Hey, we have heritage in this car. What if we do a rallycross version, because it fits with what we've done in the past?'.
"Our attitude is: if you've got an idea, bring it forward and try it out. So they created a model for the car with pure passion. They put the wheels on and lifted it. They styled what it could be. We gave them the freedom to make it.
"And the minute I showed that model to our leadership, they said: 'It fits so well with what we've done in the past and what people might love'."
Palmer explained that the project reached fruition quicker than is often expected because it was one of Ford's "go-fast" programmes, meaning the period from conception to unveiling was only around 18 months. "It was crazy fast," he said.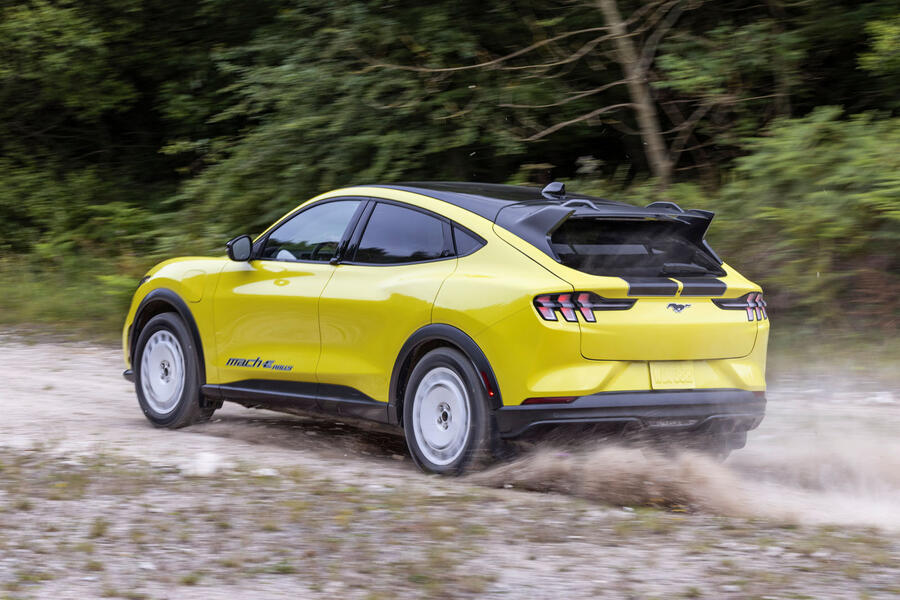 Prototypes have been tested against what Palmer called "legendary heroes" of off-roading on "rally surfaces".
He stopped short of outlining precise specifications and capabilities but said "we have enough ride height" and that "it's super-stable on both Tarmac and other surfaces" because of the extremely precise acceleration control and the low weight of the underfloor battery.
"To throw it around, you have to change a few things," said Palmer. "We were blown away by the things you can do. It's amazing."
Ford has yet to confirm whether the Rally will be sold in limited numbers and has given no indication of pricing - although a list price of around £80,000 is feasible, given the top-rung Mach-E GT asks £75,000.
https://www.autocar.co.uk/car-news/new-c...-trail-toy