01-12-2023, 02:58 PM
New Honda Civic Type R 2023 UK first drive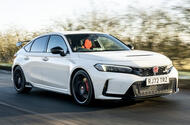 Honda's hot hatch superstar grows up – and softens off – for its sixth generation, but at what cost?
Thruxton, in the wet, isn't the easiest circuit on which to get comfortable with a new performance car. What decreasing-radius corners it has aren't second-gear friendlies but big sweepers taken in fourth, some closely flanked with Armco and others bordered by slick grass run-off, which, of course, runs downhill. Never-ending Goodwood, a right-hander at the back of the circuit, is especially fiendish. Quick and off-camber, just for fun it also has an extra-slippery corridor of newer surfacing exactly where you might fancy a little confidence lift of the throttle (don't be tempted). It means even in the wet, Thruxton isn't a place where traction is your problem – it's too fast for that. Instead, the loss of grip at three-figure speeds and when weight transfer is really emphasised will be your main concern.
All of which makes it an unexpectedly good place to highlight the difference between the old Honda Civic Type R (codename FK8) and the new one (FL5), which has recently arrived over here with an asking price that might genuinely make you gasp. The car costs £47,000, though while its predecessor was made in considerable volume in Swindon, the more curvaceous FL5 is being built in Japan (the 325bhp oversquare motor comes from Ohio, US) and will be imported to the UK in small numbers only.
Undoubtedly, the new RRP represents a price hike for what is fundamentally the same front-driven five-door hot hatch as before, even down to the platform, which has been lengthened and widened and wears a body usefully more rigid but is very much an evolved item. However, outright cynicism isn't deserved, even if, once you've fitted the £3265 Carbon Pack, we're talking about a £50,000 Honda Civic.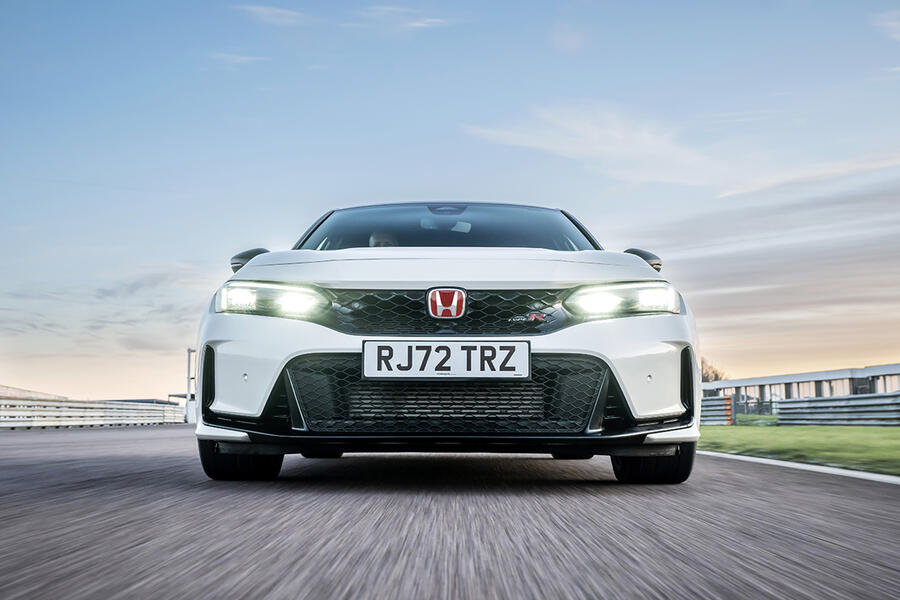 Get into the details and it's quite obvious an unusual degree of love has gone into this car. The FL5's flywheel is 18% lighter than that of the FK8, for sharper blips when rev-matching, which you can do yourself on the lovely aluminium pedals or let the car execute for you, perfectly. Camber rigidity – loosely, the suspension's ability to keep the wheel positioned just as intended – is 25% up compared with the original FK8 Civic Type R of 2015 and 16% up on the 2017 facelift car, for better handling stability and consistency.
We're told the cooling ducts have been reworked such that after five laps of an unnamed circuit, the temperature of the front pads are 10% cooler than they would once have been, despite the FL5 being roughly 50kg heavier than the FK8 at 1429kg.
The steering column is some 60% stiffer, the track-rod ends also flex less, and the 19in wheels (down from 20in, but wider) deform less. In terms of powertrain, the car's reworked turbo now spins with 14% less inertia, exhaust flow is up 13% and as for Honda's famous gearshift, play has been reduced while at the same time the straight-line movement across the 'box that takes you from, say, second to third has been lengthened for extra satisfaction. Fact is Honda could have got away with making the FK8 less visually challenging and nicer inside, job done. But the FL5 isn't that car, and reasonably its maker wants us to know this. 
Anyway, Thruxton. The experience of lapping the FK8 on this greasy day feels just as expected: invigorating, raw, mobile. The 316bhp fifth-gen Type R has been the all-conquering hot hatch of the past seven years and as such it can hardly fail to excite, even post-retirement. Accuracy, control and one of the finest driving positions in the business are its calling cards, while the engine's capacity to take on an animalistic, fizzing edge as it closes in on the redline is the finishing touch.
Typically for the FK8, in these conditions a good degree of discipline with the throttle is required because too much torque and the tightly wound limited-slip differential will lock up sharply and you'll understeer, but part of the fun is judging precisely where that limit is and there's precision enough in the car's controls to allow you to do exactly that. As I say, they could have just massaged the thuggish styling and sent this car back into battle against various newer rivals from Volkswagen and Ford, et al.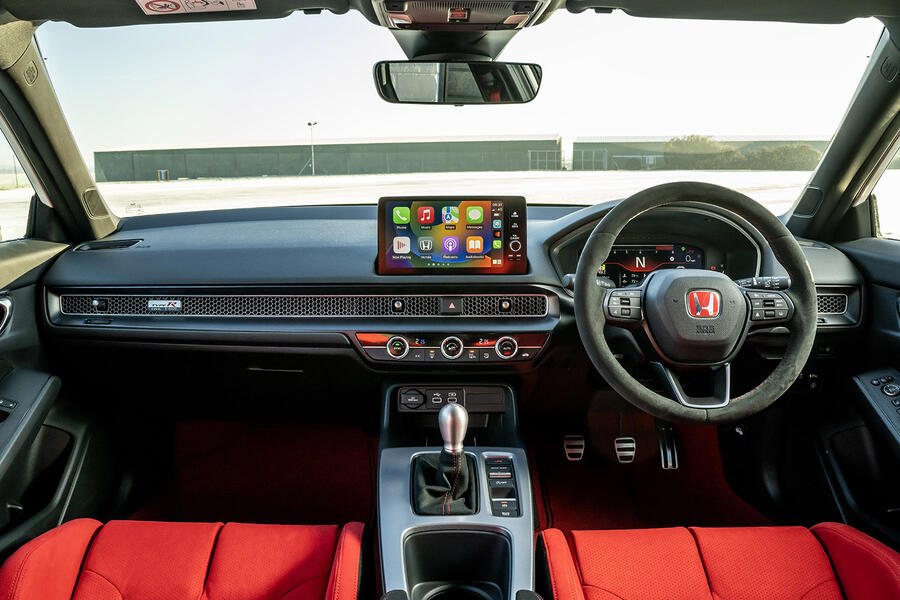 It's a stiff car, though, the FK8. You realise just how stiff it is when you get in the FL5. The new Civic Type R's contact patch is comfortably bigger and its tracks wider so of course there's more outright grip, but it's the way this chassis really nestles into the track surface that breeds confidence. (A short road route also demonstrates the B-road benefits of this softer set-up: there's a level of compliance and civility here the old car could never match). Through Goodwood, it's a less skittish beast yet perfectly happy and easy to rotate on the way into the tight final chicane. The movement of mass is controlled more closely and can be manipulated more neatly.
In short: more stability when you need it but slicker adjustability when you want it. It'll be interesting to see whether this is also true in the dry, and specifically how it manifests on the road rather than the track. But clearly, the FL5 is a more rounded, capable product than the FK8 and by an unexpected margin. The cabin – red-floored, Nissan GT-R-esque in its plethora of readouts and with an attractive new dashboard – is also more hospitable and grown-up than before, if also more fun and engaging. Your Mk8 Golf R owner wouldn't complain.
Has the very best just got better, then? Objectively, no doubt about it. Subjectively? It sounds twee but I'm not so sure. As often happens, in certain areas the new car runs a bit of a charm deficit compared with its forebear, appearance notwithstanding. A new particulate filter has robbed the engine's top end of that rampant final surge of revs and performance. Current FK8 owners considering an 'upgrade' will miss that. Increased isolation has heightened civility but lessened the sensation of speed, so on country roads, more commitment is needed to unlock the same excitement.
These aren't deal-breakers, more things to consider in light of that asking price. And let's not be hasty. An exhaustive road test and definitive judgement will come in due course. Next to its contemporaries, expect the latest and perhaps greatest Type R Civic to excel.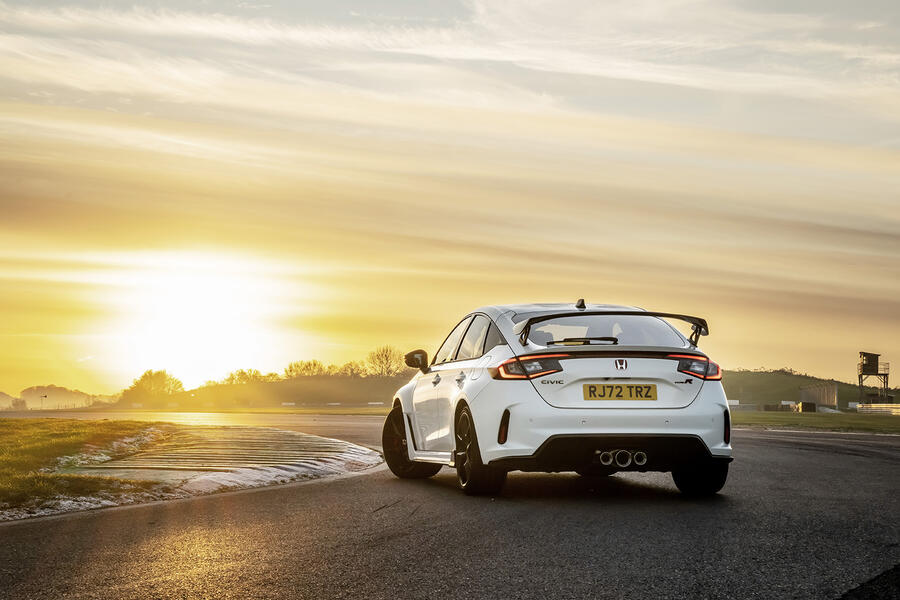 https://www.autocar.co.uk/car-review/hon...irst-drive