05-16-2023, 12:27 PM
New MG Cyberster takes the marque back to the good old days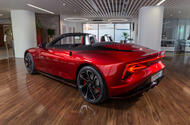 The Cyberster was conceived not for money but to please driving enthusiasts
After a spate of hatchbacks and estates, this roadster will give MG the respectability of Porsche
At last, MG feels respectable again. All these years, it has seemed quite wrong to me for MG to be making handy hatchbacks and dog-toting estates – however decent – without having an honest-to-God sports car in its repertoire.
The marque's famous founder, Cecil Kimber, must have been rotating in his grave at 6000rpm since he checked out in 1945, killed in an unlikely railway accident. But the advent of the Cyberster roadster in production fixes all that – or will fix it when the car hits the market next summer. 
Suddenly, MG will have the respectability of Porsche, a company that has to make sensible vehicles to finance its more frivolous ones.
Even MG's commercial experts acknowledge that they're not really doing the Cyberster for the money, but to fulfil their perceived responsibility to the old marque and (hopefully) to please those who love to drive. 
Best of all they suggest, without quite saying it, that other sporty MGs are on the stocks. They'll be very welcome.
https://www.autocar.co.uk/opinion/new-ca...d-old-days