06-21-2022, 03:38 PM
New McLaren Artura GT4 is stripped-down race car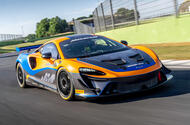 The McLaren Artura GT4 has been designed to the compete in the GT4 racing series
GT4 competition-ready car gets number of upgrades over road car, including super-light carbonfibre tub
McLaren has stripped down its new Artura supercar to create a super-lightweight racer to replace the multiple-championship-winning 570S GT4.
Making its global debut at the Goodwood Festival of Speed this weekend (23-26 June), the McLaren Artura GT4 has been designed and engineered to the specifications of GT4 racing. 
Although similar looking to its road-going sibling, its underpinnings are markedly different. This includes a new carbonfibre tub, which puts the kerb weight at around 1200kg - almost 200kg less than the production car and 100kg less than the outgoing McLaren 570S GT4.
Motorsport modifications extend to a mechanical limited-slip differential, an endurance braking system with a sliding pedal box and a McLaren 720S GT3-style steering wheel.
Similarities to the road car include the 576bhp 3.0-litre twin-turbocharged V6 engine. But the track car loses the plug-in hybrid's 95bhp electric motor, due to GT4 regulations. Power output will also be controlled by a Balance of Performance (BoP) system, which can limit maximum output depending on the racing series' rules. A BoP assessment ahead of the 2023 GT4 season has yet to be undertaken.
Power is delivered through a seven-speed short-ratio racing gearbox, which differs from the eight-speed gearbox found in the road car.
Maximising downforce also plays a huge role in the car's design, with a bespoke front splitter, dive planes and bonnet duct, as well as a high-efficiency wing that has seven angle settings, depending on the circuit.
Yet, despite these technical features, McLaren said it has focused heavily on accessibility, as it looked to give "the ultimate driver engagement" for both amateur and professional drivers.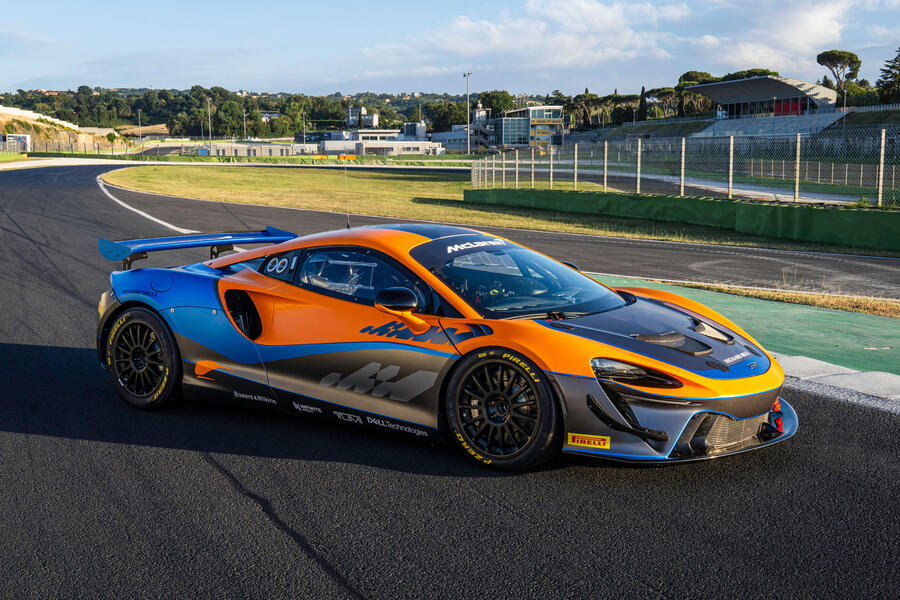 The Artura GT4 will be priced from £200,000 - roughly £10,000 more than the road car. However, McLaren says options can take this notably higher, with a comprehensive list to "support a range of competition and track environments".
These include the fitting of a passenger seat, a tyre-pressure monitoring system, a collision-avoidance radar system, additional lights for night racing and a drinks system.
All cars will be built to order, and prospective buyers are invited to register their interest now.
"The Artura GT4 is the second race car to be built from the ground-up by McLaren Automotive's motorsport division," said Ian Morgan, director of motorsport at McLaren.
"Based on the revolutionary new McLaren Artura, it represents a significant step up from the outgoing 570S GT4, itself a hugely successful competition car which has achieved many race and championship wins with our customer racing teams. 
"With lighter weight, extremely precise handling characteristics and enhanced durability, as well as the packaging and efficiency advantages and all-round serviceability for mechanics of the new V6 powertrain, the Artura GT4 will set new class standards, as we're already seeing from our extensive test-and-development programme."
McLaren's newest addition joins a number of other GT4 cars you can buy. These include the Porsche 718 Cayman GT4 Clubsport, Mercedes-AMG GT4 and recently released BMW M4 GT4.
https://www.autocar.co.uk/car-news/new-c...n-race-car