08-20-2022, 04:57 PM
New Mercedes-Benz CLE to replace family of two-door models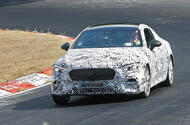 Mercedes CLE will replace the two-door versions of the C-, E- and S-Class
New coupé and convertible pair, due 2023, will replace two-door versions of C-Class, E-Class and S-Class
Mercedes-Benz is putting the finishing touches to the all-new CLE Coupé and CLE Cabriolet ahead of a planned unveiling for the new two-door models, codenamed C236 and A236, in 2023.
Due on sale shortly before the sixth-generation E-Class arrives next year, the CLE has been developed as areplacement for six models: the coupé and convertible versions of the C-Class, E-Class and S-Class.
The move comes as Mercedes consolidates its R&D spending on ICE models in favour of expanding its line-up of EVs, such as the new EQE saloon, EQE SUV and EQS SUV, all of which are set to hit showrooms within the next 12 months.
The first stage of the consolidation plan was carried out in 2020, when Mercedes ended production of the S-Class Coupé and S-Class Cabriolet. Since then, it has also ushered in a new version of the Mercedes-Benz C-Class exclusively in four and five-door guises.
The basis for the CLE is this newly introduced Mk5 C-Class saloon, which sits on Mercedes' second-generation MRA platform.
Dimensionally, the new CLE slots between today's 4686mm-long C-Class Cabriolet and the 4826mm-long E-Class Cabriolet, lining it up as a direct rival to the two-door derivatives of the Audi A5 and BMW 4 Series.
The latest photographs of a camouflaged CLE Coupé prototype testing on public roads and on a German race track confirm earlier reports that the new model will feature its own unique styling, with a racier profile and more muscular appearance than the C-Class saloon and C-Class Estate, alongside which it's due to be produced at Mercedes' factory in Bremen, Germany.
They also preview what appears to be a new design language at the rear end, featuring thinner, rounder LED brake lights than on those on the current E-Class Coupé.
A CLE Cabriolet was previously spotted in winter testing with a fabric roof, wearing heavier disguise at the rear end.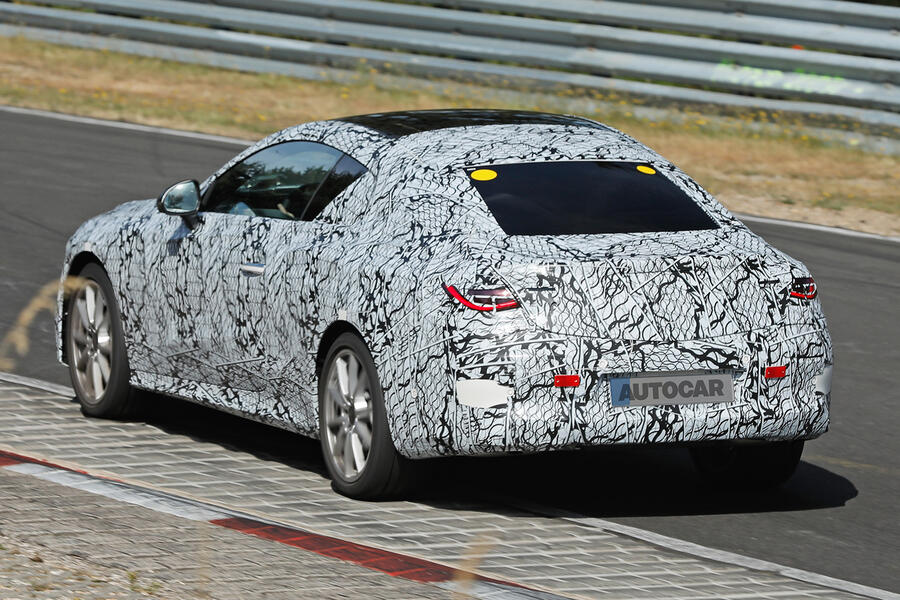 As with the outgoing C-Class Cabriolet, E-Class Cabriolet and S-Class Cabriolet, the new open-top model receives a multi-layered fabric hood. Similar to that used by the E-Class Cabriolet, it's designed to stow at the rear of the cabin under a plastic tonneau cover. 
Prototypes of the CLE Coupé have yet to appear in public, but insiders have told Autocar that it has a pillarless roof design in keeping with the existing E-Class Coupé.
Inside, the CLE adopts the cabin architecture of the latest C-Class, including a dashboard featuring a standard-fit digital instrument panel and a portrait-oriented infotainment touchscreen of up to 11.9in.
Finer details, including aspects such as the shape of the air vents, are said to be shared with the new E-Class saloon in a bid to give the CLE a suitably upmarket positioning.
As with the new C-Class, the CLE will be offered exclusively with longitudinally mounted four-cylinder engines in both standard and AMG models. 
In keeping with Mercedes' plans to do away with manual shifters, all models will have a nine-speed automatic gearbox.
Milder versions will get rear-wheel drive, while the more performance-oriented models are set to run Mercedes' 4Matic four-wheel drive system.
Alongside conventional petrol engines, the new coupé and cabriolet will offer at least one petrol-electric plug-in hybrid powertrain. This inclues a 2.0-litre four-cylinder turbo petrol engine and an electric motor system claimed to develop more than 500bhp in the range-topping AMG CLE 63e 4Matic+ model, which is set to reach UK showrooms in 2024.
https://www.autocar.co.uk/car-news/new-c...oor-models